When Kevin Hawkins was 16 and living in an area of Maryland still struggling to accept queer people, his mother disowned him. Down in South Carolina, Kesha Garner, who now lives in Washington, D.C., remembers growing up without adequate resources for LGBTQ+ people.
"Every time I drive the nine hours home, I worry about stopping to use the restroom."
And even though D.C. is comparatively very progressive, Kesha knows the city, like every city across the country, is still home to an uncomfortable level of discrimination in public spaces. So they're trying to do something about it.
Their new website, Queer Review, launched on Monday to give LGBTQ+ people around the world the opportunity to share their experiences in a variety of places, like restaurants, bars, hair salons, and movie theaters.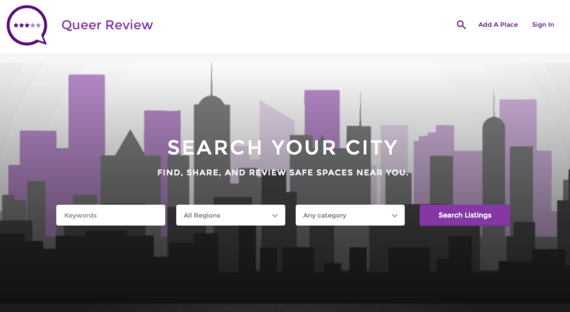 "Users will review and discover safe places and business locations based on experiences of LGBTQ+ visitors. Reviews address concerns pertinent to visitors, allowing members of the community to know before they go," according to a statement on Monday. "The platform provides LGBTQ+ individuals (and allies) with the crowdsourced reputation of businesses and locations, and allows them to contribute by sharing their experience and rating the environment."
Kesha knows how valuable this site would be, even just across the street.
"A particular business across from my apartment frequently mis-genders my friends. I can review this place through Queer Review and let people in D.C. know that this business is transphobic and not considered a safe space for our community."
In the United States, queer people are more likely than straight people to report experiencing public harassment (both physical and verbal), according to a national study released last year by the nonprofit organization Stop Street Harassment. And the harassment starts young: 70 percent of queer people said they experienced it by age 17, compared to 49 percent of straight people (though that's still a significant figure).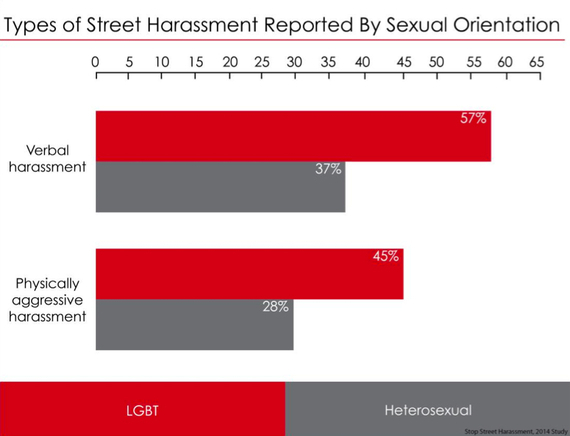 In research I did a few years ago on the public harassment of gay and bisexual men in particular, more than seven in 10 men said they constantly assess their surroundings when navigating public spaces. Survey respondents also reported high levels of avoiding specific areas or neighborhoods. With Queer Review, people may know beforehand where to go - and where not to go - and can share that knowledge with others. And while harassment on the street en route to your destination may be inevitable, harassment in the place you're going doesn't necessarily have to be. Sometimes discrimination is unavoidable - especially when it's from another customer who you couldn't predict would be there - but a resource like Queer Review, Kevin and Kesha hope, will at least mitigate it.
"We really hope that Queer Review will become a place to find safe spaces for anyone across the LGBTQ+ spectrum," they told me. "We hope that Queer Review itself will become a safe space - somewhere that people know they can turn to when they're struggling to find a physical safe space in their area."
Queer Review is accepting submissions now. And if you're in Washington, D.C., find information about their launch event next Wednesday here.
Popular in the Community