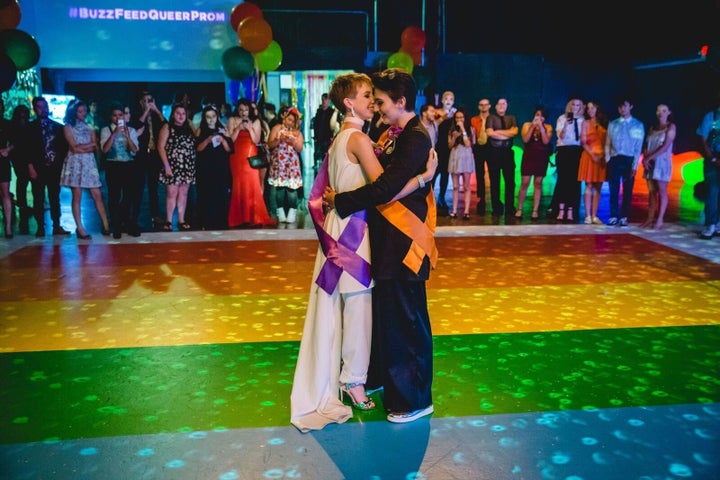 For many LGBTQ youths, prom can be an isolating ― even traumatizing ― experience.
But one special event wants to reframe this very heteronormative rite of passage into one of empowerment, safety and celebration for LGBTQ teenagers.
On Friday, June 1, the first day of Pride month, BuzzFeed is teaming up with Samsung to offer LGBTQ high school students, allies and people from across the spectrum of queer experience a prom entirely their own. This year they'll gather in New York City.
"For queer-identifying high school students, prom can present an incredibly repressive hurdle in someone's coming-out journey," Jazzmyne Jay Robbins, creator and co-host of BuzzFeed's Queer Prom, told HuffPost. "What is a milestone for many can become a stumbling block that delays their self-actualization. ... BuzzFeed Queer Prom allows us to offer students an inclusive, supportive safe space, shining a light on how prom can ― and should ― be for all."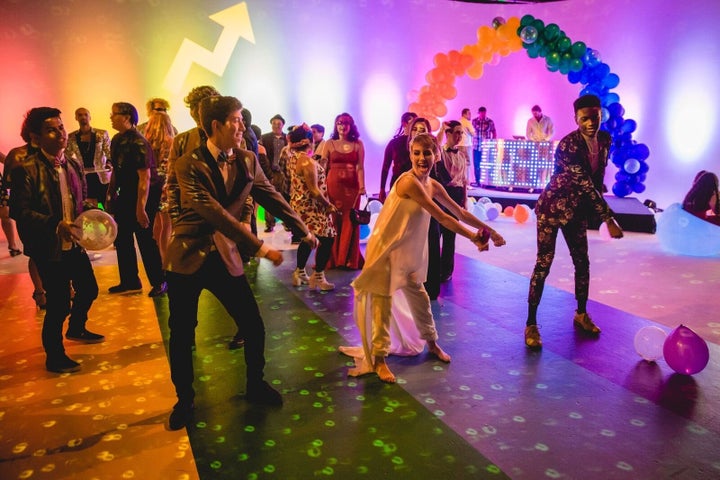 Last year's inaugural Queer Prom took place in Hollywood, California. In addition to many LGBTQ high school seniors, the party drew the likes of actress Evan Rachel Wood, singer Adam Lambert and the mayor of West Hollywood, Lauren Meister.
From LGBTQ students across the country who submitted their stories, BuzzFeed also selected six to serve as members of a prom court and brought them for the event ― a component of the Queer Prom that will take place again this year.
Rowan Berry, who was part of last year's prom court, described the event as transformative: "A queer prom allows identifying students to have their own night without fear of erasure. General prom experiences can be filled with fear of phobic people (students, parents, and teachers alike) ruining their experiences. Unlike a queer-oriented prom, the latter tends to allow unsafe environments for LGBT+ students. ... This event allowed me to express my true authentic self."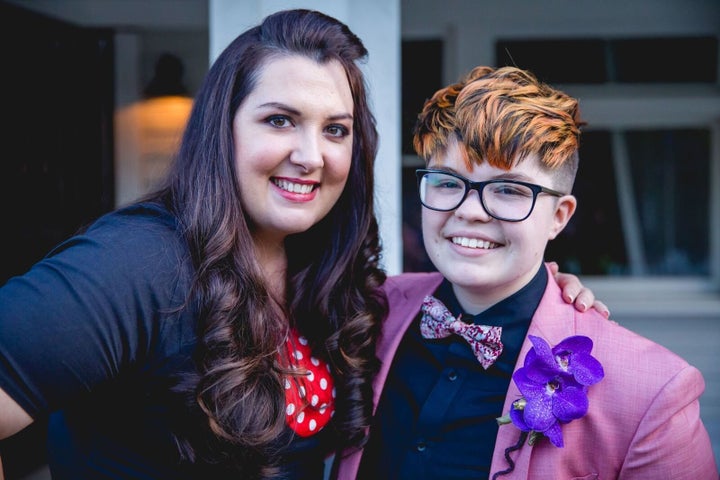 While older queer people and some celebrity allies may also attend Queer Prom, LGBTQ high school seniors are at the heart of this special night. The event's organizers want these youth to have their own version of a cultural ritual traditionally designed for straight people and to walk away feeling celebrated and fulfilled as themselves.
BuzzFeed is also developing a personal video series that follows the members of this year's prom court. Organizers hope that seeing these queer teens having their prom will help others realize the crucial nature of safe spaces like this for LGBTQ youth.
"Whether you are in the LGBTQ+ community or not, everyone deserves to feel safe being themselves in their environment," Robbins said, adding, "I want kids to walk away thinking that they deserve to be accepted ― no matter what. I don't care how you present yourself, I don't care the money you come from, I don't care who you date ― I just care about you feeling comfortable and confident in your own space. If you start knowing your self-worth, it will be easier to take steps comfortably in your life. We all deserve to be ourselves and to feel empowered."
If you are an LGBTQ high school senior in the New York area, you can find more information about attending Queer Prom here.
#TheFutureIsQueer is HuffPost's monthlong celebration of queerness, not just as an identity but as action in the world. Find all of our Pride Month coverage here.
Popular in the Community