There's ample new reason for LGBTQ people to rise up against violence, joining old-fashioned street theater to the tools of our digital age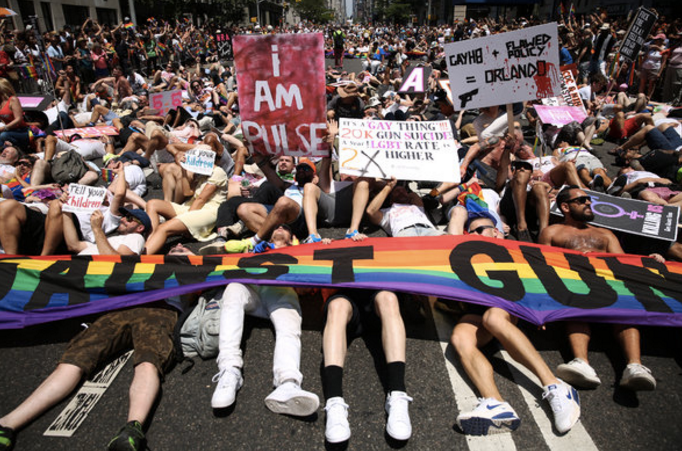 In the angry, mournful wake of the June 12 massacre in Orlando that took the lives of 49 LGBTQ people in a gay club, I joined hundreds of other queer folks here in New York City to form a new activist group, Gays Against Guns (GAG). Orlando wasn't the first time we were outraged over a mass-shooting with a perfectly legal assault weapon that the National Rifle Association refuses to condemn for civilian use, but it was the tipping point for us because it hit so close to home. That could have been any queer people anywhere having a night out together dancing, feeling―as queer people long have felt on the dance floor―that, at least for an evening, we were safe, free and with family. 
Only days after GAG formed, we mobilized nearly 800 LGBTQs and their allies and, wearing GAG T-shirts we'd hastily assembled the day before with stencils and spray paint, marched in a huge contingent at the June 26 NYC Pride event, chanting "Hey hey, ho ho, the NRA has got to go!" (We also chanted a, well, blunter version of that, with thousands of onlookers angrily joining in.) At several points, we dropped to the ground in a mass "die-in," chanting, "How many more have to die?" We were followed by 49 solemn walkers in white veils, each carrying a sign with the face and name of one of the dead in Orlando. I'm proud to say that that beautiful, chilling image made the front page of the next day's 
New York Times
. Since then, GAG chapters have formed in
Orlando
, 
L.A.
,
D.C.
,
Chicago
, 
New Jersey
 and 
Massachusetts
, with more forming as we speak. 
But what I might remember most about the run-up to the Pride March was that, in briefing a twentysomething queer reporter that were trying to take a page from the playbook of
ACT UP
, the radical AIDS activist group that, in the late '80s, popularized the idea of the protest die-in, she had no idea who I was talking about.
I paused. This reporter's beat was LGBTQ issues. "You really haven't heard of ACT UP?" I asked incredulously.
She hadn't. And so I spent a few minutes telling her about the pioneering group formed in 1987 by gay author and activist Larry Kramer that went on to stage some of the most successful, theatrical public demonstrations and campaigns to force drugmakers and the government to create drugs and services not only faster, but with actual HIV/AIDS patients and advocates as part of the process. ACT UP members lay down in the streets and stopped midday traffic, stormed bureaucratic offices and chained themselves to desks. Still active today, the group had a stunning run of successes through the early 90s. (My new novel, 
"Christodora,"
 is set against the backdrop of that historic movement.)
I've thought of ACT UP a great deal in recent years as Facebook and Twitter have replaced the street as an outlet for people's anger and as city and federal security and surveillance has expanded in the post-9/11 era so that ACT UP likely would never get away with some of the intricate public disruptions it staged 25 or more years ago. After Occupy Wall Street protesters were finally forced from Zuccotti Park in late 2011, I remember reading with anger and dismay in the New York Times about how Occupy members were being arrested as they left planning meetings in private homes. How was it ever possible to be more than a laptop activist in the face of such obstruction? 
Moreover, I thought, perhaps the queer community would never again face a crisis as life-threatening as AIDS in the 80s and 90s―a crisis that would shake it out of its understandably human desire to simple carry on as though everything was okay, that would force queers into the street to fight angrily for their lives. 
We may be there now. Orlando brought that home for us. In recent years, the success of marriage equality and the surge of activism from transgender people demanding their rights has produced a terrible backlash from cultural conservatives, especially in southern states. Many felt that the queer community should fight for a national LGBTQ antidiscrimination law before marriage equality, else our community's most vulnerable would be left out in the cold. They were right. And the Orlando massacre, carried out by a man said to be struggling with his own sexuality, proved that lingering cultural homophobia, including the internal variety, plus easy access to assault weapons is an especially deadly combination for queer people. 
But it was not the first time we've been outraged at continuing violence to our bodies. Almost every day in America, it seems, a transgender woman of color is assaulted, often fatally. Queer youth of color experience high rates of harassment by school officials and by the police compared to their white counterparts. Even the supposedly nonviolent act of insulting a transgender person trying to use the public bathroom that matches their gender identity is targeting someone in their most personally physical of places―that of simply having to pee.
As a 47-year-old gay white man, this reality hits me in a visceral place. I spent my Boston-area adolescence under daily physical and verbal attack, back in the 1980s when "bullying" wasn't a school-health crisis but merely something kids did, and the word "homophobia" didn't exist outside of academia and gay bookstores. As I chanted epithets at the NRA at the Pride march a few weeks ago alongside my queer siblings, I felt a deep catharsis that went deeper than my hatred of the NRA. It was really my hatred, rooted in childhood, of all bullies, mostly straight men, who would threaten the lives of the queer, the sensitive, the vulnerable. 
It felt great to throw a collective public middle finger to those NRA bullies that day. And I know I wasn't alone. Many of us in the crowd that day, like me, had lived for years with either HIV or as fighters against AIDS, and I know we were tapping into a fire that had long simmered. Our joyously supportive onlookers were startled when, en masse, we dropped to the hot Fifth Avenue pavement for a die-in. Many of them, like that LGBTQ reporter, were too young to remember seeing ACT UP, Queer Nation and other groups employ such a macabre tactic. 
We are at a strange place in queer history when our president, the queer-friendliest we've ever had, declares the Stonewall Inn, where a bunch of ragtag queer youth and drag queens once turned on their NYPD harassers, as a national monument to the gay rights movement but where, nearby, the very hospital (St. Vincent's) where countless gay people died of AIDS is becoming luxury housing selling into the tens of millions of dollars per unit. In our gentrified, social-media-fied city, we are in perilous danger of forgetting the seismic, street-level change we queer people are capable of demanding when the going gets tough.
Because we are. True, this time, what we're fighting―gun violence enabled by a lobby that blocks strong preventive laws―is an epidemic that threatens all of us. But those of us targeted for hate, like queers or the black churchfolk gunned down in Charleston last year, are particularly vulnerable. It's time for today's queer generation to look at social media differently: not as a replacement for getting boots and lungs out in the streets, but as an organizing tool to make such acts of defiance more frequent―and more powerful―than ever before.
REAL LIFE. REAL NEWS. REAL VOICES.
Help us tell more of the stories that matter from voices that too often remain unheard.