When the topic of gay rights arises, gay marriage and Don't Ask, Don't Tell are the go-to issues, but for some of us queers in the United States, immigration rights are a top priority.
For two years, undocumented youth have been coming out of the shadows and using their status to empower themselves and bring attention to the Development, Relief and Education for Minors Act, better known as the DREAM Act.
The 10-year-old piece of legislation, which has seen its share of watered-down adjustments, would give undocumented youth who came to the United States at a young age a path to citizenship if they go to college or join the military.
There have been sit-ins, hunger strikes and countless calls to lawmakers to stop the deportations of undocumented students who have been in this country most of their lives. Oddly enough, a movement within this movement has surfaced.
You see, a lot of the young people at the forefront of this movement also happen to be gay. Not only are these students proud to scream, "Undocumented and unafraid," but some have challenged the status quo even further by coming out as queer, undocumented and unafraid.
From 2010's Trail of Dreams, where three undocumented youth and a legal U.S. resident walked from Miami, Fla. to Washington, D.C., to the first-ever civil disobedience at the Tucson, Ariz. office of Sen. John McCain, undocumented gay activists have been key movers and shakers in actions that aim to bring attention to the DREAM Act.
At times, they risk death and deportation.
This was the case when Mohammad Abdollahi, who, along with undocumented students Yahaira Carrillo, Tania Unzueta, Lizbeth Mateo and legal U.S. resident Raul Alcaraz, participated in the Tucson action.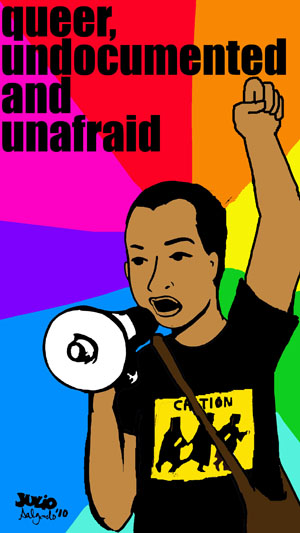 Abdollahi, an undocumented gay student from Iran, risked deportation to a country where homosexuality is punished with death. Undocumented queer activists Carrillo and Unzueta sat next to Abdollahi, and all three contemplated the possibility of being deported to countries they barely remembered.
Not all students have been openly gay from the beginning. Much like the late civil rights leader Bayard Rustin, some queer undocumented activists were asked to downplay their gay identities for the sake of their role in the movement.
When Felipe Matos and his boyfriend Juan Rodriguez participated in the Trail of Dreams, they had to keep their relationship a secret out of fear of alienating conservative groups supporting their cause.
"The truth is that it was never a single thing," Rodriguez said, when asked if someone had personally requested that he and his partner keep their queer identities under wraps. "It was the system as a whole at every point of the way. Our families, our friends, the language used, the faith groups and the national organizations with their politically correct agenda."
The support they received from other undocumented youth across the country gave them the strength to be open about their relationship once they arrived in D.C.
The leadership shown by all of these folks sparked a movement across the nation and soon, more undocumented students began participating in actions. This time, however, those identifying as undocumented and queer began to push for the creation of safe spaces and for the integration of LGBTQ awareness within the movement.
In Chicago, groups like the Immigrant Youth Justice League are going into communities and informing undocumented groups about the need for these safe spaces and talking about the intersectionality of LGBTQ and immigrant rights.
As members of both communities, we know what is like to deal with laws that foster an environment of hate toward our people.
Jorge Mena, a queer, undocumented youth leader who was recently arrested in a Chicago action, has shared his story with others, saying his coming out as gay has helped him "fight the ignorance that comes with telling people you're undocumented."
In California, queer undocumented activists like Jorge Gutierrez, Imelda Plascencia and Marcos Nieves have come together to create groups like the Queer Undocumented Collective. Their goal is to document the lives of queer, undocumented immigrants and make sure that our voices are heard within this social justice movement.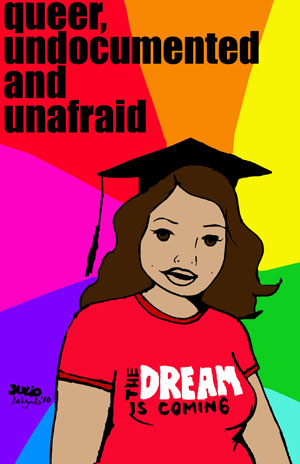 "I feel that coming out as undocumented empowered me to come out as queer," Plascencia said. "Once that wall was knocked down, I felt I had the strength to go through the other one."
There's a thin line between finding inspiration in past historical events, like the civil rights movement, and trying to appropriate on the experiences of black activists of the 1960s.
While their oppression was physical, ours has been systematic.
We must remember how queer folks like Rustin were pushed to the back because of their sexuality and make sure that we don't allow that kind of history to repeat itself.
Being queer is only one of the many empowering identities these amazing leaders are bringing to the immigrant rights movement.
"I was out as queer and undocumented long before it was cool and hip," said Prerna Lal, a Fiji-Indian law student and blogger who is constantly challenging what it means to be undocumented in this country. "But that's not all I am. I am also a woman; I am a Pacific Islander of South Asian descent and I have various other interests that have nothing to do with the myriad of categories I am placed in by various social and governmental forces."
For the majority of my college years, I had to lie about my own immigration status and sexual orientation. I am consistently amazed by the bravery that this generation of college activists is showing. I just hope that both the immigrant and LGBTQ communities are aware of our shared social struggles.
Popular in the Community