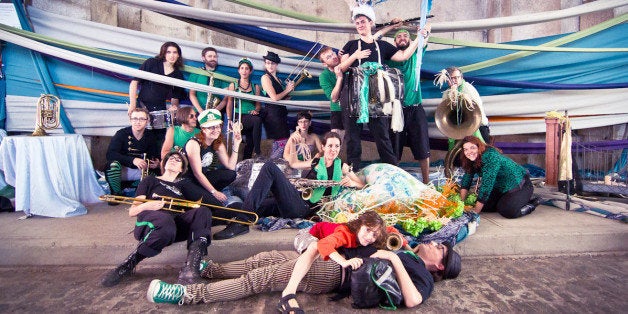 "On the (Queer) Waterfront: Brooklyn Histories" kicked off this weekend, a unique and collaborative art and performance show curated by The Pop-Up Museum Of Queer History. A multifaceted intersection of history lab, art space and teach-in workshops, the show sought to provide visibility, education and celebration surrounding queer identity in Brooklyn, N.Y.
The Huffington Post caught up with Hugh Ryan, Founding Director of the Pop-Up Museum of Queer History, to discuss the show's Oct. 5 kick-off, the history of the Pop-Up Museum Of Queer History, and Brooklyn's legacy of queer identity.
The Huffington Post: What does "On the (Queer) Waterfront: Brooklyn Histories" as a project stem from? What are you trying to provide visibility to in regards to queer identity? Hugh Ryan: "On the (Queer) Waterfront: Brooklyn Histories" was a show long in the making. We knew we wanted to return to Brooklyn –- Pop-Up began in 2011 as a one-night-only event in my loft in Bushwick, and although I've since left the borough, almost all of our core committee live in various Brooklyn neighborhoods. More than that, though, we felt that Brooklyn has a long and illustrious queer history all its own, which is too often lumped into New York City's queer history. We wanted to look at Brooklyn as a place with its own specific queer history –- in part because it has such a thriving queer present.
Can you explain what The Pop-Up Museum Of Queer History is? What kind of work does this organization do? The idea for the Pop-Up Museum of Queer History came to me shortly after the conservative attack on the "Hide/Seek" exhibit [at the National Portrait Gallery] forced them to remove David Wojnarowicz' piece "A Fire in my Belly" from the show. I was frustrated that the Republican establishment and the whims of governmental funding could so easily play political football with both art and history. I wanted some way to both protest the removal, and provide an alternative venue for queer histories.
Around the same time, a group in New York City called Queers Organizing for Radical Unity and Mobilization (QuORUM) put out a call for events. They were organizing a week of queer workshops in queer homes, and they were looking for a space big enough to hold the kick-off. At the time, I lived in a large industrial loft in Bushwick, and I proposed a one-night only museum show. I put a call out for exhibits over Facebook, not really knowing what kind of response I would get.
I was floored when more than 30 people – many whom I didn't even know – wanted to create exhibits and performances. They ranged from the whimsical (ex. a gingerbread scale replica of Stonewall) to the meticulously researched (ex. a talk about and performance of the works of composer Jean-Baptiste Lully). A curator and artist named Buzz Slutzky stepped up to co-curate the show, and dozens of other people volunteered to help install the works.
Our one-night engagement was scheduled for the evening of Jan. 14, 2011. It was freezing cold that evening, but more than 300 people showed up for the show –- including 14 police offers, who shut us down for fire concerns shortly after midnight. They also gave me a ticket for disturbing the peace when I refused to let them into the apartment without a warrant. I guess it wouldn't be a real queer historical event without a police raid…
Even as the cops were forcing us out of the building, people were asking when the next museum would pop-up. Queer people were hungry for our history, told by our community and to our community. Buzz and I quickly realized that this wasn't a one-time event, but rather the beginning of an organization. Creating a nonprofit was different from creating a one-night show, however, and we needed help. Graham Bridgeman joined us as our development expert, and the three of us formed the nucleus of the organizing group that has created the Pop-Up Museum of Queer History as it exists now -– along with dozens upon dozens of volunteers, artists, historians, archivists, and committed community members, without whom we could not exist.
What different components does the show incorporate? "On the (Queer) Waterfront: Brooklyn Histories" is a scatter-site-specific investigation of the queer histories of the beloved borough where the museum got its start. Our kick-off event, on Oct. 5, was a queer history block party, which had music, performances, tabling by queer community organizations and archives, walking tours of the queer history of Dumbo and Brooklyn Heights, and workshops on how to archive your things at home, and how to make queer art out of queer history.
Throughout the rest of the month, we will also offer a night of experimental films produced in or about Brooklyn (co-hosted by MIX NYC and Union Docs), a panel discussion on queer communities and gentrification (co-hosted by the Brooklyn Community Pride Center), an open discussion between Circus Amok founder Jennifer Miller and queer sideshow impresario Ward Hall, and the premier of a new work by playwright and nightlife star Justin Sayre, based on the life of Hart Crane.
October is LGBT and Queer History month -- what do you hope this show contributes to the way we know and understand LGBT history? It is our hope that this show will contribute to an understanding of Brooklyn as a place with a queer past. We are not merely interlopers newly washed up on Park Slope's shores, but queer communities and people have flourished in these neighborhoods for as long as queer identities have existed.
But more than that, our goal for every Pop-Up is threefold: To show queer people as a valid public, worthy of speaking to; a valid subject, worthy of speaking about; and a valid authority, worthy of speaking on our own terms. What makes Pop-Up unique among the many fantastic queer history projects that have sprung up in the last few years is that we put a focus on our community teaching each other, which is why we offer workshops on how to "do" queer history on your own. We believe that when and where queer history has been preserved, it has been preserved by queer people ourselves, and this is a strength to be celebrated. Instead of one dominant, top-down narrative of our history, which would leave out the things that are awkward or hard or just simply commonplace. We have a million strains of history passed down from queer elders – and we celebrate that.
Where does the inspiration and overarching philosophy for the show come from? Is it a collaborative effort? Who all is involved? Pop-Up is a volunteer, collaborative, non-hierarchical labor of queer love. Our organizing committee is permeable, but has a core of five members who have all been working on Pop-Up for at least a year. We dream of some day being able to pay our staff. After our first two shows, we set an organizational priority of always "stipending" our artists, even if only a little bit, as part of our commitment to strengthening the community of people interested in queer history. We use an intersectional model of queer history that is deeply indebted to and concerned with feminist studies, anti-colonial studies, critical race theory, without going to a purely theoretical and academic place that could turn off many viewers. We believe that history is exciting and beautiful and liberatory.
Check out a slideshow of images from the queer history block party below.
Calling all HuffPost superfans!
Sign up for membership to become a founding member and help shape HuffPost's next chapter
BEFORE YOU GO
PHOTO GALLERY
The Pop-Up Museum of Queer History