It has been just over two weeks now since Trish Bendix, former editor-in-chief of the 14-year-old queer women's website AfterEllen, announced that senior executives at Evolve Media, which acquired AfterEllen from Viacom in 2014, terminated her and planned to shut down the site. After significant public outcry from the community, a manager from Evolve Media released a statement calling Bendix's rumors false, stating, "Rest assured that you will still be able to access the site, all of its content, and communicate with others through the forums. We will continue to work with our freelancers and contributors to cover the many topics and news that are important to the LGBT community." Whether AfterEllen will continue to publish prolifically or will house content that is primarily evergreen remains to be seen. But one thing is certain: Advertisers, sponsors, and media executives are reluctant to invest in queer women's bars, events, entertainment, and publications.
Trish Bendix played an important role in my personal and professional development. For a decade, Bendix curated quality queer women's content that built an online community of common values, a community that helped affirm my identity long before the advent of Tumblr, Instagram, Twitter, Snapchat, and the like. As a woman of color (WoC) who owns the queer style website dapperQ, Bendix saw potential in my work and housed my first ever ongoing queer style editorial on AfterEllen. It goes without saying that not having AfterEllen as the supportive resource as I have known it to be for all these years is a major loss.
As others in the community are grappling with this blow, there has been a rallying around the remaining media that exists for and by queer women. However, most of the conversations and support have been focusing on media companies that are either 100 percent or majority owned by white women. (A queer WoC has minority ownership of Autostraddle, another top performing site for and by queer women.) Critiquing the lack of investment in queer women's media without any intersectional analysis of the unique struggles faced by queer WoC media entrepreneurs, who must overcome unique obstacles in obtaining fiscal support, only serves to further erase our voices from media and undermine our entrepreneurship. According to a GLAAD report, Black women in media remain "significantly underrepresented," and a Nielsen study found that advertisers under-invest in Black media despite current Black spending power and projected growth. Danielle Cooper, a WoC blogger behind the menswear blog She's a Gent, stated, "I am a female, I am Black, and I am a lesbian. I always have to think ahead, be creative and fresh because I have to work three times harder just to be seen as equal."
So, yes, you should continue to show up in full force to support the remaining white owned queer women's magazines and blogs that have become household names. However, you should also expand your horizons and support quality content offered on WoC owned platforms, honoring their work and making them more competitive in an unequal advertising market. Here are just a few 100 percent queer WoC owned publications you should know. Some publications focus solely on WoC, while others have a target demographic that is very similar to that of AfterEllen.
KitschMix is an online blog, social networking platform, and boutique that was "developed to promote the diverse creative ventures of women in the LGBT community." On KitschMix, you can read about the latest in lesbian entertainment, watch your favorite lesbian web-series, and shop for the perfect pair of tomboy joggers all in one place!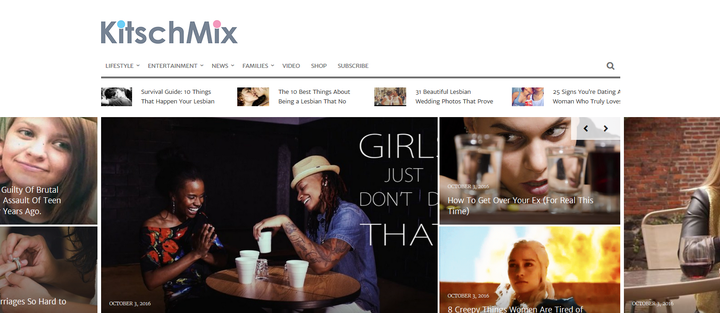 Launched in 2008, Fit for a Femme is a femme style blog and virtual dream closet. Aja Aguirre started the platform to increase femme visibility and acceptance, and has since joined the teams at queer publications Autostraddle and Qwear as a femme style expert.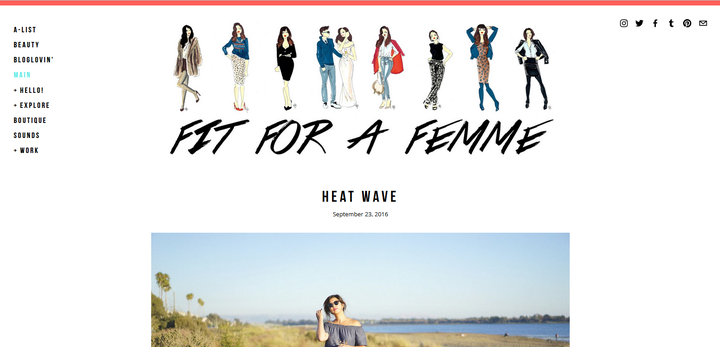 Under the leadership of award-winning writer Mia McKenzie, Black Girl Dangerous (BGD) press has "featured over 300 diverse writers from 3 countries and reached over 7 million readers from every populated continent on earth. With its focus on social justice from a QTPoC perspective, BGD is the only forum of its kind on the web."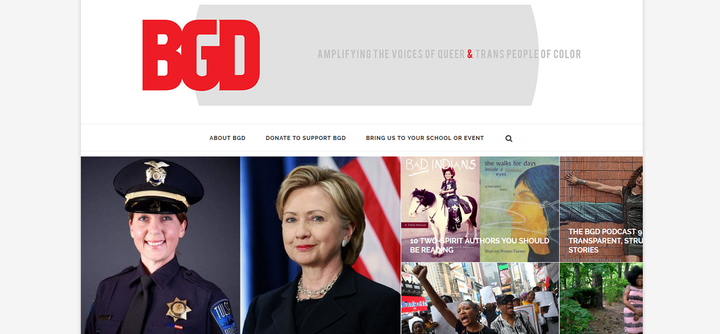 A Dapper Chick started as the personal style blog of New York City based menswear blogger Sara Geffrard. Since its inception, A Dapper Chick has grown to include travel, styling services, and an empowerment project known as "The Dapper Chicks" made up of a group of women who stand in style for causes like women's equality, bullying, and breast cancer.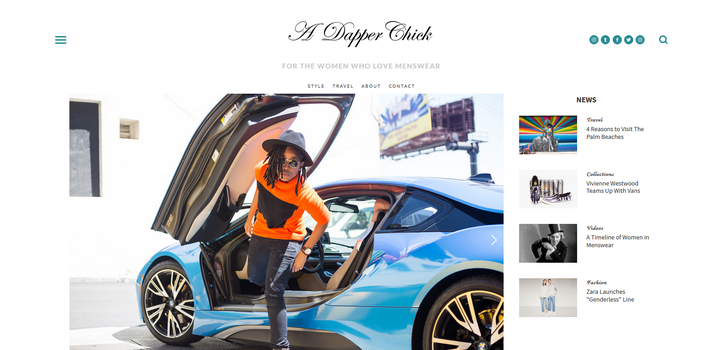 Known as a "concoction of all things queer, culture, and current," ELIXHER is a GLAAD award-nominated website and magazine where you can find the latest in entertainment, news, fashion, and more.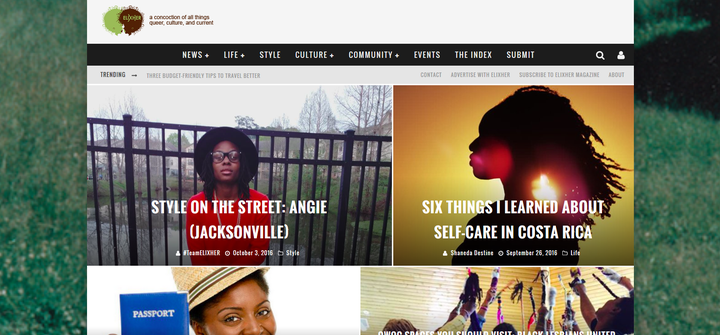 The Fab Femme is a popular online magazine covering all things queer femme, including beauty, fashion, health, and exclusive interviews with celesbians such as Kiyomi McCloskey (as seen on The Real L Word).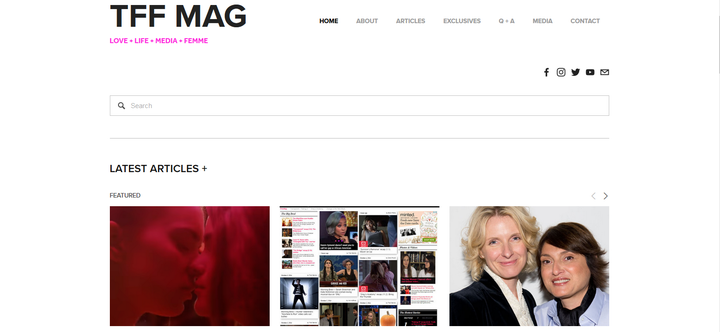 Danielle Cooper is the mastermind behind the impeccably curated fashion, lifestyle, and travel blog She's a Gent. You will not get enough of Cooper's incredible style and her message that "menswear" is for everyone.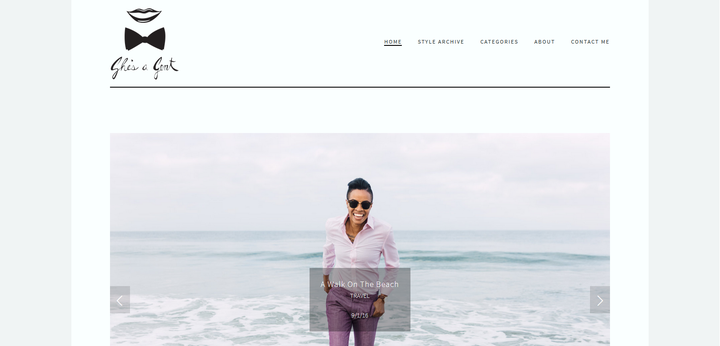 Tagg Magazine is an online magazine available internationally, with a print publication distributed throughout the District of Columbia, Maryland, Virginia and Delaware. Tagg "was created by women, for the lesbian, bisexual, and transgender community to provide the DC Metropolitan Area queer community with a central source for lesbian culture, news, and events."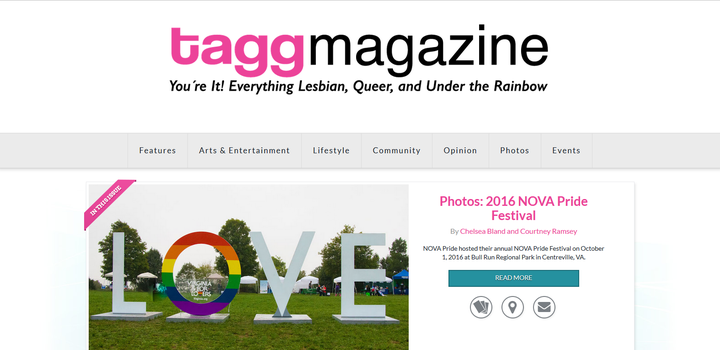 9. dapperQ I normally wouldn't include my own publication in a roundup. However, this is an exception. Most people do not know that dapperQ is owned and operated by a Black femme. I'm here to say it loud, "I'm Black and proud!"
dapperQ is a premier queer style website and fashion show production company that has been featured on HBO, NBC, and Huffington Post Live; at SxSW, the Institute of Contemporary Art/Boston, Brooklyn Museum, and California Academy of Sciences; and in Vice, Refinery29, and Teen Vogue.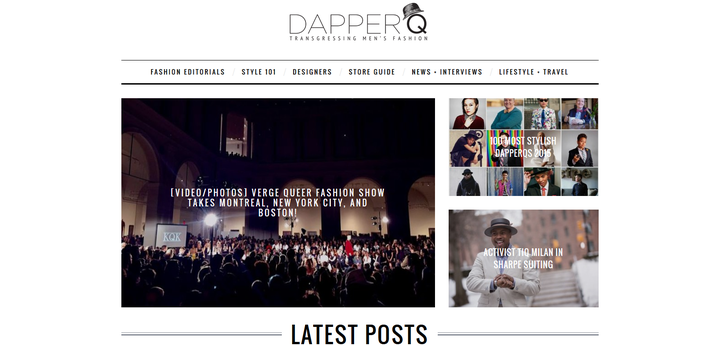 Black Lesbian Love Lab is an online resource that exclusively focuses on and celebrates Black lesbians and the women who love them. On the site, readers can explore a range of topics from dating and sex advice to health and cooking.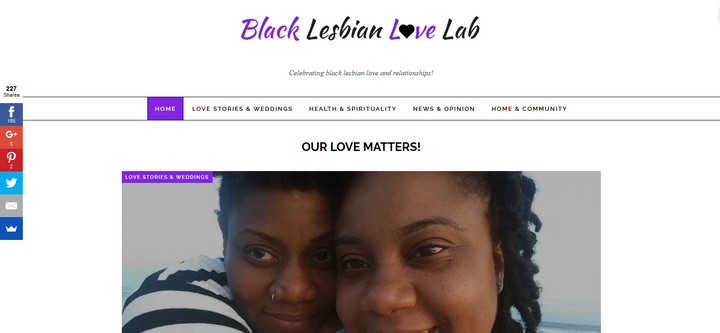 Boi Society Magazine is an online and print magazine celebrating the fashion and lifestyle of masculine and androgynous presenting women, gender queers, and trans-identified individuals. Boi(s), for short, has also expanded to include a dapper accessory subscription box service, so you can look as dapper as the models in their publications.