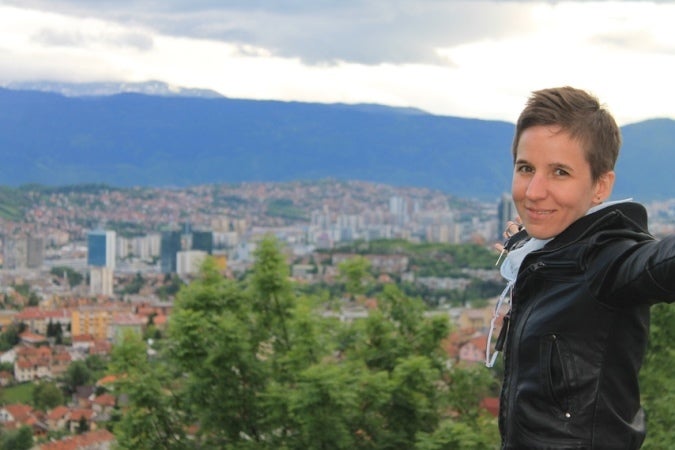 My partner and I are avid travelers. As queer residents of New York City, we also often play tour guide for visiting family and friends when we're not on the road. We encourage our guests to experience New York City beyond selfies in Times Square, including everything from outdoor movies on the historic Intrepid aircraft carrier, to New York Philharmonic concerts in the park, to food festivals in Brooklyn where you can enjoy a ramen burger and craft beer while viewing the Manhattan skyline. We also recommend that our queer visitors pay homage to and get wild at some of the longest standing LGBTQ bars that have played an important role in serving our community, such as Stonewall, the site of the Stonewall Riots that sparked the modern LGBTQ rights movement in the U.S., and Henrietta Hudson, the oldest brick and mortar queer women's bar in New York City. We are also acutely aware that tourist guides fail to educate our visitors about the rich, diverse LGBTQ culture that exists beyond the bar scene, such as Voguing Balls and the largest LGBTQ fashion shows hosted at world renowned museums.
When my partner and I travel, we try to curate the same type of off-the-beaten-path experiences that we provide our guests. Whether we're cliff diving in Georgia O'Keeffe country at Abiquiu Lake, or dancing the night away at an underground queer party in Sarajevo, our goal is to immerse ourselves in the most unique ― but also LGBTQ friendly ― adventures that vacation destinations have to offer.
However, the most popular destination guidebooks tend to showcase "must see" tourist landmarks, and any sections dedicated to the LGBTQ traveler generally focuses on the experiences of white cis gay men. If you don't know someone who is willing to play tour guide like my partner and I do for guests, you really have to reach into the depths of the internet to find guides that feature unique experiences beyond what the mass market is demanding. Travel websites can be a great resource for creating itineraries based on feedback from like-minded travelers because self-published travel bloggers no longer need mainstream publishers to disseminate their words and images to a large audience. Yet, becoming a successful travel blogger is not easy or cheap, unless you're independently wealthy. In order to travel and create quality, original content, bloggers need financial backing for cameras, flights, hotels, food, event tickets, and more. With travel marketing aimed primarily at white cis gay men in the LGBTQ community, and white travelers regardless of sexual orientation, many queer women's travel blogs must work twice as hard to secure advertisers and sponsors. Queer travel blogger Meg Cale, the Founding Editor of Dopes on the Road, shared accounts of being invited on destination press trips where there were few, if any, transgender bloggers or bloggers of color. "I've also been on press trips where there aren't any queer women's spaces included on the itinerary and even the gift bags are male-centric to the point of including gay porn DVDs. I frequently have to seek out my own content on these trips," Cale stated. Black life+style blogger Debbie-jean Lemonte recently teamed up with Sara Geffrard to document their experiences as queer women of color travelers in "52 Weeks Across America." Some tourism bureaus declined their pitch for support, claiming that the duo's audience did not reflect target tourism marketing demographics.
So, I'm here to confirm that Black women travel. Queer women travel. As a Black queer woman engaged to a Bosnian Muslim War refugee who loves to travel as much as I do, here are my picks for queer women's travel blogs and vlogs to support now: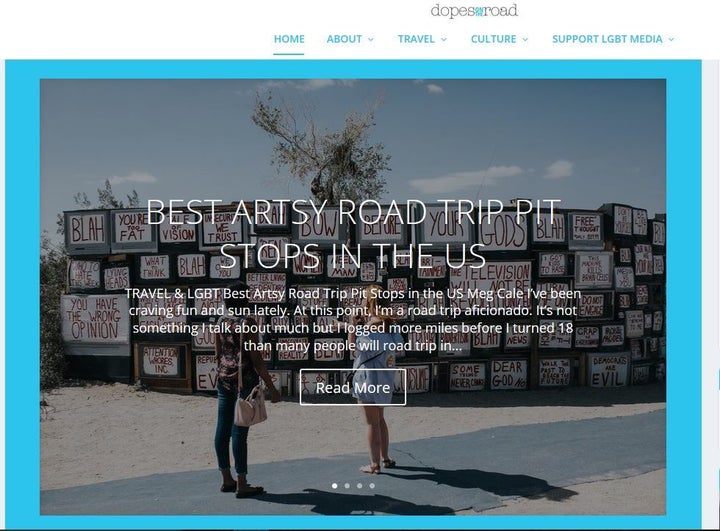 In addition to running Facebook's Lesbian Travel group, Meg Cale publishes Dopes on the Road, an LGBTQ travel blog that centers the experiences of queer women. Dopes on the Road is considered one of the top "go to" queer women's travel sites and does not shy away from sex-positive topics, including how to get it on in a hostel.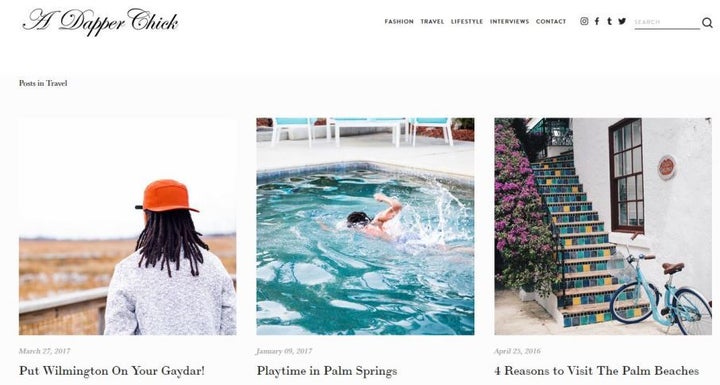 While not solely a travel blog, A Dapper Chick has a growing travel section that showcases the travel adventures of a Black queer woman. Founding Editor Sara Geffrard is a "travelista" (a social media influencer who has a large following of people interested in style, travel, and stylish travel). Her latest travel initiative with best friend Debbie-jean Lemonte of The Loc'd Bella is "52 Weeks Across America," which documents safe U.S. destinations for Black queer women in post-Trump America.
Button and Bly is one of the only LGBTQ travel shows on the internet focusing on the experiences of queer women through the lens of two best friends traveling the world together. Recently, Bly created a spin-off travel vlog, Life of Bly, documenting the adventures of traveling while queer and vegan.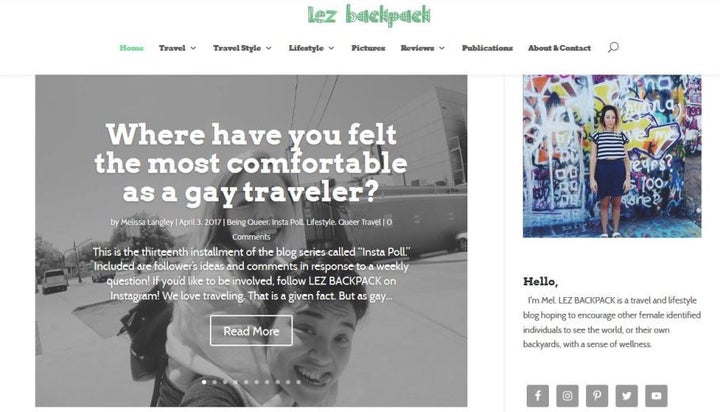 Published by queer travel blogger Melissa Langley, Lez Backpack is a lifestyle and travel blog for women. Features range from destination guides to tips on how to meet other queer women abroad.
Photographer Kim Geronimo, aka The Street Sensei, doesn't provide travel "to do lists," but rather creates beautiful videos capturing the world of travel through her eyes as an androgynous queer artist with an insatiable wanderlust. Her still images on Instagram are just as inspirational and she engages with her audience, providing fresh ideas about where to go and what to see around the world.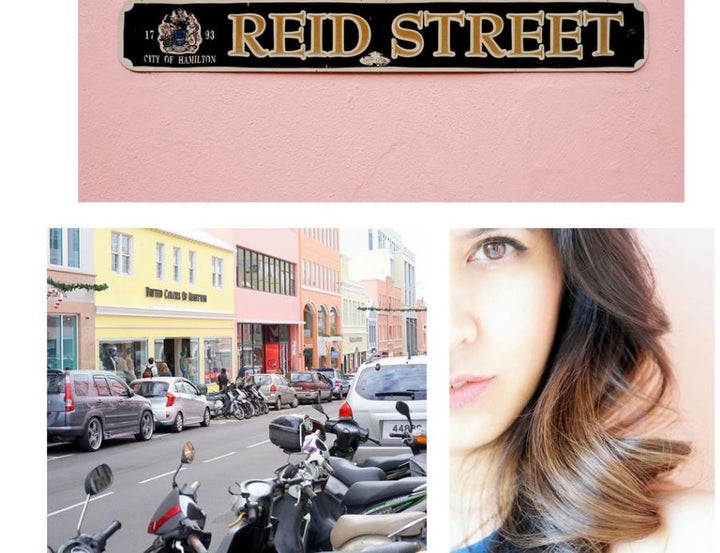 Aja Aguirre is a fierce femme of color fashion blogging extraordinaire. Her blog Fit for a Femme includes some swoon worthy stylish vacations that'll make you want to plan an adventure around a pair of heels. In her words, "I'm beginning to feel like the combination of work, trips, and weather have turned this into more of a sporadic, style-inspired travel blog than style blog with occasional travel!"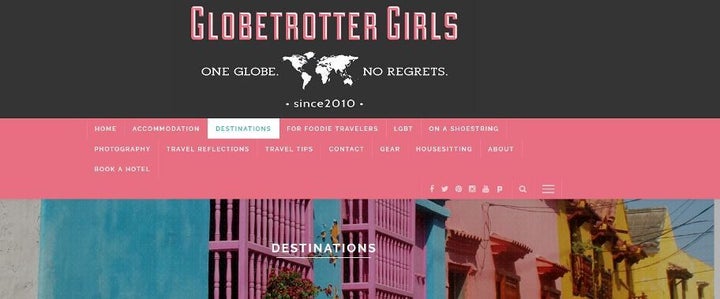 Since 2010, Dani has been sharing her travel stories and recommendations as a lesbian blogger on her site Globetrotter Girls. Articles include sound travel advice, such as affordable ways to get around Europe and the world's must visit LGBT scenes.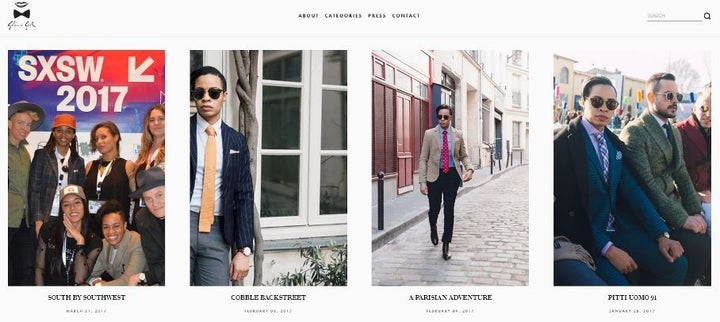 Nowadays, fashion influencers traveling the globe are a dime a dozen. But, Danielle Cooper of She's a Gent has one of the most unique perspectives in travel and fashion online today. As a Black queer androgynous woman who is considered one of the leading "women in menswear" influencers, Danielle shares her take on traveling to elite events, such as Paris Fashion Week and South by Southwest, as well as provides tips for queer women that are often left out of LGBTQ travel guides, such as where masculine queer women can shop while on vacation.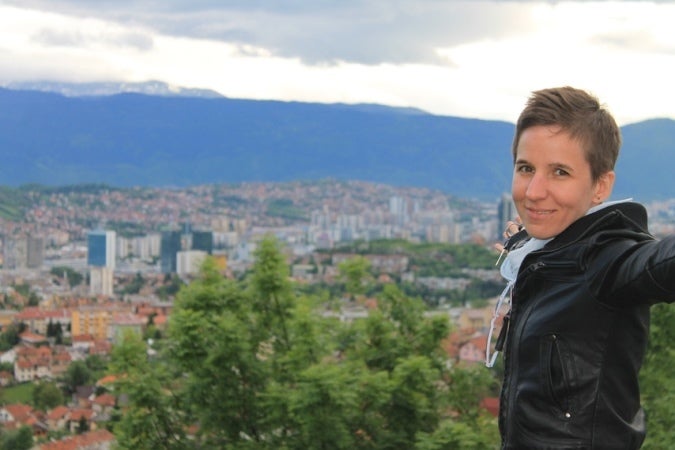 For transparency, I own dapperQ, a queer style website. We recently expanded our work to include a TravelQ section, and because I work full-time in another field, our writers have inspired me to add travel destinations to my bucket list. My partner and I have also shared some of our own travel experiences, such as visiting her home city of Sarajevo, which is not considered one of the most LGBTQ-friendly places in Europe, but has an LGBTQ community that encourages LGBTQ travelers to support the activist and community events that their local LGBT center, the Sarajevo Open Centre, is producing to advance visibility and rights.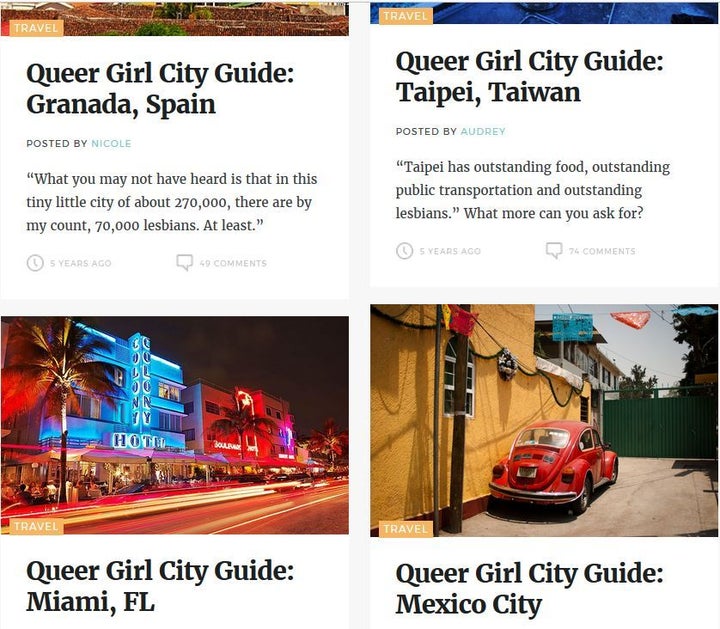 Autostraddle, the world's most popular independently owned queer women's website, has a very impressive travel section that tackles issues ranging from the unique travel experiences of trans women to where to find the best queer women's coffee and brunch spots. My favorite series is their "Queer/Here" queer women's travel guides, which are usually authored by a current or former resident of the featured destination. These authors tend to know all of the hidden gems that cater to queer women's interests in their area.
Popular in the Community