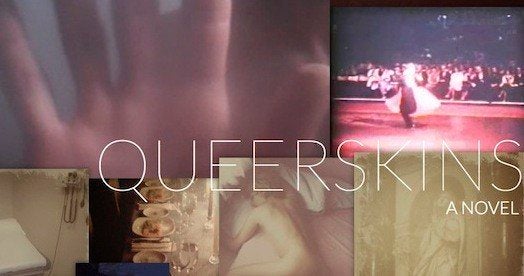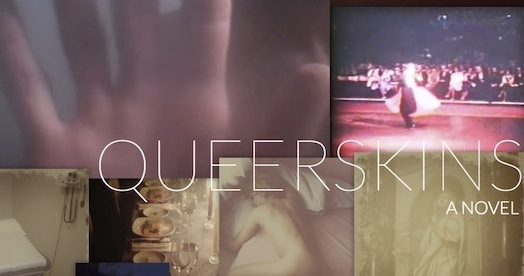 "Then HIV came. Death denuded us all. It stripped away the queer skins of normalcy and perversion. What was left was only human." --Sebastian A.
"I'm definitely going to get in trouble for this," I warn, pointing to a picture of Cinderella in gossamer pink gown and tiara. For my new multimedia novel, Queerskins, I'd paired a YouTube video of Disney's "Cinderella Sing-Along" with a sexually explicit passage in which the main character tells his boyfriend that he's in love with him.
Cyril Tsiboulski, my Web designer, told me not to worry about it. We were having lunch in SoHo, perusing a multicolored stack of construction paper mockups. Cyril worked with me on my last digital novel, Reconstructing Mayakovsky. Even though he is a highly in-demand Web designer with a successful business, he'd agreed to work almost pro bono on this project. His reasoning:
I thought it was a fascinating take on the traditional tale of man-gives-up-earthly-possessions-goes-to-desert-becomes-saint concept. It's set in the '80s, but it feels so contemporary in how it portrays love, betrayal and the human struggles for something greater than ourselves.
Queerskins tells the story of a young gay physician from a rural Missouri Catholic family who dies of AIDS at the start of the epidemic. The novel begins with Mrs. Adler's discovery of her estranged son Sebastian's diaries. Reading these intimate, lyrical texts, users piece together the life of the man who has died. The interface consists of layers of sound, text and image that users can navigate at random or experience as a series of multimedia collages. The full work contains 40,000 words of original text, over two hours of character monologues, 50 videos and nearly 100 still images.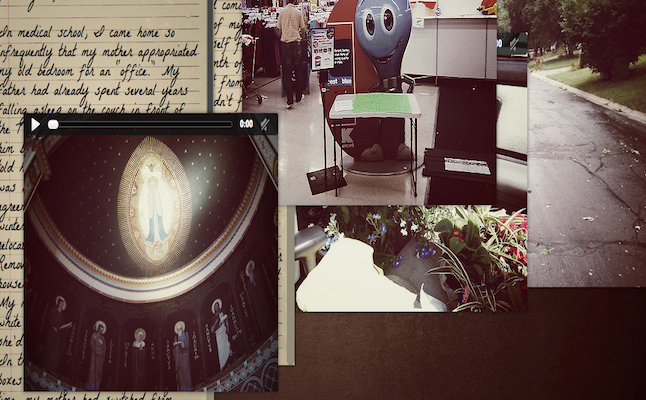 A screen shot of Queerskins
Both Cyril and I have a particular interest in AIDS, he as a gay man, and I as a practicing physician trained as an HIV specialist. I was a little nervous about showing him the text. I gave it to him just as I was leaving on a medical mission to Tibet. Three weeks later I anxiously emailed him from the tarmac and asked him what he thought. He replied:
I wasn't thinking about the gender of the person who wrote the text. It read authentic, and I didn't need to double check on the author's qualifications. The text might be shocking to some, because some parts are sexually graphic; however, I interpreted it not as self-indulgent and explicit for pure shock value but rather as exposing the nakedness of characters, their emotions and aspirations. Seeing such honesty and rawness of the characters seemed like a great counterbalance to the closeted lives a lot of gay men led at that time.
For me the novel has autobiographical resonance. Sebastian's experiences as a physician, his stubborn idealism and his odd combination of naïveté and intellectual sophistication are my own. Adopting the point of view of someone who is both me and not me, female and male, gave me the courage to write about extremely painful personal experiences and feelings. Perhaps the most harrowing scene to write was one in which the adolescent Sebastian's lover dresses him up like a woman and brutalizes him. It's an ambiguous scene, not merely because of the gender bending but also because Sebastian acquiesces, to some extent willingly, because he doesn't want to lose his lover. It's really this tension between embodied, everyday life and potential states of transcendence -- love, sexual ecstasy, religious communion and virtual existence itself -- that drives the novel.
As with my first novel, I use a lot of appropriated media. Photos of banal landscapes (by Robert Stinnett, Omar Barcena and others), downloaded from Flickr Creative Commons, act as "sets" for the text. The videos, culled primarily from YouTube, are the online ephemera of real life: vacation footage, music videos, news reports. I did commission two artists to make original work for me. Pelin Kirca, who collaborated with me on Mayakovsky, shot beautiful films of her boyfriend's body.
Jarrah Gurrie's videos of his life in L.A. beautifully capture the isolation and emptiness of that city:
"Diagnonal Palm" by Jarrah Gurrie
Craigslist is my favorite source for collaborators. I hired a majority of the voiceover actors through it. Some, like Ingrid Jean-Baptiste (Bathilde) and Gilberto de la Fuente (Carlos), are professionals, and some are not. Monique Peterson (Mrs. Adler) is a writer, Jarrah (Alex) recently graduated from NYU Film School and Steve Brefo (Jean-Marie) is a college student whose parents came from Ghana.
Sebastian's mother (Monique Peterson) looks through a box sent home to Missouri along with her son's body.
Sebastian's lover, Alex (Jarrah Gurrie), remembers his first night with Sebastian.
L.A. Assistant District Attorney Carlos (Gilberto de la Fuente) discusses "the law" with Sebastian.
NGO nurse Bathilde (Ingrid Jean-Baptiste) riffs on Wittgenstein.
Malian medical student Jean-Marie (Steve Brefo) describes finding Sebastian's body.
The first-person voices of the monologues and the text help create a sense of intimacy despite the tech interface of the novel. The design reinforces this experience. Cyril explains:
The idea for the design was to create a layered experience that feels almost like a dream. The visuals have been made to look dated, as if they were images and sounds from a distant trip, or photos found in a dusty album in the attic. The horizontal navigation scroll is like a river that carries the chronology of these overlapping pieces of memories before our eyes.
A socially networked version of the novel, designed by Anke Stohlmann, is in the works. In early 2013 each "page" will be tweeted, curated and archived over a two-month period. Each day we will feature celebrity participants, drawn from a range of professions, who have been affected by or are interested in HIV/AIDS. People can follow the novel on Twitter or actively respond with their own images, audio, video and in-character text. In this way readers become authors, transforming the static novel into a real-time, polyphonic conversation about love, sex, belief and mortality.
Queerskins is accessible to anyone with a computer (but it's best viewed in Chrome or Safari and is not yet viewable on the iPad or other mobile devices). We've kept it free of charge, because we'd rather that readers show their appreciation by donating to one of the AIDS organizations listed on the site.
To join the conversation and stay up to date on the launch of the socially networked version, follow us on Twitter @queerskins and on Facebook.
Popular in the Community