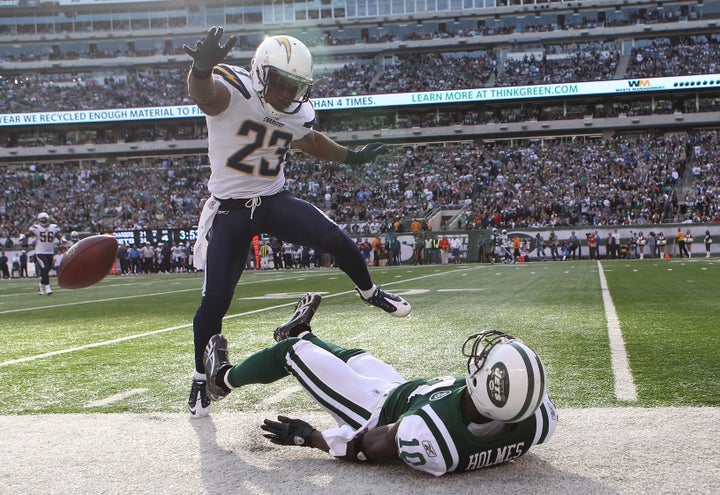 The defeated Chargers, though, do not agree with this appraisal of the game. On the contrary, they don't the Jets had much of anything to do with the outcome.
Chargers cornerback Quentin Jammer, who was flagged twice for pass interference, was quick to blame the referees to the New York Post's Bart Hubbuch.
Jammer then brought up the fact that San Diego received 13 penalties at MetLife Stadium after playing two straight games without getting flagged once.
Chargers tight end Randy McMichael also refused to credit New York.
"The San Diego Chargers beat ourselves, OK? It's all about us. We took our foot off the gas pedal, and we lost because of it," McMichael said, per ESPNNewYork. "Their secondary isn't anything. It's our fault. It had nothing to do with anybody on their team. It's all about the guys in this locker room room, we lost the game. They didn't do anything."
The anything that the Jets' defense failed to accomplish inclided picked off Philip Rivers twice in the fourth quarter and completely shutting out San Diego's offense in the entire second half. On the other side of the ball, Plaxico Burress had a breakout game, scoring all three of the Jets touchdowns.
Antonio Cromartie told Jenny Vrentas of the The Star-Ledger: "When you're up by 11 points in the fourth quarter, and you can't even finish the game up, that shows what kind of team you are: a team that can't finish."
Hmm.. perhaps Cromartie is also crediting the Chargers with their own demise.
Popular in the Community