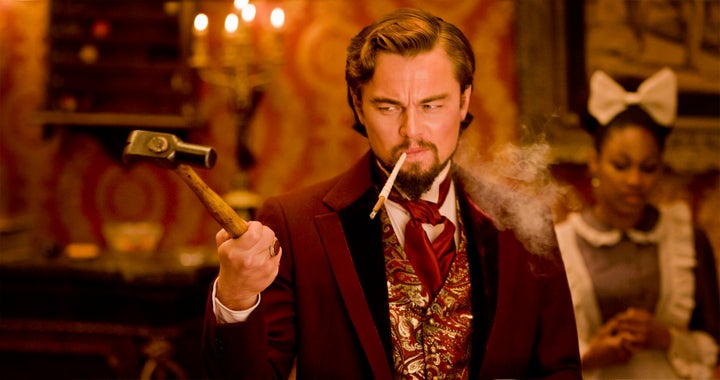 Last night, I looked forward to watching Craig Ferguson's interview with Quentin Tarantino on CBS's The Late Late Show, because I mostly enjoy the quirky director and particularly liked his latest film Django Unchained.
Yes, his films are fraught with violence, but the dialogue exchanges and story twists are fascinating to behold, no less so in Django, with performances solid by the stars Jamie Foxx, Christoph Waltz, Samuel L. Jackson, and most particularly Leonardo DiCaprio, who never ceases to amaze.
However, the point of this piece is to express outrage at something Tarantino said in response to Ferguson's query about how long he would continue directing. He said he'd like to do several more films, but wouldn't want to go on too much longer and become like one of those directors who become "out of touch."
Yes, "out of touch." That was the phrase he used, and I couldn't help wondering how someone so clever in constructing plot points and intriguing characters would so easily be taken in by the almost MTV-like mindset pervading the Hollywood industry?
What does out of touch mean, exactly? That someone might behave in a different manner when one matures? That choices in music might not be what young people are listening to? Or perhaps, more ominous, that, considering Tarantino is about to turn 50 and is deathly afraid of losing his grip, that after one "descends" into his/her 60s one has no idea what is going on or, worse, has no idea how to do the research to find out.
This is as preposterous as presuming that all young writers and directors have been schooled in TV and video games and have no clue what makes a good story, because they've hardly ever opened a book. There are terrific young filmmakers and still terrific older filmmakers, writers and producers of TV and film fare, not to mention the razor-sharp wit of David Letterman, 65. A lot of good people are not working today because of the mindset fostered by Hollywood suits, a point of view not ameliorated at all when it wins the support of one of the industry's most engaging personas.
However, let's examine Tarantino's argument. Maybe he has a point. Or maybe he really does not. If Quentin Tarantino personally feels burned out at any moment, that's of course a different story. But I found his comments incredibly small-minded, making such a blanket judgment call akin to the realities athletes have to face after hitting a chronological age. Here's a list of top film directors in no particular order, and some of the films and major TV projects they directed after the age of 60 and, in some cases, well beyond, many of which were Oscar-nominated including some who actually won. You be the judge:
Billy Wilder - The Fortune Cookie, 60, and Private Life of Sherlock Holmes, 64
William Wyler - Funny Girl, 66 and The Collector, 63
Fred Zinnemann - Julia, 70 and The Day of the Jackal, 66
Alfred Hitchcock - Frenzy, 73, The Birds, 64 and Psycho, 60
Howard Hawks - Hatari, 66
Steven Spielberg - Lincoln, 65, War Horse, 64, The Adventures of Tintin, 64 and Indiana Jones and the Kingom of the Crystal Skull, 61
Clint Eastwood - J. Edgar, 80, Invictus, 79, Gran Torino, 78 and Million Dollar Baby, 74
Martin Scorsese - The Wolf of Wall Street, 70, Hugo, 69, Shutter Island, 68, The Departed, 64, and The Aviator, 62
Robert Altman - Gosford Park, 76
Roman Polanski - The Pianist, 69
Frank Capra - Pocketful of Miracles, 64 and Hole in the Head, 62
David Lean - A Passage to India, 76 and Ryan's Daughter, 62
Joseph Mankiewicz - Sleuth, 63 and There Was a Crooked Man, 61
Milos Forman - The People vs. Larry Flynt, 65
Robert Wise - Star Trek The Motion Picture, 65
Woody Allen - To Rome With Love, 77, Midnight in Paris, 76, Vicky Cristina Barcelona, 73 and Match Point, 70
George Cukor - Love Among the Ruins, 76, Travels With My Aunt, 73 and My Fair Lady, 65
John Huston - Prizzi's Honor, 79
Mike Nichols - Charlie Wilson's War, 76, Closer, 73 and Angels in America, 72
Sidney Lumet - Running on Empty, 64, and The Morning After, 62
James Ivory - The Remains of the Day, 65, and Howard's End, 64
Popular in the Community