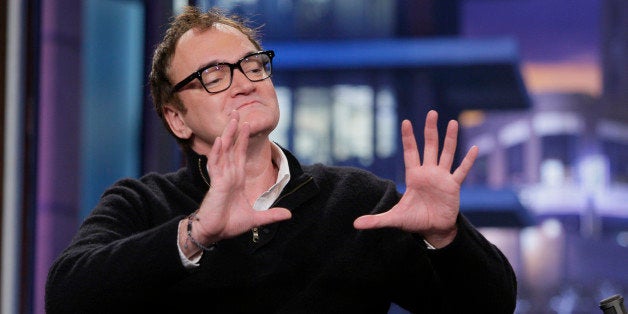 Imagine a Hollywood without Quentin Tarantino. Something wouldn't feel right if we didn't have the Oscar-winning director around to add to the oeuvre of blood-splattering violence. Luckily, he's not going anywhere -- but that almost wasn't the case.
Tarantino recently revealed to The Independent that he considered quitting film "after 10 movies," which, by our calculations, means he was probably weighing whether last year's "Django Unchained" would be one of his final films.
"I went back on the idea," Tarantino said. "OK, it would sound really cool because it's a round number and it would make sense, as I would have made three movies per decade, but it's not fixed in time. I still have some more things to do before being done with movies."
We know that Tarantino has at least one more up his sleeve: a Western. During a November appearance on "The Tonight Show," Tarantino told Jay Leno that his next movie is spurred on by his enjoyment in making "Django" -- but it's not a sequel. "I had so much fun doing 'Django,' and I love Westerns so much that, after I taught myself how to make one, it's like, 'OK! Let me make another one now that I know what I'm doing.'"
One thing Tarantino isn't working on, to many fans' despair, is a third "Kill Bill." Rumblings of a potential new entry in the series have been floating around for nearly a decade, since "Vol. 2" was released. Tarantino told Entertainment Weekly in 2004 that he was working on a third "Kill Bill," and two years later, thoughts of a fourth movie began circulating as well. But he changed that narrative in December 2012, saying "probably not." The director reiterated that sentiment to The Independent. "I don't think about 'Kill Bill 3' that much, as ... we already visited them," he said.
The director also told The Independent that, while he no longer has a checklist of things to tackle in his career, he might like to some day work on a horror film.
Calling all HuffPost superfans!
Sign up for membership to become a founding member and help shape HuffPost's next chapter
BEFORE YOU GO
PHOTO GALLERY
'Kill Bill' Premieres (2003)