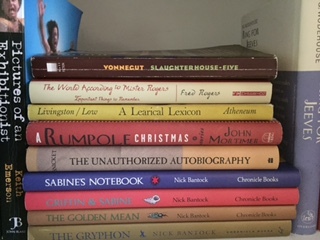 Over the years, I have posted on events and aspects of the Kurt Vonnegut Museum & Library, located in Indianapolis, the city of Vonnegut's birth that also remained a life-long element in his persona and works. What began as a writer's homage to a man and his words + the purpose behind them has now grown in to a full-fledged commitment as board member, where I work to help move this gem, as the button on the Wonkavator was labeled, "Up and Out."
Completely and utterly congruent with my platform of advocacy for free speech, especially as it pertains to the Arts (and as perfect cultural counterbalance to a few assorted things Hoosier for which my home state continues to receive unfortunate press), the KVML stands for purposeful discourse and interaction, healing and growth through peaceful but honest expression, open eyed and open minded intellectual exploration with a decided tendency toward humor, however blunt and potty-mouthed or alkaline dry it might be (luv it), all founded on Kurt Vonnegut's ever growing legacy as American writer and social commentator.
Below are links to articles I have posted on the KVML and its doings, but there is one new thing going on over there: the Vonnegut Library Museum has launched a Kickstarter to help fund its imperative move (their current digs, a loaned couple of rooms in a downtown office) to a permanent location at 646 Mass Ave, also in Indy, which is their Goldilocks spot - it is just right.
Do you know what? A lil history is being made. Rarely anymore does such a unique and vital institution emerge in such a fledgling state, with an honestly held and important quest as this. The KVML has in 5 short years garnered repeated international spotlighting via press and become a pilgrimage-specific destination, and it has become a fast rising star on our local map. Please check out their Kickstarter page and see just what is going on over there. If you know a Vonnegut fan, I encourage you to share this link.
I thank you for your precious time.
Related
Popular in the Community