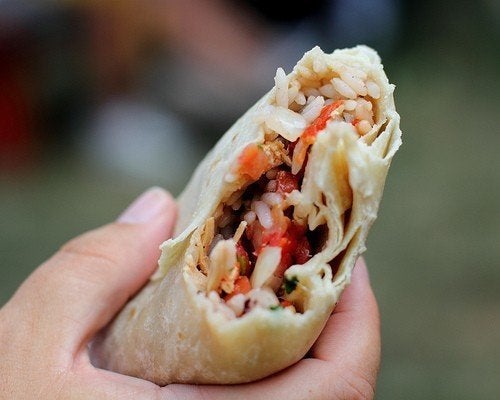 It's springtime, and apparently that means it's still freezing cold. So I thought, what's fresh and zingy for spring but also perfect for warming your hands with? The answer is clearly a burrito. So, through rain and wind, I went out, gained some weight and found the best burrito in NYC.
Calexico Carne Asada: It's in the middle of nowhere, and there's a slight chance the counter-people who helped me were on animal tranquilizers. Still totally worth the trip. The interior is jumbled and Mexi-kitschy, which I love. Also, if you don't want to lead a safari to Red Hook, these guys started out with their rockin' food cart in Soho and just opened big-boy restaurant in Greenpoint.
The Burrito: "Calexico" is a hybrid between "Cali" and "Mexico," which also sums up the food philosophy behind the baby-sized burritos Chipotle sells. But Chipotle (thanksfully) didn't invent the modern American burrito -- it has its roots way back in San Fran where taquerias in the Mission District started taking the rice and beans of Mexican cuisine and breeding them with the "light, fresh and bright" of California cooking. Thus the "Mission Burrito" was born, and Calexico does a darn good job with it. Tender, smoky, lime-peppery chicken, a light Pico de Gallo and fluffy-creamy black beans. And for all you sauce freaks, this place is drowning in hot sauce and salsa. 122 Union Street, Brooklyn; 718-488-8226
Downtown Bakery: It's not a bakery, but it is downtown. And it does sell burritos. The interior is shabby-charming, with fluorescent lighting and mind-bending paintings of oiled-up Abercrombie models dressed up as Aztecs. And the guys who run it are terse, but nice as can be. Hey, what's not to love?
The Burrito: So if "burrito" in Spanish means "little donkey," then this burrito is more like a "short-and-morbidly obese donkey." Which in this case is a good thing. It comes out swimming in sour cream and spicy green salsa, and there's no salsa or guac inside like a Mission Burrito has -- just giant hunks of tender chicken breast and a tasty mess of melted cheese, beans and spicy-fluffy rice. 69 1st Ave.; 212-254-1757
Tacos Matamoros: I took the N train to Sunset Park, Brooklyn's Little Mexico, to try the famed Tacos Matamoros. The dining room feels like an over-sized motel room, and the girls running the show are super-sweet and attentive. You can also catch up on all your Mexican soap operas while you eat!
The Burrito: You could pick this burrito up with two hands and make-believe it's a Mission Burrito, but then you'd also have to pretend it tastes really awesome. The burrito here is good but not incredible. I'd stick with the killer tacos. Something about the mysterious dark-meat chicken and the bland guacamole spooned on top just didn't sell me. On the other hand, if you haven't eaten in a week, this will fill you up for at least a couple days, and it's only seven bucks. Decisions, decisions. 4508 5th Ave., Brooklyn; 718-871-7627
Dos Toros Taqueria: The decor is Modern Raw -- airy, clean and rustic with choppy wood tables and exposed brick. Once you get up to the burrito-making counter, a hipster with a twinkle in his/her eye will impatiently ask if you want pinto or black beans. You can say, "I want it all," and stare longingly into their eyes, but they will probably just repeat the question.
The Burrito: The burritos here are directly descended from Burrito Heaven -- that's to say, San Francisco -- having been birthed by a couple of brothers from the Bay Area. And señor, does it show. The thick chewy tortillas get steamed while cheese is melted inside. The pico is fresh and poppin'. The guac is creamy and done right (and only $0.92 extra). The meat is undeniably char-grilled, tender, peppery. The mild sauce is tangy and flavorful, while the extra-hot could make the Pope blush. 137 4th Ave.; 212-677-7300
Burrito Box: By the time I got here I definitely thought I'd die if I ate one more Chubby Bubby, but I persevered. This tiny little spot in Hell's Kitchen gets points for atmosphere -- no kitsch in sight, just cute little steel counters, tons of pleasant light and blue-and-white walls like some seafood shack in Maine.
The Burrito: If Burrito-ism were a religion, then iceberg lettuce would be its Cardinal Sin. And Burrito Box is definitely going to Burrito Hell for its iceberg sins. But if you can get past the slimy non-nutrition of iceberg lettuce, it's a pretty good burrito. Lots of food, tasty meat and rice. Plus the menu here has a lot of veggie and vegetarian-protein options, which would be perfect for seducing your hot vegetarian date. 885 9th Ave.; 212-489-6889
And the winner is... Dos Toros! These guys win hands-down. Everything is painfully fresh, the meat tastes like it just came off the BBQ because it did, you get a ton of food that doesn't make your stomach crawl when you've finished, and the counter-people are hot tamales! A close runner-up is the homier, meatier burrito at Downtown Bakery. It's a totally different style and maybe not suitable for your new spring diet, but I personally couldn't stop eating it.
REAL LIFE. REAL NEWS. REAL VOICES.
Help us tell more of the stories that matter from voices that too often remain unheard.