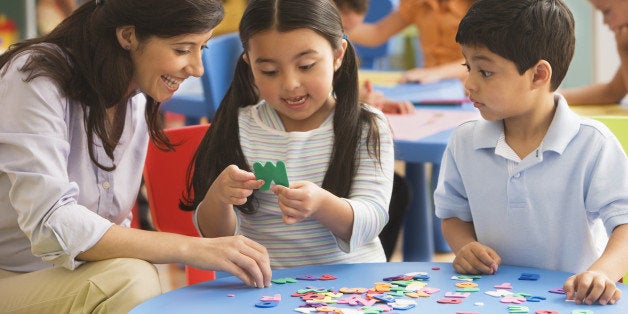 NEW YORK — When the New York City middle school Quest to Learn welcomed its first class of sixth-graders in 2009, it hailed itself as "the school for digital kids." Its founders from the Institute of Play promised a technology-rich environment that would parlay children's passion for video games into riveting educational experiences and authentic engagement.
By delivering curriculum through the medium of games -- some digital, some not -- Quest hoped to bridge the chasm between what kids enjoy and value in their lives, and what they need to learn in school. This "connected learning," says Rebecca Rufo-Tepper, one of Quest's founding designers, "makes learning irresistible. It's connected to kids' lives, with a purpose, and with relevance to the real world."
While technology is still at the core of the model, the kernel in the center of that core is games and "game-like" learning. In the process of finding its feet, Quest ditched the "school for digital kids" tagline and replaced it with "Challenging students to invent their future."
A "challenge," in fact, is a key component of any game, one of many game terms that all Quest students master. Game-related activity -- such as creating an overarching narrative for a unit of study, inventing a board or other "analog" game or performing a dramatic role-play exercise -- is the container for all curricular content, from algebra and sex education to memoir writing and conflict resolution. The flexibility and appeal of games as a conduit for learning is what the people behind Quest hope to share with the rest of the educational world.
On a recent fall morning, students in an eighth-grade English class -- known as "POV" in Quest lingo -- quizzed groups of their peers about the motivation of characters in Sherman Alexie's Absolutely True Diary of a Part-Time Indian, in a game called Socratic Smackdown. One round ignited a poignant discussion about the unreliable behavior of the alcoholic father in the story, and whether all alcoholics ultimately sell out family relationships. At the end of each round, questioners filled out scorecards and declared a winner, based on the clarity and persuasiveness of the arguments, use of textual citations and whether they thought the presentations were interesting.
Down the hall, sixth-graders in "The Way Things Work" (or science) embarked on a "quest" (or unit) called "Journey to the Center of the Earth." They were challenged to invent a transport that would penetrate the earth down to its core and encounter all the geologic layers of the planet in the process -- an example of how a game-like narrative, with obstacles and levels, can be built around the content of what's being taught.
By many measures, Quest is on track to fulfill its mission of captivating students and imparting essential skills at the same time. Since its opening, the school in Manhattan's Chelsea neighborhood has drawn students from all over the city, adding a grade every year; it now has 560 students, and in 2016 will graduate its first class of high school seniors. Student attendance and teacher retention rates are high. In 2013, 56 percent of Quest middle-school students scored better than the citywide average on the state standardized English Language Arts exams, and 43 percent exceeded the citywide average for math. About 28 percent of the student body receives special education services.
"They're coming up with the ideas themselves, in a way that they enjoy. And that makes all the difference." Ann Meals, a teacher learning the Quest method.
Perhaps more significant, said Richard Arum, a professor of sociology and education at New York University, who has been conducting a longitudinal study of Quest and other technology-based programs to gauge their efficacy, is how well students have performed on the College and Work Readiness Assessment (CWRA). The CWRA measures such skills as problem solving, writing effectiveness and mechanics, and scientific and quantitative reasoning. The results, while preliminary, "are quite impressive," said Arum, and indicate that Quest is equipping kids "to collaborate, think critically and master 21st-century competencies like systems thinking and design thinking."
In another room at Quest, four seventh-graders and two teachers -- Leah Hirsch, a seasoned game designer, and Arthur Eisenbach, a math teacher -- "play tested" a card game they were devising to teach different ways of representing fractions. As the students played, they asked questions and suggested ways to make the game's rules more explicit. "What if someone has the chance to challenge you and they don't because they're not reading the cards right," asked one student. "Do they lose a turn?" "This is a tough crowd," Eisenbach joked. "But that's a good point. I think that's a rule we should add."
The "tough crowd" factor of test-play with students is one of the Quest model's strengths, ensuring that new games are not simply contrivances layered on top of mandated curriculum and that students have a voice in the process.
Ross Flatt, a Quest founding teacher who is now assistant principal, devised a board game to help students envision the Neolithic revolution, complete with hunter-gatherers, farmers, Levantine crops and domesticated animals. It took many go-rounds with students, he said, to refine the game to make it challenging, exciting, informative and usable for other teachers.
Getting to a point where teachers can instinctively think about curriculum-as-game is a long, labor-intensive process. As Quest has matured, the exhaustive collaboration between Institute of Play designers and classroom teachers has been dialed back. At the school's inception, IOP staff were embedded at Quest, and met every week with teachers to design and test games. "Then it went to once every two weeks, and now it's once a month," said Rufo-Tepper. "The goal was always capacity building." Today, a cohort of seasoned teachers, designers in their own right, including Hirsch and Flatt, has the role of training successive waves of Quest teachers.
While IOP still offers regular support and feedback to Quest teachers, its leaders have turned their attention to other districts, cities and states in an effort to spread the game-like learning gospel. A second school, ChicagoQuest, opened three years ago, and IOP is in the early stages of partnering with a Denver school district to create a learning center there.
A big part of disseminating the Quest model is extra training for teachers. IOP offers "design packs," webinars and many downloadable games and curricular materials (among them "Socratic Smackdown") to help them incorporate and nurture game-based activity in their classrooms. Ann Meals, a seventh-grade ELA teacher at Elizabeth Forward Middle School in southwestern Pennsylvania, took part in a weeklong "TeacherQuest" workshop in Pittsburgh last summer. "Every one of our students has an iPad that they can take home over the summer," she said. "We have a lot of resources as far as digital games go, but sometime I feel the kids are overloaded -- they just want to play regular games."
Over the course of the workshop, Meals and a partner created a charades-inspired game to investigate the Common Core standard of understanding story components such as character, setting and plot. "I teach The Outsiders by S.E. Hinton, so we based it on that," said Meals. "If you put this character in a certain setting, give them a certain situation, how would that character react?"
Meals' students haven't yet tried out her version of charades -- they have to finish the book first -- but they are creating games of their own. "As an introduction, I asked them to design a vocabulary game" using existing games, such as musical chairs, a ball game or a memory card game, said Meals. "It's been really amazing to see what they come up with."
Ultimately, it is this kind of inquisitive resourcefulness that IOP and the teachers behind the Quest model hope to inspire. It could result in the sort of encouraging outcomes Richard Arum is seeing on the college readiness assessments. Ann Meals put it like this: "Kids get tired of being told what to do all the time. Through games, they're having conversations with each other. They're coming up with the ideas themselves, in a way that they enjoy. And that makes all the difference."
Before You Go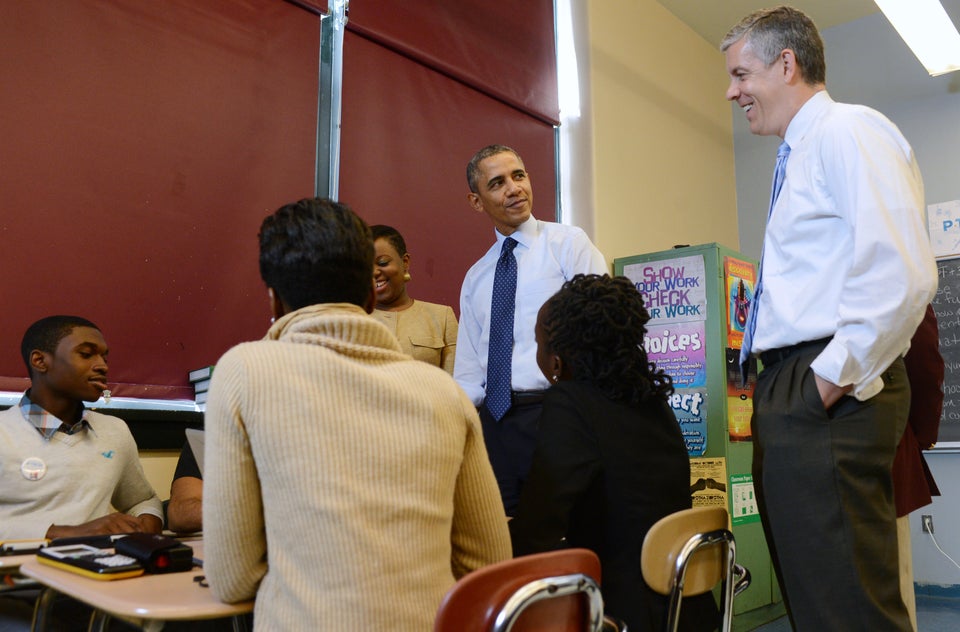 The Most Interesting High Schools In America
Popular in the Community