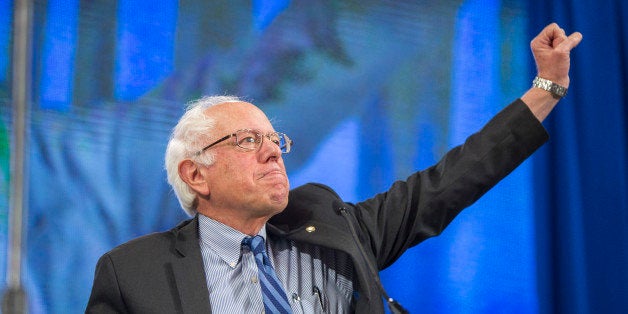 Ever since he launched his long-shot bid for the presidency, Bernie Sanders has urged his followers to carry out a veritable "political revolution." Bernie has been far too cautious, however, when it comes to defining the contours of such a revolution. When pressed, he declares that his followers should come together for the purpose of voter drives, phone banking and the like. If he were ever elected to the White House, Bernie might even make use of his political revolution to help organize protests in advance of key votes in Washington.
But here Bernie seems to be placing the cart before the horse. If the self-described democratic socialist doesn't win the Iowa Caucus, which is the first voting contest, there may not be a political revolution in the first place or a tangible role for Bernie's dedicated cadre of activists. It is baffling, and that is putting it mildly, that Bernie and his advisers have been so obtuse when it comes to crafting a viable media strategy designed to showcase the notion of political revolution front and center.
In an earlier article, I sought to spell out some ways that Sanders might expand upon the concept of political revolution and thereby gain some traction in advance of key voting contests. If he were audacious, Bernie could call for mass protest during the actual presidential campaign. Just what type of protest, and to what end? Currently, Sanders is still a virtual unknown to many segments of the electorate including the crucial Latino bloc. Perhaps, Bernie should strike right at the core of Republican xenophobic ideology by calling for protests which highlight injustices within the U.S. immigration system.
The need for such pressure is long overdue. Indeed, members of Congress recently protested dire conditions at U.S. Immigration and Customs Enforcement (ICE) detention centers. In one case, a Mexican immigrant died of pneumonia after receiving substandard medical care. In another instance, a Salvadoran immigrant who had been detained for a whopping four years died of intestinal cancer even after he had lodged complaints about his worsening medical condition. In one privately-owned California detention center, hundreds of migrants carried out a hunger strike after being subjected to medical neglect.
However, detainees who dare to protest such backward treatment have been subject to repression. Reportedly, Latin American migrants who went on hunger strike against the authorities have been placed in solitary confinement. And when Central American women went on hunger strike at a detention facility in Texas, detainees were rounded up for transfer. The plight of migrants, not all of whom hail strictly from Latin America, has even spurred the growth of a new movement called #FreedomgivingHungerStrikes.

Immigration on the Campaign Trail
It goes without saying that the debate over appalling conditions within immigration facilities will not receive top-tier billing on the Republican campaign trail, which is more prone to race baiting and xenophobia. On the Democratic side, Bernie Sanders has issued statements in support of hunger strikers. To his credit, the Vermont Senator has called for the closure of private prisons while opposing solitary confinement and indefinite detentions. Bernie has also said that non-violent immigrant detainees should be allowed to reunite with their families as they await their day in court.
Such moves must be applauded, and to be sure Sanders has improved in recent days when it comes to the overall issue of immigration [as I've written previously, however, the Vermont Senator has been a little quirky on the issue of borders and Bernie is reluctant to break with a certain strand of the ossified old guard nationalist labor establishment]. In a frontal assault on the likes of Trump, Sanders remarked that border security could be improved by investing in novel technologies in contrast to "boondoggle walls" which would set the stage for further militarization. Rather impressively, he also called for ending contracts with private detention centers and said he would do his utmost to eliminate ethnic profiling and discrimination at the border. Meanwhile, the Vermont Senator declares that if he is elected he will map out a "swift legislative path" for 11 million undocumented migrants.
What is Bernie Waiting For?
Fair enough, though one wonders how many Latinos are even aware of Bernie's policy proscriptions and the Vermont Senator seems very unwilling to craft a viable media strategy. Like it or not, presidential elections tend to revolve around personalities and the media cycle rather than policy, and by boycotting or criticizing the mainstream media Bernie seems to have consigned himself to obscurity within the Latino community. This is particularly jarring and self-defeating in light of the growing power of the Latino electorate in early voting states like Iowa and Nevada.
Latinos are looking for a champion and a man of action, yet unfortunately Bernie seems unwilling to deliver. When asked if he'd visit facilities where immigrants have gone on hunger strikes, Sanders said he would try but sounded vague when it came to providing specifics. "Given my schedule between Congress and the campaign, I can't promise you when and where it would be, but it is something that I am interested in doing," he said.
What is Bernie waiting for? While it would be a stretch for the presidential candidate to go on a hunger strike himself, there are certainly ways that Bernie could marshal his followers and thereby recast the media narrative in the run-up to Iowa. As I wrote in a previous article, the Sanders campaign has embraced new technologies with a vengeance while recruiting talented young millennial coders. Bernie's own media company is called Revolution Messaging no less, and the firm has helped to build Sanders' presence on such platforms as Reddit.
#FreedomgivingHungerStrikes
At the flick of one button, Bernie could deploy his followers to support the burgeoning #FreedomgivingHungerStrikes movement. It is not a stretch to imagine millions of volunteers conducting phone banking on behalf of immigration protest and detainees, which might succeed in taking the air away from Trump. Such a campaign strategy would raise the moral bar and might also gain Bernie coveted visibility within the Latino community.
To be sure, there's no assurance that such a strategy would be successful or even rouse the media from its perpetual torpor. What is more, in the aftermath of the San Bernardino terrorist attack immigration reform may not be such a popular topic among certain Americans. There's no guarantee, moreover, that calling for protest wouldn't wind up alienating mainstream segments of the electorate. These are all considerations, but as we begin the countdown to Iowa, Sanders may not have much to lose.
Popular in the Community