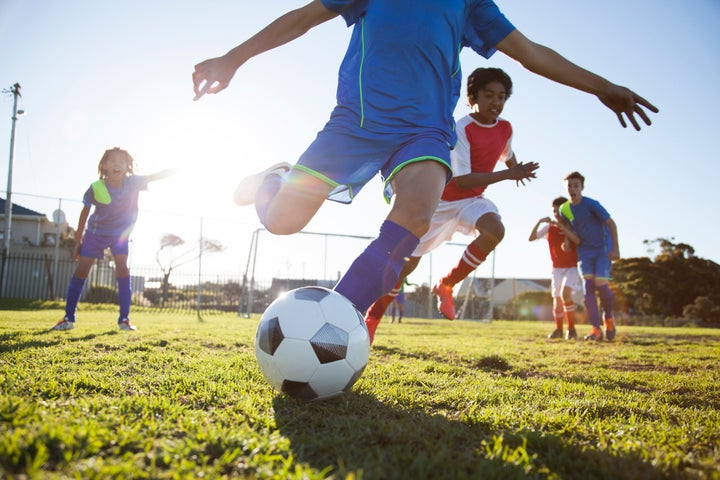 As schools across the country begin again, many American children are starting up new activities, from art classes to sports leagues. Youth sports are popular year round, and provide kids the opportunity to learn about resilience, teamwork, discipline and honesty.
Looking beyond these important life skills, however, another priority for parents is ensuring the safety and well-being of their children. When it comes to their involvement in sports and physical activities, there are many aspects of health and safety to keep in mind.
But there's one particular topic that doctors urge parents to address from the onset: Are automated external defibrillators (AEDs) readily available?
"Much like programs have emergency response plans for fires and for mass shooting events, they should also have an emergency response plan for cardiac arrest," said Dr. Marina Del Rios, an associate professor of emergency medicine at the University of Iowa and American Heart Association expert volunteer.
Cardiac arrest is the sudden loss of heart function. Basically, it describes an emergency in which the heart stops beating and therefore is no longer pumping blood to the brain and other vital organs.
The most common cause of cardiac arrest is ventricular fibrillation ― a type of arrhythmia, or irregular heartbeat, that occurs suddenly. In the sports world, ventricular fibrillation typically occurs with commotio cordis, a phenomenon in which there's a blunt trauma to the chest, usually from projectiles like baseballs or hockey pucks. The force of physical contact with other players can also be a cause in some instances.
In the event of cardiac arrest, an AED can deliver an electrical shock, or defibrillation, to help restore the heart's natural rhythm.
"Sudden cardiac arrest is the most frequent medical cause of sudden death in athletes," Del Rios said. "However, rapid response can save lives as chances of survival drop by 10% with every minute where CPR and AED use are delayed."
She pointed to NFL player Damar Hamlin's on-field cardiac arrest in January as an example of an "ideal" response to this type of emergency. When the Buffalo Bills safety collapsed on the field, medical staff quickly performed CPR and used an AED to restore his heartbeat.
Del Rios encouraged parents to ask their children's coaches if their summer sports program has implemented a plan to make AEDs available and if they've prepared the staff to respond to a cardiac emergency.
"They should ask who in the program staff has received CPR and AED training," she said. "Even inquire about the availability of student CPR education and sudden cardiac arrest awareness education. Children as early as 4 years old can be taught how to call 911 and use an AED."
Indeed, AEDs have very clear instructions with illustrations that show users where to place the paddles. The device will automatically analyze a person's heart rhythm and only provide shock if needed, so you don't need to worry about accidentally hurting someone.
"AEDs are made so that no special training is needed," Del Rios said. "So long as you can follow the prompts on the defibrillator, anyone can use it."
Since his high-profile cardiac arrest, Hamlin has been using his platform to raise awareness around the importance of cardiac emergency preparedness. He joins the chorus of doctors on a mission to expand the availability of AEDs in schools, community centers and other public spaces.
"Parents should make sure there is an AED present within two minutes of where their child is at all times during school and at after-school activities," said Dr. Naomi Kertesz, director of electrophysiology and pacing at The Heart Center at Nationwide Children's Hospital. "If the field is more than two minutes from the school then the AED should be brought to the field. An AED should be present for all games and practices, including all away games."
As the summer sports season kicks off, parents can ask their children's coaches about access to AEDs and make sure these devices are readily available within 100 feet of staff, rather than locked up in a cabinet somewhere. There should be a clear protocol in place.
"The parents should ask how often the AED is checked to insure that its battery is charged and that the pads have not expired," Kertesz added. "They should ask how often a medical emergency drill is performed. It should be done yearly. Parents should also ask how many people are comfortable using the AED."
Although it's important to ask your children's coaches about AED access and overall medical protocols, the cardiac emergency preparedness shouldn't end there.
"Everyone should learn the basics of cardiac arrest resuscitation: Call 911, start CPR, use an AED," Del Rios said. "And I urge parents not only to inquire about how staff at sports programs are prepared to respond, but also to prepare themselves and their families to respond to a cardiac arrest."
"Although a lot of attention has been placed on cardiac arrest in athletes, the truth is that 80% of cardiac arrests happen in the home," she added. "Chances are if you ever witness one, it will be in someone who you know and love."