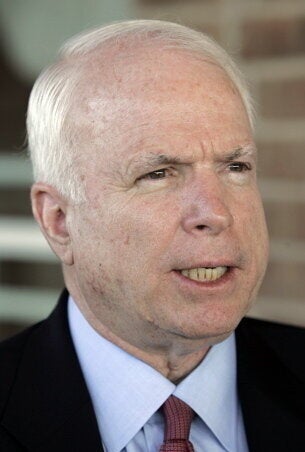 Update: As reported by Iowa Politics, Marty Parrish signed in to Sen. McCain's health care conference as a HuffPost reporter. Marty Parrish is not a HuffPost reporter or blogger, nor a contributor to HuffPost's OffTheBus. He was not asked to attend the McCain conference on our behalf, nor did he have any contact with HuffPost staff prior to the event.
OffTheBus member Keith Dinsmore was on the scene at the McCain healthcare town hall in Iowa Wednesday where Marty Parrish posed a question to the candidate the mainstream media weren't asking. Parrish was dragged out by secret service agents. He talked with OTB's Dinsmore after the event.
Marty Parrish was aware of John McCain's alleged history as an adulterer and that he had left the wife who had raised his children while McCain was held captive in Vietnam for a rich, young trophy wife.
But last week, when Parrish -- a business owner in Des Moines -- read a HuffingtonPost article by Adam McKay, "Vetting the Candidates," that related how McCain had verbally abused Cindy McCain in front of reporters and staff, Parrish became both angry and concerned.
"A guy who would call his wife a trollop and a c--t just because she had ruffled his hair in front of five guys is not only a jerk, but a dangerous hothead if he ever gets his finger on the button," Parrish said Thursday evening.
"And since the mainstream media has decided to give McCain a free pass, I decided to stand up and, if they gave me an open mike, ask the question that the press refuses to touch," he explained. "Our country is in a serious crisis after nearly eight years of Bush, and America appears to be oblivious to the danger this guy (McCain) poses to our country," said Parrish.
So when the soft-spoken Arkansas native prepared to go to the Polk County Convention Center in Des Moines for McCain's health care forum Thursday, he decided to print up a few leaflets to hand out to Iowans and the media, highlighting the offensive quote from Cliff Schecter's new book, "The Real McCain."
When he arrived downtown, Parrish took the one-page flier (view it here) to an instant copy place to have 500 printed. Nestled among about 30 protesters in front of the Convention Center were about a dozen volunteers with Moveon.org, inviting passersby to take the "Bush-McCain Challenge." (Try to tell the difference between Bush's policies from McCain's views and win a free prize!) The Moveon.org staff eagerly volunteered to distribute the leaflets to all comers.
"If I didn't get to ask McCain the question I wanted to ask, at least the fliers would help spread the word about McCain's hair-trigger temper and the lack of respect for his young wife," thought Parrish, who has a master's degree in political science and is a licensed Baptist minister.
Because it was a forum on health care, Parrish said that he wanted to frame his question in a pertinent way. Midway through the Q-and-A session, McCain pointed to Parrish and a staffer brought him a microphone. According to a transcript of the event and a YouTube video, Parrish posed "the question" like this:
"This question goes to mental health and mental health care. Previously, I've been married to a woman that was verbally abusive to me. Is it true that you called your wife a cunt?"
The room fell silent for several seconds while McCain adjusted his mike and started to answer: "Now, now. You don't want to ...Um, you know, that's the great thing about town hall meetings, sir, but we really don't .... There's people here who don't respect that kind of language. So I'll move on to the next questioner in the back."
As Parrish expected, a young male staffer began striding toward him, followed by a Des Moines police officer. They escorted Parrish out of the room and into the hallway, where a Secret Service agent questioned him for about 30 minutes, wanting assurance that Parrish had no intention of physically harming the Republican presidential nominee in the next room.
Parrish assured the agent that he had once worked on Capitol Hill and had received several security clearances. "I wanted them to know that I was acting out of a genuine concern for my country and my belief that a man whose temper often gets the best of him should be disqualified for the presidency," Parrish said Thursday evening.
Schecter, the author who reported the McCain slur against his wife, saluted Parrish for "asking [McCain] to answer for his behavior." He credited Parrish for ending McCain's "media holiday on this subject" and praised the "audacious" Parrish for taking democracy into his own hands. The incident, Schecter says, has inspired him to start a series tracking McCain at the political blog firedoglake, where he reported on Parrish and the events in Des Moines.
Parrish told OffTheBus that he moved from Arkansas to Iowa last summer to work on Sen. Joe Biden's presidential campaign. "I believed strongly that Senator Biden offered the best credentials to keep us safe in a dangerous world and to bring the foolish Iraq war to a successful conclusion," he said. "It's scary to think of a hothead like McCain having his finger on the trigger."
"Although the caucus results weren't what I'd hoped for, I came to love Iowa and fell in love with a wonderful woman who is from here," Parrish said with a big grin. This spring, he established a technical consulting business which is off to a great start, he says. Since his first choice for president didn't work out, Parrish has transferred his allegiance to Sen. Barack Obama and plans to volunteer for him in the general election should the Illinois Senator win the nomination.
"The Secret Service agent made me promise not to show up at any McCain campaign events in the future," said Parrish. "I told him that wouldn't be a problem - I'd forgotten how boring Republican events are," he added. "McCain had about 300 really old people today. When Obama campaigns here in the fall, there'll probably be 15,000 people of all ages and backgrounds, cheering him on."
Parrish pointed out that Iowans have never taken too kindly to the senior Senator from Arizona, given McCain's opposition to ethanol subsidies and his decision to skip the Iowa caucuses in 2000. "After today," Parrish said with a laugh, "Mr. McCain may not be too anxious to come back to the Hawkeye state any time soon."

Popular in the Community