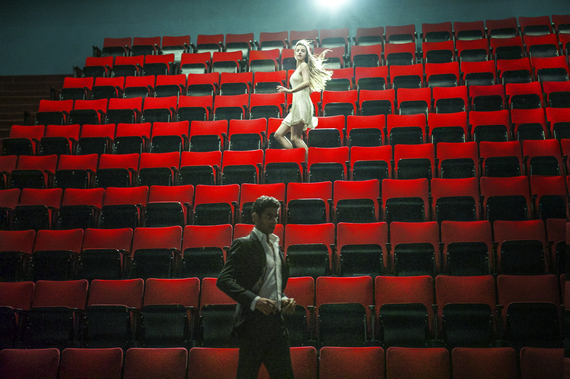 New York City Ballet's Indiana Woodward and Amar Ramasar in "In Passing," a new short film commissioned by the Ashley Bouder Project, directed and choreographed by Andrea Schermoly. Photo by Jody Q. Kasch.
"It will soon be possible to distribute grand opera music from transmitters placed on the stage of the Metropolitan Opera House by a Radio Telephone station on the roof to almost any dwelling in Greater New York and vicinity... The same applies to large cities. Church music, lectures, etc., can be spread abroad by the Radio Telephone." - Lee De Forest company advertisement, 1907
In 1877, Thomas Edison invented the phonograph, the first device that could reproduce pre-recorded sounds. Before this, the only exposure people had to music was live, either in a recital hall or at home in a chamber music setting. Classical works of the time were longer, as people often traveled great distances to hear this music, realizing they may not have the chance again for some time. The development of the phonograph made access to pre-recording music widely available, changing how music was delivered to consumers. The phonograph evolved into the record player, cassette player, CD player, and finally into the MP3 player (and music streaming technology) that is common with most mobile technology today. Musical works became shorter, easier to deliver and consume, changing its structure as the artform grafted itself onto technology.
The rise of the internet has pushed our entire global society into a new digital age. Governments can be toppled with a tweet. Accurate information can be shared in an instant. Businesses, political candidates, and pop stars alike all use the internet on a daily basis to reach customers, voters, and new audiences. All of us in the artistic sector should be asking ourselves: How are we engaged with technology that supports the artmaking process and serves as a platform for the art itself?
A case study: within a month of being uploaded, Dave LaChapelle's video for Hozier's "Take Me to Church" starring ballet star Sergei Polunin received over 8,700,000 views on YouTube. It was all over social media feeds, shared by dance and non-dance aficionados alike - but what do these 8,700,000 people engaged with ballet actually look like?
George Balanchine's production of "The Nutcracker" performed its 60th-anniversary season this past December, widely considered one of the most popular productions of the ballet and a beloved New York City holiday tradition. The 2755-seat David H. Koch Theater, where New York City Ballet is housed, presents approximately 50 performances of "The Nutcracker" each year. If "The Nutcracker" sold out every performance, it would still take over 60 years to expose the same amount of people to ballet - as garnered by "Take Me to Church" in its first MONTH!
While watching a free four-minute video that pops up on a smartphone is a completely different experience than attending a live performance, perhaps seeing dance online is the best entrée for the rising millennial generation and new receptive audiences to the art form. Even Mikhail Baryshnikov, arguable one of the greatest male dancers of all time, recently acknowledged the potential for mainstream media exposure in an interview that "...of course more people saw me in Sex and the City than if I had danced every day for the last 20 years."
Even in the last century, a first experience with dance was not always through a live professional production but through television or film (the Ed Sullivan Show and The Red Shoes come to mind). Television shows like So You Think You Can Dance are a excellent catalyst for a mainstream audience to begin to understand how to appreciate dance, but do not represent the full diversity of professional artistic work being produced. While not a dance work, New York City Ballet's fantastic documentary series city.ballet was produced to be a visual introduction to the behind-the-scenes world of ballet, and offers a small glimpse into what professional ballet today looks like.
"It's time for dance companies to stop thinking about themselves as dance companies, and start thinking about themselves as content organizations," say Marc Kirschner, Founder and General Manager of TenduTV, the "Netflix" of dance films online. "Dance organizations need to be thinking about how they are reaching people on desktops, on cell phones, on tablets, on televisions, and what that experience entails. The standalone dance company creating work for only inside of the theater is a deadman walking." The performing arts industry must catch up to the 21st century and embrace technology to not only create online marketing strategies, but also quality stand-alone artistic content to supplement live performances that can be consumed by anyone with an internet connection.
Dance as film has largely been seen as an experimental and fringe offset to traditional performances, due to the traditionally high costs of productions, limited distribution, and therefore no market. With the advent of the age of the smartphone and social media (if you see it, share it!), dancemakers have a new opportunity to reach an unprecedented number of new audience members through film. For the rising generation born with a smartphone in their hands, the iPhone screen is a millennial's first proscenium. Films like NY Export: Opus Jazz and Pina are a rich way to share dance new audiences (especially in 3D!) Short films like New York City Ballet's poignant 9/11 tribute New Beginnings has garnered over 1,400,000 views to date (or about 10 years of "Nutcrackers.")
By embracing the internet, we can address another issue plaguing our industry. An often-heard lament in dance industry is the loss of corporate sponsorship dollars, which dried up in the face of the recession and the need for businesses to allocate resources to reaching digital age customers. Arts organizations used to offer a higher level of public visibility, when theaters were more prominent as community centers. If the new business measures in the 21st century are clicks and views, perhaps arts organizations can reengage corporate sponsors by going digital. Online audiences are already interested in engaging with dance, Misty Copeland's Under Armour commercial clocks in just above 7,600,000 million views (it would take American Ballet Theatre 250 years to sell out the company's annual eight-show run of "Swan Lake" at the 3,800 seat Metropolitan Opera House.) While not artistic films, commercials like these demonstrate there is a market of people engaged to the visual aesthetic of dance -- and the potential for a future expansion of internet-based dance consumption. But will product placement impede artistic integrity?
At a time when 58 percent of all Americans own a smartphone, which can be used to capture and deliver content through the internet, the dance community is perfectly positioned to begin delivering beautiful, thoughtful dance work not just on film, but for film. While not a replacement to traditional proscenium performances, digital dance works should compliment the live repertory and be used as a tool to attract new audiences to engage with the artform. For a visual performing art form like dance, utilizing film and the internet allows us to bring audiences closer -- it's time to invite them in.
Calling all HuffPost superfans!
Sign up for membership to become a founding member and help shape HuffPost's next chapter