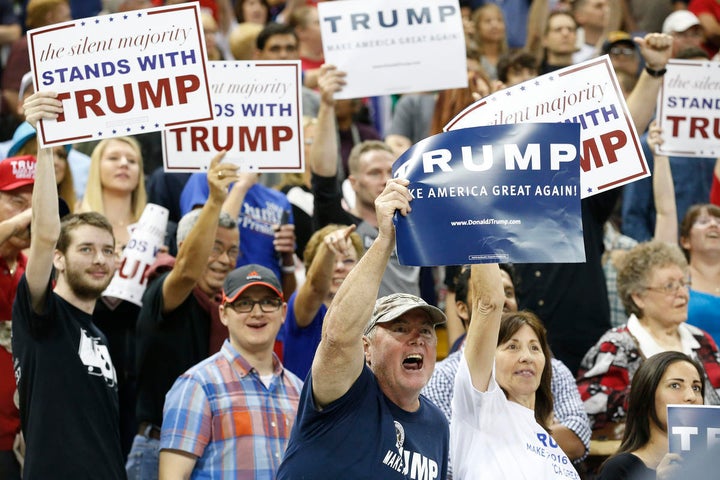 Last week I spoke with about 100 members of an electrical workers' union "sportsman's club." We discussed the political climate and economic prospects a year after the election of Donald Trump as president. I did not ask who voted for Trump, but I am sure there were at least some Trump voters in the group.
I opened saying that some of you are "gun guys" and others here oppose abortion for religious reasons. But every one of you is a union member and a workingman or woman. Donald Trump promises a job renaissance, but has yet to deliver and it is questionable whether he can. His tax plan will definitely hurt New York State residents. His allies are virulently anti-union. His rhetoric on race and immigration exacerbates tension that divides working people. Workingmen and women, particularly white workingmen and women, helped elect Donald Trump president. They have to decide which issues will take precedence as they evaluate the Trump presidency and decide on a political strategy for the future.
The problem of deciding what is most important among a range of issues is neither new nor easy. It is often made more difficult by people who are supposed to provide moral guidance.
Last October, in a letter that was supposed to be read at every church in the Rockville Centre, New York diocese, and in his Long Island Catholic Weekly Update, Bishop William Murphy tip-toed along the fine line separating church and state in the United States. Murphy, who retired in January 2017, beseeched parishioners to elect a president who would push the nation in the "right direction" and demanded that they "disqualify any and every" candidate for public office who supports a woman's right to reproductive freedom.
Despite orders from the bishop, some priests refused to read the letter. As one parishioner who stormed out of church in the middle of the bishop's letter told me, "Everyone in the church knew he was condemning Hillary Clinton and calling on us as Catholics to vote for Donald Trump."
According to Bishop Murphy's letter, "Many issues are very important in our society today. But none of them can eclipse the centrality of human life, especially innocent human life in the womb or at the end of life. Above all and over all, the number one issue more fundamental and crucial than any other is abortion – that is the direct taking of innocent life, which is financed by government funds ― the diversion of our tax dollars to abortionists like Planned Parenthood as well as government insistence that we Catholics, like the Little Sisters of the Poor, violate our consciences to advance such programs. Support of abortion by a candidate for public office, some of whom are Catholics, even if they use the fallacious and deeply offensive "personally opposed but . . ." line, is reason sufficient unto itself to disqualify any and every such candidate from receiving our vote. Let me repeat that: Support of abortion by a candidate for public office, some of whom are Catholics, even if they use the fallacious and deeply offensive "personally opposed but . . ." line, is reason sufficient unto itself to disqualify any and every such candidate from receiving our vote. Abortion was not Bishop Murphy's only target in election 2016. In his Long Island Catholic Magazine column, he attacked labor unions and universities. He accused labor unions of pursuing "their own goals at the expense of other legitimate groups" and of abandoning the "common good" and selling out to one political party (the Democrats) to achieve political power. The teachers' union received special vitriolic attention for having the audacity of opposing the transfer of public education dollars to private and religious schools. Universities he attacked for being "politically correct and as "pawns of the Government" (meaning Barack Obama). In the column Murphy also denounced "Occupy Wall Street" for "destructive and disruptive actions" and compared them to Lenin and Soviet "bolshevism." He also criticized a bill before the New York state legislature designed to protect sexually abused minors because he felt it was "unjust" and "targets the Catholic church."
Bishop Murphy ended his October 17 non-endorsement letter asking parishioners three questions.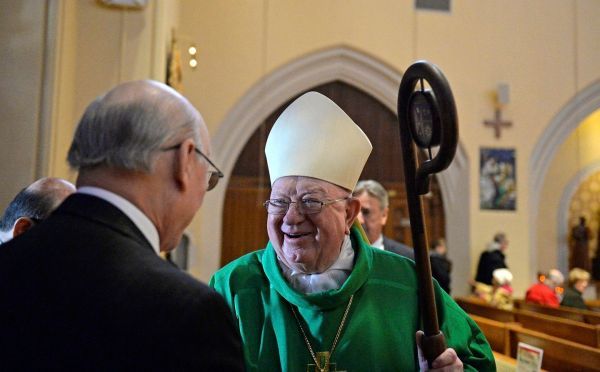 1. Do you think our country is going in the right direction or the wrong direction? I believe it is heading in the wrong direction. 2. Of the two candidates running for president, and of all of the candidates running for elective office, whether federal, state or local, which ones will continue to lead us in the current direction or which are more likely to restore justice in those areas that cry out for such a restoration? 3. Which ones are willing to lead us in a direction that is more pro life, more pro family and more pro truth? Which ones will recognize and respect the role of religion in the lives of citizens and the Church's right to mediate the truths of the Gospel and the Church's teaching as part of the public life of our country, in public ministries like health care, education and charitable works, without being forced to adopt and facilitate those cultural practices that are not consonant with Church teaching?
One year later I have three questions for Bishop Murphy, parishioners who voted for Donald Trump, and for workingmen and women in general.
1. Is interference with the reproductive freedom of women such a transcendent issue that it "eclipses" Donald Trump's irrational position on climate change, his saber rattling and threat of nuclear war, his proposed cuts in health care for the poor, his attacks on immigrant communities, his anti-union appointments, and his incendiary remarks promoting racial, ethnic, and religious division?
2. Are the people of the United States, Puerto Rico, and the world, better off today because of the election of Donald Trump?
3. Do you still believe the election of Donald Trump has pushed the United States in the "right direction"?
REAL LIFE. REAL NEWS. REAL VOICES.
Help us tell more of the stories that matter from voices that too often remain unheard.
BEFORE YOU GO