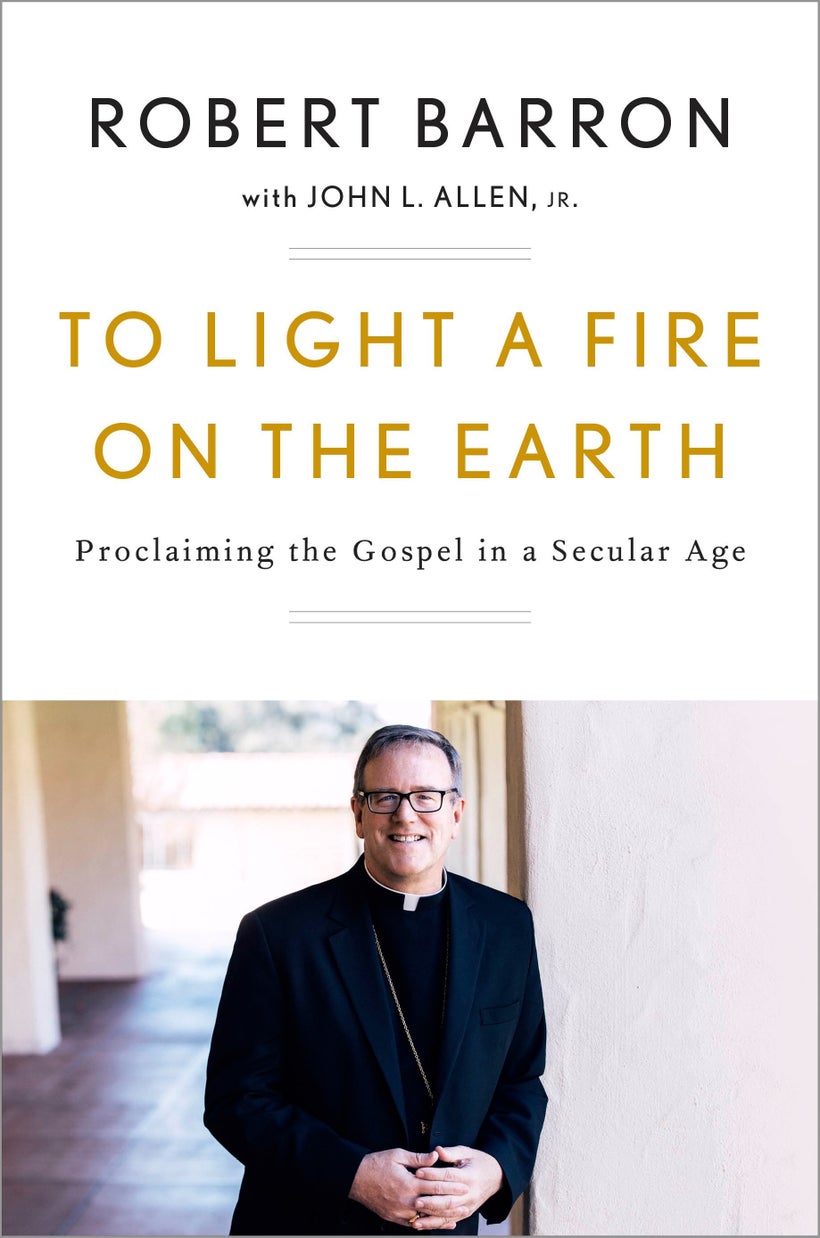 For almost ten years I've served as an editor at Penguin Random House. In that time I've had the chance to work with some of the brightest, most influential, and most popular authors who write about religion and spirituality, including Pope Benedict XVI, Pope Francis, Deepak Chopra, Michael Singer, Sakyong Mipham, Gabrielle Bernstein, Colleen Carroll Campbell, Maura Zagrans, and Scott Hahn, to name just a few. This new series, Questions of Faith, looks to highlight some of those authors and their literary work in an informal and fun way.
My first interview is with Robert Barron, auxiliary bishop of Los Angeles and the author of the new book To Light a Fire on the Earth, written with Vatican journalist John L. Allen, Jr. Bishop Barron is unlike any Catholic priest you've ever met. He's not only a beloved pastor and bestselling author, he's also a filmmaker (check out CATHOLICISM, his monumental, award-winning documentary about the Catholic Faith, which aired on PBS), a social media phenomenon (he has close to 2 million followers across various platforms), and gets invites to places like Facebook headquarters to talk about religion in the contemporary world. Wait, what? Facebook? Yes, that Facebook.
Religion has become for many in the 21st century a four-letter word. What Barron does so well is to help people see that faith can be relevant, beautiful, and intelligent. I've had the good fortune to work with him on his book Catholicism: A Journey to the Heart of the Faith as well as his most recent book which we talk about now.
Titles and subtitles are very important components of every book published. It's often the first entry point for readers. Can you tell us the significance of your chosen title and subtitle, To Light a Fire on the Earth: Proclaiming the Gospel in the Secular Age?
"To Light a Fire on the Earth" is, of course, derived from Jesus' famous characterization of the purpose of his mission. I have always liked how edgy and dangerous that description is! Fire is illuminating and beautiful, but it's also destructive and more than a little frightening. So it goes with authentic evangelization, which is the declaration that a crucified criminal is, in fact, the Lord of the world. God didn't raise Julius Caesar from dead, nor Napoleon nor Queen Victoria, nor Franklin Roosevelt. He raised Jesus of Nazareth from the dead. To declare that fact has always amounted to lighting a firestorm. And this is why I signaled the secularism of our time in the subtitle. Secularist ideology, which is a negation of the transcendent aspiration of human beings, does damage to the human heart. Therefore, it deserves to be challenged, shaken up, set on fire.
What was the first book that helped you to see God in a new way? What was it about the book that resonated with you?
One of the most important books of my life is Thomas Merton's The Seven Storey Mountain, which I first read when I was sixteen and which I've read four or five times more over the years. It's the very compelling story of a young man, totally caught up in the goods of the world—wealth, fame, honor, power, pleasure—who then discovered God and never looked back, until he had become a Trappist monk. It's a book about the romance of falling in love with God. After reading it, I realized that God could be loved and not just thought about. The Seven Storey Mountain also helped me to see that my quest for God is conditioned and proceeded by God's infinitely more powerful quest for me.
Food and writing are intricately entwined. You've lived abroad and you've traveled all over the world while penning and filming your CATHOLICISM documentaries. Is there a particular meal in a particular city that stands out for you, good or bad? Tell us about it.
I lived in Paris for three years, studying for my doctorate in theology. I loved (and still love) that city with all my heart. But I must confess that the grossest meal I ever had was in Paris. It was a formal banquet following an award ceremony, and one dish was served to everyone: tongue. On my plate was a ten-inch long cow's tongue, and there was no attempt to disguise it or gussy it up. It was unmistakably a tongue. I just put a napkin over it and I think I stopped at Burger King on the way home!
If you could spend time in one of the great libraries round the world, which one would it be and what book would you read in it?
One of the great moments of my life was handling dozens of vellum pages of Thomas Aquinas's own practically illegible writing in the Vatican Library. If I could, I would go back there and spend hours poring over those texts.
So much of your thinking is inspired by such theological and literary greats as Thomas Aquinas and G.K. Chesterton. What writer, writing in the last twenty-five years, has had the deepest effect on your life?
Calling all HuffPost superfans!
Sign up for membership to become a founding member and help shape HuffPost's next chapter
This post was published on the now-closed HuffPost Contributor platform. Contributors control their own work and posted freely to our site. If you need to flag this entry as abusive,
send us an email
.