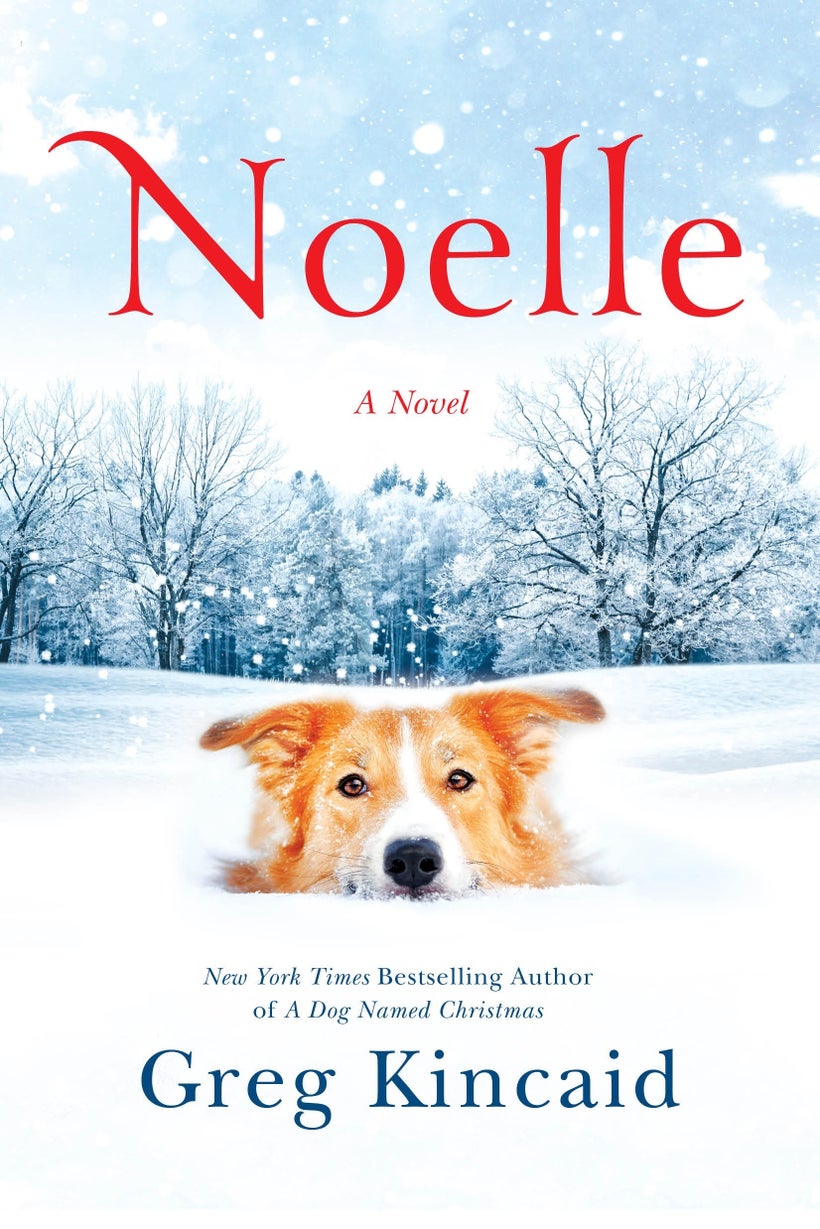 For almost ten years I've served as an editor at Penguin Random House. In that time I've had the chance to work with some of the brightest authors writing today including novelist Greg Kincaid, the author of modern day Christmas classic A Dog Named Christmas. His latest, Noelle, on-sale now, is the fourth book in the McCray Family series and features a lovable, rambunctious dog who helps two families find healing and purpose.
Greg, your books on the McCray family and Kansas have sold over a quarter of million copies, two of them have been made into Hallmark movies and your fourth is getting the best reviews of your careers. Tell us a little bit about Noelle. How does this book differ from the other three in the series?
I wanted to structure Noelle like one of my favorite holiday movies--Love Actually--using a few interconnected stories that could stand alone, but were stronger when bound together with a common theme. I love writing about my character's lives. Noelle takes place in a rather conservative, small, Kansas town and one of my favorite characters, Mary Ann McCray, is struggling with some of the more troubling contemporary issues of our time, including our unwillingness to put women in key roles. For example, ever notice that most of the stories we tell around Christmas are centered around male characters? There's the Grinch, Frosty, Santa, Rudolph, but hardly a woman to be found. Mary Ann McCray wants to make a change this particular Christmas. I love the way she works this out. I wanted to take the issue away from the noise of politics and newsrooms and look at it in a fresh, serious, yet whimsical way that many people could relate to.
The McCray Family series, including A Dog Named Christmas, Christmas with Tucker, A Christmas Home and now Noelle are wholesome, old-fashioned novels that really anyone from 12-120 could read and enjoy. You and I have talked about a return to having more and more books that invoke a Little House on the Prairie feel. Can you respond to that?
The Little House books glance back at Kansas at the turn of the last century and do an excellent job of reminding readers about the core values that our country was built around. Resilience, hard work, families sticking together. A writer has the rare privilege of freezing time. Like Laura Ingalls Wilder, I want to remember, and I want others to remember with me, my days as a kid on a Kansas farm in the 60's and 70's. I also have a lot of fun allowing my characters to look forward, taking fresh approaches that are uniquely their own.
Your books always involve a complex and often heroic dog. Tell us more about this and any memories you have of your own pets.
In the late sixties there were no rural animal shelters collecting strays, so wild dogs often ran in packs. One winter day, as a young teenager, I was out roaming around with my dog Maggie--the Irish Setter that inspired my book Christmas with Tucker—when I was attacked by such a pack. Maggie did not hesitate. She ran straight at the pack and fought fiercely to keep them away from me. She could have been killed or certainly hurt. I grabbed a stick and started yelling and screaming. It was terrifying but, in the end, nothing serious happened. So, there you have it: dogs threatening me and dogs saving me. It's that ambivalence that makes for interesting characters—dogs or humans.
Though these four novels all revolve around Christmas, you never bring religion into the stories. But I know you're a pretty spiritual guy and these are pretty spiritually influenced books. Tell us a little about the underlying spiritual values that are the foundation of your novels.
My grandparents were old fashioned Quakers. My grandfather, a simple Kansas farmer, read a passage out of the Bible every morning before he headed out to the fields. He repeated that exercise every day of his long life. When I was older, I realized that he wasn't overtly religious—he never preached or quoted from the Bible or even mentioned his faith. He didn't wear religion like a badge. For him the purpose of religion was to inspire us to live our lives the right way. His concern was how and where we were walking and not in the brand of shoes we happened to be walking in. I want my books to take a similar approach. The emphasis is on character and values not dogmas and beliefs.
You're a writer in the Midwest. How has the landscape you live in influenced the way you write?
The landscape is still open, wide and generally unspoiled; it suggests the great potentiality of life. I try to capture that landscape in my novels.
Writing and food are intricately entwined. Tell us about a meal you had after wrapping up a book that has stayed in your mind.
Hey, I'm a Kansas farm boy. I enjoy every meal. Twice if I can (second breakfasts anyone?)! As the saying goes (sorta), my last meal was always my best meal!
Do you remember a book you used to read to your children when growing up? What was it? Tell us a little about it.
Tolkien was my three children's favorite. I read The Hobbit three times to them in six years and I read the entire Lord of the Ring Trilogy twice! The last time around, I skipped a lot of those dwarf poems. Hobbit lore remains part of our family. My sons are sure they have hobbit feet and my daughter knows she is at least one-half elf. As I said earlier, I eat like a Hobbit—can't wait for second breakfast!
What are the essential ingredients for a holiday novel?
In holiday books, readers are looking for (and I think deserve to find) something uplifting. If they want dispiriting drama, they can turn on the news. The challenge for the writer in this genre is how to explore uplifting sentiments expressed by real life characters without being sentimental. In Noelle, the theme I'm taking a hard look at is how change affects three generations of families, and how one little dog muzzles her way into each of those conflicts. My books are a bit unique in that I may be one of the few men writing consistently in this genre. Plus, I'm a Louis L'Amour fan so what can I say? I would hope that men and women alike could enjoy these stories and share them with their children. Ultimately, these books are about the bonds of family and the love of/for good dogs.
Calling all HuffPost superfans!
Sign up for membership to become a founding member and help shape HuffPost's next chapter
This post was published on the now-closed HuffPost Contributor platform. Contributors control their own work and posted freely to our site. If you need to flag this entry as abusive,
send us an email
.