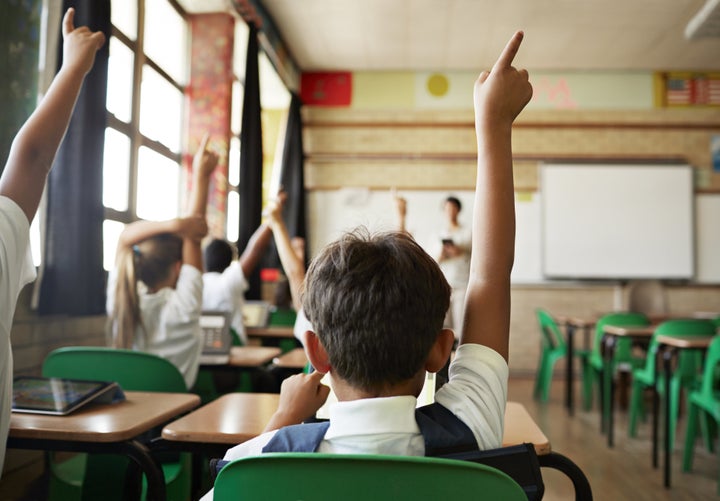 Parent-teacher conferences are a place to share concerns and suggest solutions when it comes to children's lives in the classroom, but what questions should parents be asking to make these meetings as efficient as possible?
We spoke to people with experience in education to get the lowdown on what parents should do before, during and after the meeting to ensure they're getting the most out of these conferences.
Stay Connected
A popular suggestion among the educators was to stay connected. Brian Crosby was a teacher for more than 30 years and now helps teachers in Nevada learn how to incorporate STEM into their classrooms. He stressed that, with the help of email, it's crucial for parents to get a conversation started with their child's teacher before the meeting.
José Vilson, a math teacher in New York who has taught middle school for 13 years, agreed that communication before the meeting is vital and encouraged parents to reach out if the teacher hasn't already. Vilson also suggested that parents should take advantage of having their child's grades online if their school has such a system.
"Parents can go in, they can ask questions, email and call us, and see in real time how their child is doing and what assignments they turned in or not," he told HuffPost. "Being able to just follow up and say, 'Let me call in a couple weeks and see if there's been any progress or any regress,' those are the things that matter."
Deborah Stewart, who has taught preschool for about 35 years and is the teacher behind the site Teach Preschool, encouraged parents to really think about problems or concerns they've seen at home before the meeting and bring them to the teacher.
"You may find that the teacher doesn't have the same concerns," she said. "Bring those things to the conference to ask the teacher about to get some comparison points."
Questions To Ask
During the meeting, parents may not know where exactly to start when it comes to questions. Vilson, who also has an education blog, told HuffPost one of the most important inquiries should be, "Will my child be ready for the next level?" As a middle school teacher, one of his priorities is ensuring his students are prepared for high school.
"I'm worried about whether or not the student is going to feel comfortable in the first year of math for high school," he said. "Mathematics seems to be the one level that can make or break a high school experience."
As for what parents can do after the meeting, Crosby, who shares his education tips on his blog Learning Is Messy, encouraged them to get advice on what they can be doing at home to further their child's education.
"They can ask things like, 'What family field trips and experiences should we be taking that would support my child's learning in school?'" Crosby told HuffPost.
Throughout his career, Crosby taught many students participating in their school's free lunch program. He noted that students in higher socioeconomic areas have access to experiences like visiting museums and zoos, which help them engage and learn outside the classroom. Teachers can help provide tips on similar experiences to ensure all students get that chance.
More Than Academics
It's also crucial to remember that whether your child is thriving in school or not depends on more than strictly their education. Colin Sharkey, executive vice president of the Association of American Educators, told HuffPost he recommends that parents also inquire about how their child is doing socially with questions like, "Does my child show respect for you and for others?" and "Does my child demonstrate empathy?"
These kind of questions are especially important for parents debating whether their child is prepared for kindergarten, according to Stewart. She suggested that parents learn how their kids are handling skills like making friends and cooperating.
If parents hit a dead end with their questions, Sharkey noted there's nothing wrong with simply asking, "Is there anything I haven't asked that we should be talking about?"
"Educators, many of whom are parents themselves, appreciate the value of these meetings for both parents and teachers and understand that it can be difficult to hear unexpected news," he said.
It can be tough learning about your child's weaknesses in the classroom or realizing what's holding him or her back, but parents should remember teachers are on their side.
As Vilson put it, "Parent-teacher conferences are my favorite time of the year. Even if I only get about five minutes with each parent, I'm able to at least say I'm here to actually work for you. Once I take that position, then it feels like some folks let down their guard."