CHARLOTTESVILLE, Va. ― After a weekend of watching athletes and musicians take to their knees in shows of peaceful protests across the country, it's hard to deny the impact of certain public figures standing up for what they believe in.
"It's a shame that sometimes artists are the role models," Ahmir Khalib Thompson, known to many as Questlove of The Roots, told HuffPost in Charlottesville, Virginia, on Sunday. "It's a shame that oftentimes celebrities are the ones that have to be a voice of reason instead of politicians and the people we pay our money to enforce laws. And it's a shame it still has to happen in 2017 ... But it's very necessary."
Thompson was in Virginia to perform at A Concert For Charlottesville, a celebration of "music and unity" featuring The Dave Matthews Band, Pharrell Williams, Justin Timberlake, Ariana Grande and Stevie Wonder, among others. The artists performed for tens of thousands of members of the Charlottesville and University of Virginia communities just a month after an outbreak of race-related violence claimed the lives of three people in the city.
For Thompson, it's important that entertainers "be on the right side of history," but he's also cautious when it comes to assuming that celebrities are the kinds of public figures we should look to for answers in times of uncertainty.
"I don't see why we as a country put weight on entertainers when we should be putting weight on people who make the decisions. I want people to put weight on the Koch brothers," he said. 
"I was kind of hoping that during the Obama era, especially the way that the campaign was so organic and so local in 2007 ... I was kind of hoping that, finally, the idea of celebrity is going to have diminished returns and community leaders and small groups of people will become their own movement," he added.
As a member of house band for "The Tonight Show," Thompson has watched firsthand as celebrities like Jimmy Fallon have engaged in public discussions of politics.
"Even though 'The Tonight Show' isn't a political show, it's my responsibility to stand up against intolerance and extremism as a human being," Fallon said in his monologue on Aug. 14. "What happened over the weekend in Charlottesville, Virginia, was just disgusting. [...] The fact that it took the president two days to clearly denounce racists and white supremacists is shameful."
"It's important for everyone, especially white people in this country, to speak out against this," he concluded. "Ignoring it is just as bad as supporting it."
In the end, Thompson certainly sees the value in speaking out, and praises late-night hosts like Jimmy Kimmel, Samantha Bee and Stephen Colbert for doing so.
"But again," he asked, "why are entertainers the ones with the answers?"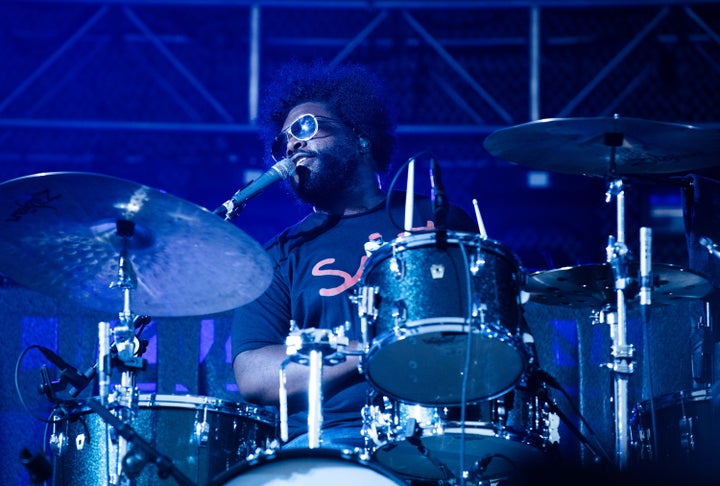 REAL LIFE. REAL NEWS. REAL VOICES.
Help us tell more of the stories that matter from voices that too often remain unheard.
BEFORE YOU GO
PHOTO GALLERY
Powerful Signs From Charlottesville Protests Across The U.S.