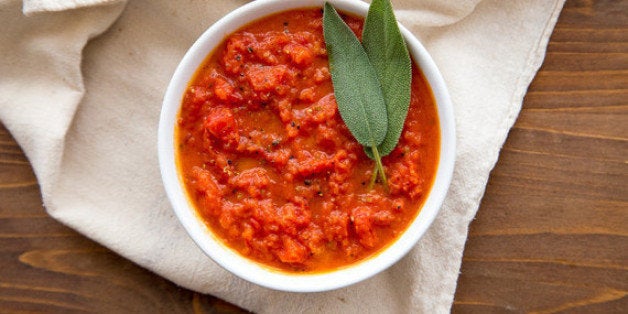 Quick marinara sauce based on Marcella Hazan's famous recipe, but just for two. Date night just got amazing - in under half an hour!
Some nights, it can seem impossible to get dinner on the table quickly. Even just a simple pasta dish can feel out of reach. But, if you've got a can of diced tomatoes and a relatively well-stocked spice pantry, you can make the easiest marinara sauce recipe in no time! Serve with your favorite pasta, and you'll have a full, happy belly in less than 30 minutes.
Lately, I've been reading the labels on my standard jar of go-to pasta sauce. I'm shocked to find sugar on the ingredient list. I just don't think it's necessary. And anytime sugar is added to a packaged product, they seem to double the salt to balance out the flavor. Something about that is just 'off' for me, so I have fully committed to making my own tomato sauce. Not only is this recipe easy (the hardest part may be opening the can), but it has ingredients that I feel good about.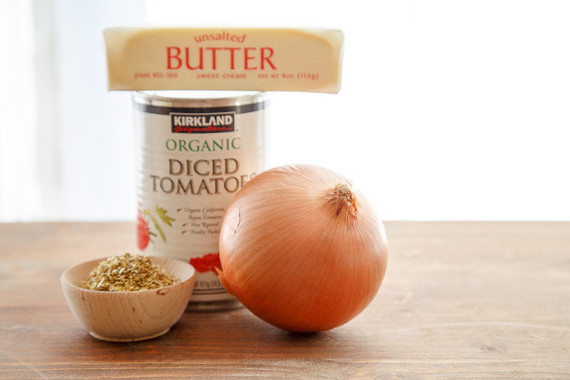 I based this recipe off of Marcella Hazan's famous tomato-butter sauce recipe. Marcella is no longer with us, but her simple, delicious pasta recipe lives on. She adds fresh tomatoes, a whole onion (cut in half), and 5 tablespoons of butter to a pot. After a 30-minute simmer, perfection is reached.
I make her sauce quite a bit in the summer months. But without fresh tomatoes in the winter, I turn to canned, diced tomatoes. Spices are my favorite way to warm up in the winter, so I added a pinch of dried oregano to the pot. Whenever you use dried spices, be sure to crush them in your hands to release the oils before adding them to the pot.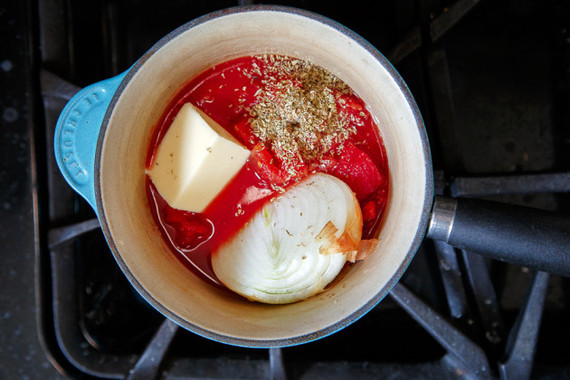 This recipe seems so simple, but the flavors shine. Think beyond a bowl of pasta!—use it as a dipping sauce for fried ravioli, mozzarella sticks, or anything else in need of a tomato bath. It would also be spectacular in Urvashee's baked eggplant parmesan or Erin's homemade pizza rolls.
About Christina
Christina grew up in Texas, but now lives in Missouri.You may know her best for her Dessert for Two, but on Food Fanatic, she's famous for her
fantastic Dinners for Two.
Popular in the Community