An American in Paris is about many things: Paris after the war, the joy of new experiences, romance, love, dance and the relationship between three friends. Robert Fairchild stars as the titular character with Brandon Uranowitz and Max von Essen often by his side. Uranowitz plays Adam Hochberg, another American in Paris, a struggling composer and narrator of the piece;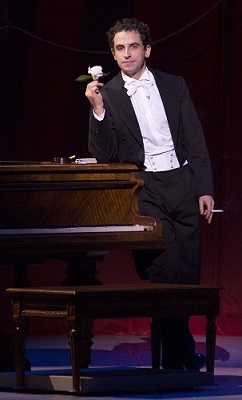 von Essen plays Henri Baurel, a Frenchman who longs to be a song-and-dance man, a fact he is hiding from his parents. All three men are first-time Tony nominees. While Fairchild is new to the Great White Way, Uranowitz and von Essen are more familiar names. I've only seen Uranowitz in one thing prior to An American in Paris, but I've seen von Essen in tons of things since the early 'oughts. He is also partially responsible for the hashtag #SIP (standing for "Saturday intermission pictures"), which is now popular with shows across the world, and the results of which I personally check out on BroadwayWorld each week. (It's one of the rare times I purposely look at social media photos.)
I asked both featured men to participate in my recurring feature where I ask actors random, often silly, questions taken directly from the subject matter or text of the show. This time we did it over email and I also threw in a Tony question for good measure. Below are the results.
When you think of Paris what comes to mind?
Brandon: History. Delicious food. Skinny people
Max: The Eiffel Tower, the Chatelet Theater, omelet mixte.
Who or what haunts your dreams?
Brandon: My boyfriend's dog, Bessie... Oh, and my boyfriend, Zach - I GUESS.
Max: Stepping out on stage in front of an audience without having seen the script.

Did your parents approve of you wanting to be in musicals?
Brandon: Oh yes. Too much, sometimes. But I wouldn't be where I am without their boundless love and support.
Max: They always approved of it as a hobby, and once they saw I could actually make a living, they supported me full out.
Which do you prefer -- coffee or champagne?
Brandon: Bourbon.
Max: Oh god, Sophie's choice. I adore champagne but it is a treat. I can't really live without coffee, so it's gotta be coffee!
Are you the type that is chipper all the day?
Brandon: I'm Jewish, so absolutely not. But I really wish I were!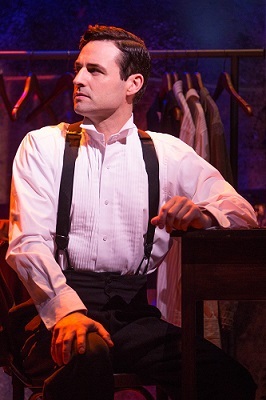 Max: Honestly, yes, but about 90% of the time. The other 10% you honestly don't want to be around me. I'm best left a lone in a room somewhere.
What is your favorite moment of the show?
Brandon: The opening ballet and singing my favorite Gershwin song, "But Not For Me."
Max: Listening to the opening scene between Robbie and Brandon and knowing that in just moments I get to enter and play for the next two and a half hours.
What has been your favorite thing about being a Tony nominee?
Brandon: Meeting my idols and making my parents proud.
Max: Feeling like someone who snuck into the fanciest, coolest party ever and no one seems to be kicking out!
Photos by Matthew Murphy. Top right is Brandon Uranowitz; bottom left is Max von Essen.
REAL LIFE. REAL NEWS. REAL VOICES.
Help us tell more of the stories that matter from voices that too often remain unheard.