One of the things about Holiday Inn, the "new" Irving Berlin musical currently running at Studio 54, is it is a big, obvious old-fashioned musical comedy. This means there are a lot of showy performances. A standout one is given by Megan Sikora, an actress in her tenth Broadway show. Sikora, who began her career in the ensemble, plays the vapid Lila, who leaves her fiance, Ted (played by Bryce Pinkham), in order to continue to pursue a career in show business.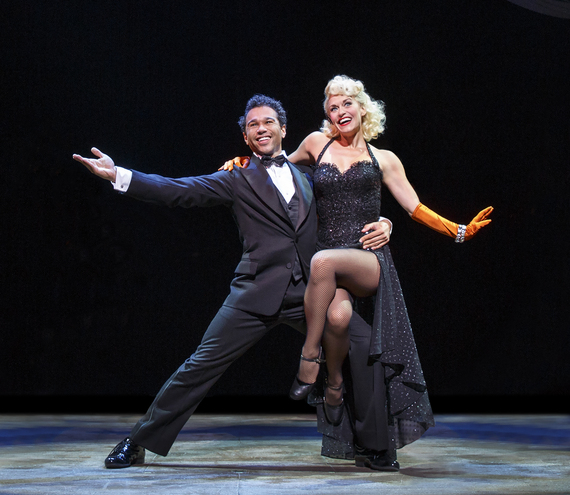 Even though the character doesn't have a full solo number, it is like she does. Sikora makes an impression when she is onstage. As she has done previously--notably in Curtains, in which she played a sexpot understudy desperate for her big break, a character not that far removed from Lila--Sikora commits to having fun with the material. She sounds great on her parts of songs such as "Heat Wave" and "It's a Lovely Day Today," but this character is really about personality. You can't nail the ditzy blonde while giving a performance that is reserved. Yet if you go too far you'll cause audience members to completely roll their eyes each time you enter. Sikora manages to go just over-the-top enough. You can picture her Lila as a real human(ish), but you still have to laugh at her. In real life, Sikora is living a very different life than Lila, married to fellow Broadway veteran Barrett Martin and raising a son.
Because of how much I liked her performance, I asked her to participate in my recurring feature where I ask actors random, often silly, questions taken directly from the subject matter or text of the show. This time we did it over email. Below are the results.

Would you choose Jim or the road?
Jim. I always choose love, which hasn't been the best for my career!
What little thing in your life is most important to you?
The little 4 year old that wakes me up every morning. Our son keeps everything in perspective and keeps us laughing.
What is your favorite Irving Berlin song?
"The Best Things Happen While Your Dancing." It's from White Christmas but it makes me so happy because I truly believe that statement.
Can you imagine yourself living on a farm?
I can imagine myself spending weekends on a farm! I am a vegan so the idea appeals to that part of me but I am a city girl through and through.
Are you free for anything fancy?
I'm pretty simple, I don't need fancy things. But if there's a beach involved, why not!
Photo of Corbin Bleu and Megan Sikora in Holiday Inn by Joan Marcus.
If you want to contact me, you can find me on Twitter @CaraJoyDavid. I also welcome emails at carajoy@gmail.com. Please do not send me a Facebook message if we are not friends on Facebook. I will not see it.
Related
Popular in the Community