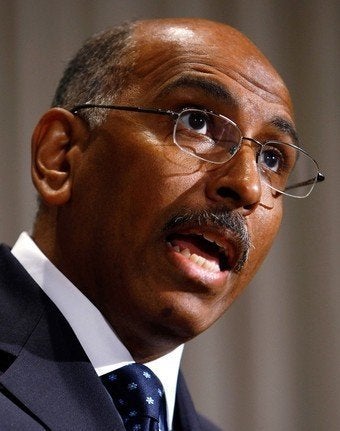 Hours after Michael Steele warned moderate Republicans that they woud be targeted if they didn't support conservative principles, the RNC Chairman called discussion of intra-party feuding "stupid" and insisted that the GOP would lose if "we play politics amongst our own."
In a conference call with grassroots Republicans leaders to thank them for the work they did in winning two governor's seats in the 2009 election, Steele laid out a blueprint for expanding on the early success. The RNC chair stressed the need to avoid having Republicans target one another. "It is the first way to screw yourself," he said.
Reflecting on the lost House seat in New York's 23rd District, Steele insisted that the process had been flawed.

"We had some ugly hiccups and NY 23 was one of those hiccups," he said. "I was brought into it after the fact, when a nominee who did not fit that district was chosen for purely political reasons."
By not having a truly democratic primary process in place, Steele proclaimed, the GOP was left in a state of dissatisfied infighting over the chosen nominee. Going forward he pledged to host more "fair and open" primaries.
"The consequence of [not having that in place] is we are mired in a very stupid discussion about conservatives versus moderates and conservatives versus Republicans," he said. "When we play politics amongst our own, we lose."
Hours earlier, Steele was sounding a noticeably different tune -- all but calling on the party to ideologically purge itself of moderates. In an interview with ABC News, the RNC chairman warned those candidates "who live in moderate to slightly liberal districts" that they would have "to walk a little bit carefully" when it came time to vote.'
"[Y]ou do not want to put yourself in a position where you're crossing that line on conservative principles, fiscal principles, because we'll come after you," Steele said.
Those remarks were a nod, of sorts, to the growing political persuasion of the tea party movement -- which forced Dede Scozzafava, the Republican candidate in NY-23, to drop her bid for the House seat. But even those comments resembled a flip-flop of sorts for the RNC chair. Steele had, as the Huffington Post's Jason Linkin's noted, defended GOP moderate Sen. Olympia Snowe (R-ME) just one day earlier after the Maine Republican came under attack by Minnesota Governor Tim Pawlenty for lacking the proper conservative bona fides.
Well before then, as the Washington Post's Ezra Klein recalled, Steele was pitching himself as the man who would bring the Republican Party to a more modern and moderate place.
"Do folks remember when Steele was the "anonymous Senate candidate" badmouthing George W. Bush to a room of reporters?" Klein writes. "The guy who was trying to come off as a moderate because, as he said, 'If this race is about Republicans and Democrats, I lose.' Whatever happened to that guy?"
Popular in the Community