One of the most popular venues for a rustic or country style wedding is a farm location, however sometimes that means you get the farm in all of its "natural beauty." If you love the idea of a farm wedding but want to make the space feel elegant enough for a wedding, chances are you are going to need to dress it up a little. To help make this project seem less overwhelming and within your DIY wedding reach I have five quick tips for dressing up a farm for a wedding.
Quilts: Adding country charm to your wedding is as easy as adding a few quilts to your wedding location. Drape them over hay bales which are used for seating, display them in a basket to keep guests warm at night or hang one as a photobooth backdrop, these classic country staples can be used in a wide variety of ways.
String Lights: A farm wedding is all about romance and beauty and one easy and inexpensive way to achieve that feel is to add tiny white lights. Not only do these lights add the perfect amount of ambiance but they also can light up dark areas of a barn or hung to create a natural outline of the reception space.
Draping: Buying creamy colored fabric in bulk might just be the perfect way to start decorating your rustic wedding. If your farm wedding location has a beautiful barn but it needs a little wedding day elegance you can achieve that look by hanging fabric from the doors which not only dress up the barn but also act as a great ceremony backdrop.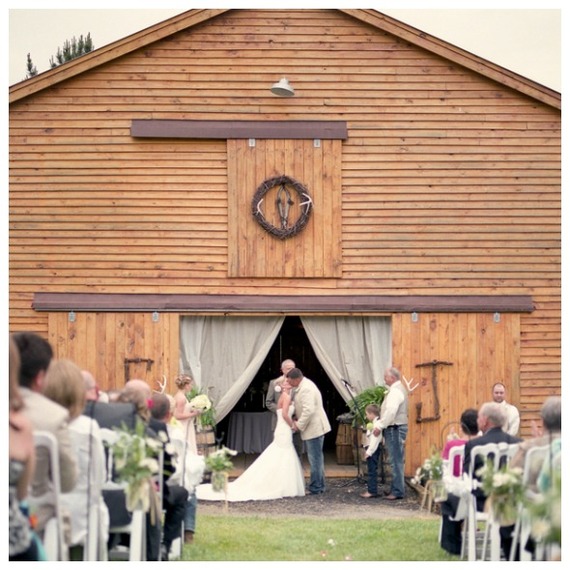 photo credit: Real Wedding On Rustic Wedding Chic from Freshly Wed
Flower Displays: Wedding flowers are so beautiful on their own that when you add them to a rustic location like a farm you get the most bang for your buck. Bunches of flowers placed around a farm wedding in fun vases like watering cans, galvanized buckets and wood containers can add instant elegance to a rustic setting. My favorite flower for a farm wedding is babies breath because of bright white the flower is and how amazing they look when grouped in an oversized display.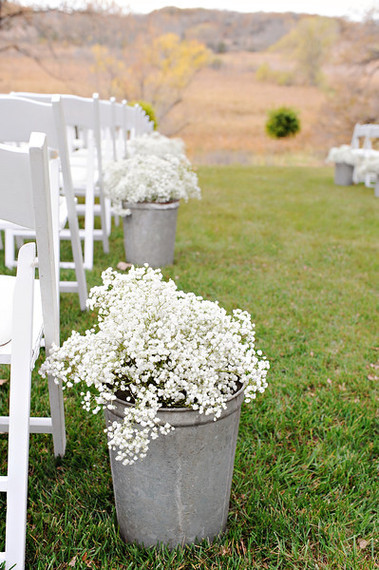 photo credit: Real Wedding On Rustic Wedding Chic from Brooke Ringdahl Photography
Creative Transportation: The old tractor and wagon you thought were an eyesore at your wedding farm can actually be made in to a useful tool. Transport guests to your ceremony and reception locations in true country fashion.
Related