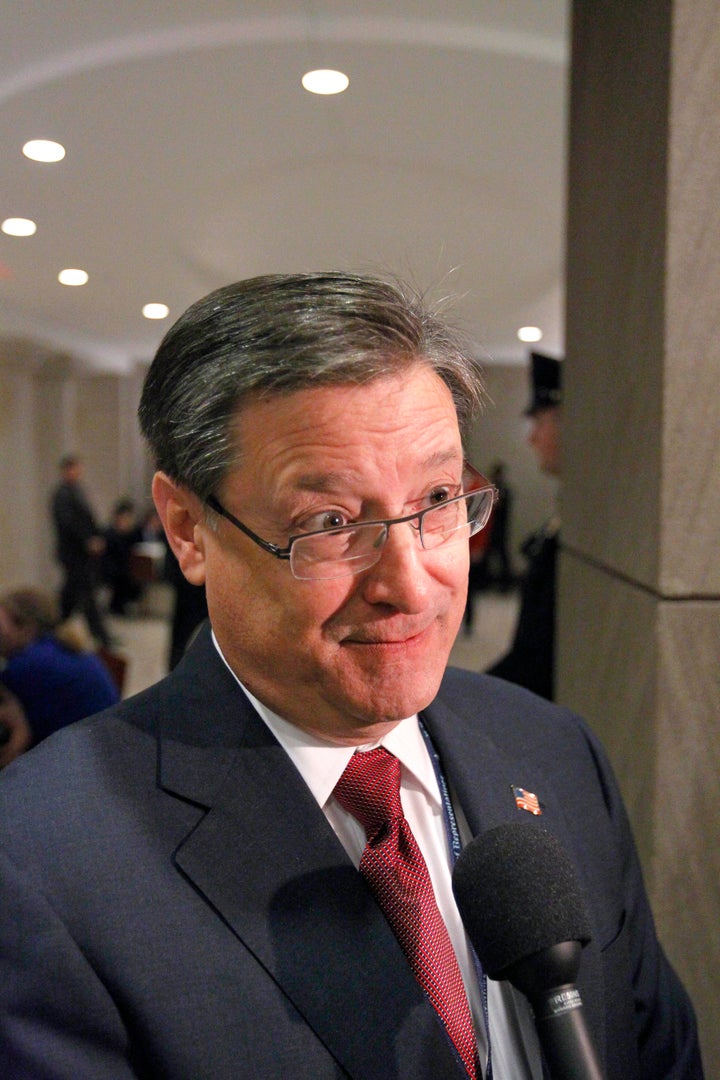 Rep. Francisco "Quico" Canseco's (R-Texas) reelection campaign is sending harshly-worded mailers to voters in his district accusing his opponent of denying God, supporting "abortion for young girls" and wanting "marriage to be between man & man."
"A man is known by the company he keeps," one mailer reads in both English and Spanish, under pictures of Canseco's opponent, Democratic state Rep. Pete Gallego, with President Barack Obama, House Minority Leader Nancy Pelosi (D-Calif.) and Senate Majority Leader Harry Reid (D-Nev.).
The mailer, which was provided by the Gallego campaign to The Huffington Post, goes on to say "They denied our God" and that the campaign supports abortion for young women and legalizing gay marriage.
The other Canseco mailer uses even stronger language and images, claiming that Gallego, who is Catholic, wants marriage to be between two men, next to a photo of two men kissing. The other photos are of an infant and a stained glass portrait of Jesus.
Many of the charges are either flatly untrue or a stretch based on lumping in the Democrat with others in his party. Gallego supports civil unions and not same-sex marriage, and voted against a measure to allow minors to have an abortion without parental consent, according to his campaign.
Gallego campaign spokeswoman Rebecca Acuña called the mailers a "disgusting, despicable attack" that "show the sad state of [Canseco's] campaign."
"To create an entirely false attack using religion is not only unethical, but also completely contrary to the fundamental behavior expected of people of faith," Acuña said in a statement. "These attacks say more about Quico and what he thinks of voters than about Pete Gallego. Voters know better than to fall for these types of scurrilous attacks."
Democrats had an embarrassing moment at their national convention over whether the word "God" should be included in the party platform, and took a voice vote three times, with many delegates shouting for the word to not be included.
The president intervened to put the word back into the platform, according to reports. And Gallego wasn't at the convention, according to his campaign.
Canseco's campaign stood behind the mailers.
"There is nothing unethical about stating facts. It is a FACT that Pete Gallego has a 100% voting record with NARAL, the national pro-abortion association," campaign manager Scott Yeldell said in an email. "It is a FACT that Pete Gallego supports homosexual marriage. It is a FACT that Pete Galleo's party denied God three times at their convention. Pete Gallego may not like the people of the 23rd Congressional District finding out about his left-wing pro-abortion record, but it is his record, maybe he thinks his record is unethical."
There is little independent polling on the race, but both campaigns have released polling that shows their candidate at an advantage.
View the mailers: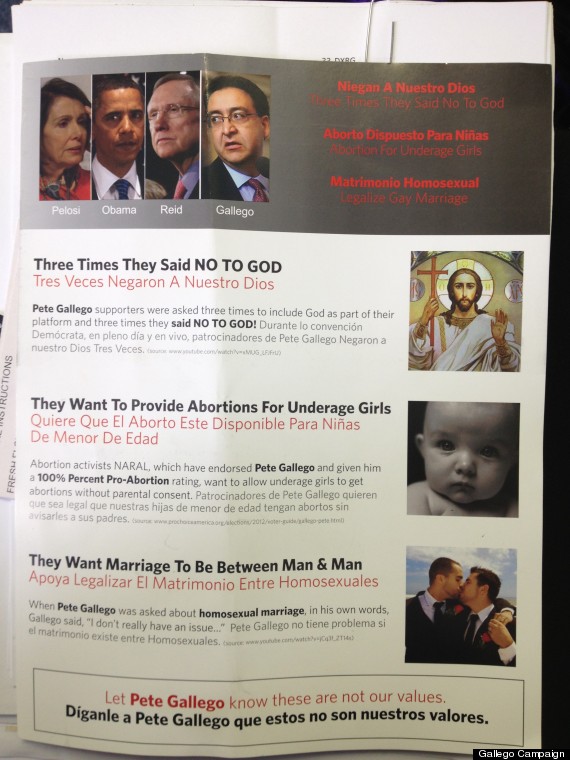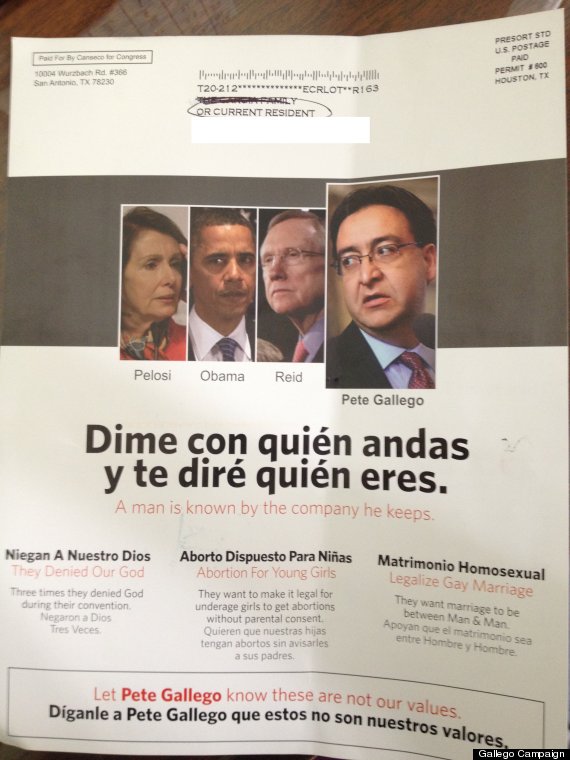 *************************
What's happening in your district? The Huffington Post wants to know about all the campaign ads, mailers, robocalls, candidate appearances and other interesting campaign news happening by you. Email any tips, videos, audio files or photos to openreporting@huffingtonpost.com.
Calling all HuffPost superfans!
Sign up for membership to become a founding member and help shape HuffPost's next chapter
BEFORE YOU GO
PHOTO GALLERY
Below-The-Belt Political Attacks