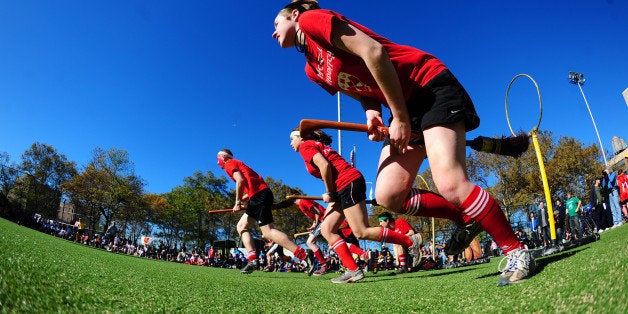 My name is Sean Pagoada, and I am a 24-year-old Psychology major at Florida International University in Miami. I've attended three colleges throughout my undergraduate career: Miami Dade College, University of South Florida and now, in my senior year, I will graduate from FIU. The one constant throughout my many transitions, however, has always been sports.
My earliest memory playing on a team is with the Miami Boys little league baseball team when I was 8 years old. In middle school, I ran cross country and track. I then became a free safety on the football team at Miami Senior High, where I also ran the 800m, 1600m and qualified for regionals my senior year in the 4x800 for the school's track team.
Attending USF was the first time I lived away from home, and I sought to make friends the best way I knew how, through sports. I enjoyed playing all the sports I grew up with, but during Spring semester in 2011, a new one caught my attention.
USF had just formed a quidditch team, and although I was a fan of the Harry Potter series, I didn't know much about the game or how it could possibly be played in real life. I was eager to learn, and after my first practice, I knew I had found my passion.
In the Fall semester of 2011 I met Malakoff. I noticed her competitive nature and tenacity at her first practice. She was a beast on the pitch, yet quirky and friendly off it. During the practice, we each introduced ourselves and shared a fun fact. Malakoff's fun fact was simply, "I'm a furry." I still don't know what she meant by it. She followed this with a huge grin, which made all the players laugh.
What I didn't know is that Malakoff identifies as a transgender woman. She didn't come out to the team that first practice, nor did she do so months after that. It wasn't until the summer of 2013 at the Mid-Atlantic Fantasy Quidditch Tournament that she shared her gender identity with me.
We were the first group of people she came out to. She shared with me that the sport's gender inclusiveness was one of the major reasons she decided to come out. She considered us her family, and a safe space where she was free to express all facets of her identity. Malakoff also shared with us that being accepted and loved by her teammates gave her the courage to come out to others.
What sets quidditch apart from other sports is its two-minimum gender rule, established by the International Quidditch Association. The rule states that "each team must have at least two players in play who identify with a different gender than at least two other players. The gender that a player identifies with is considered to be that player's gender."
Because of this rule, teams must always be conscious about their recruitment efforts to avoid any form of gender discrimination, especially toward players who identify outside the gender binary. Quidditch values diversity and that, to me, is one of the most powerful messages we can send out.
Although the LGBTQ community has made great strides over the past few decades, there is still a lot to be done to ensure inclusiveness, representation and safety, particularly for trans and non-binary individuals. The two-minimum gender rule has helped many quidditch players become more confident with their identities and has provided them a safe space where they can even come out for the first time.
Malakoff now serves as Florida's Finest Quidditch Club's chaser, a team I founded in September 2013. Her objective during each match is to score goals with the quaffle (volleyball) by throwing or kicking it into the hoops.
Our team has four LGBTQ-identified players, each one bringing not only their talents, but their unique perspectives that challenge the team to rethink any preconceived notions about gender and sexual orientation. Because of our bond, Florida's Finest advanced onto the top 16 in the 2014 Quidditch World Cup, further than any other team in the South. We were also nominated for the "First Year Survival" award in the IQA Membership Awards.
It's no secret that gender bias and discrimination in sports remains prevalent. We must reevaluate the way we treat transgender and non-binary athletes and actively work to make our teams more inclusive and diverse. I also recognize that my identity as a straight, cisgender man has paved the way for a great deal of the success I've experienced in the teams I've played in. But it's time to use quidditch as a model for what sports should look like.
When "brooms up!" is yelled by a referee, it signifies the start of a quidditch match. Today, it signifies the start of something much greater.
Support HuffPost
Every Voice Matters
Popular in the Community