If upon hearing the words "music festival," your impulse is to rush to the nearest bed and jump for cover underneath, we wouldn't judge. It's hard to imagine an experience bearing that title without the onslaught of selfies, bare midriffs, rave gear and sleepless nights that have become synonymous with festival culture.
Now, imagine the exact opposite of everything you expect (and hate) about music festivals and you pretty much have the Quiet Music Festival of Portland. The soothecore fest operates more like an intimate jazz concert or a theatrical production than a Coachella-type festival, featuring sonic mediations so soothing you just might fall asleep, which is just the idea.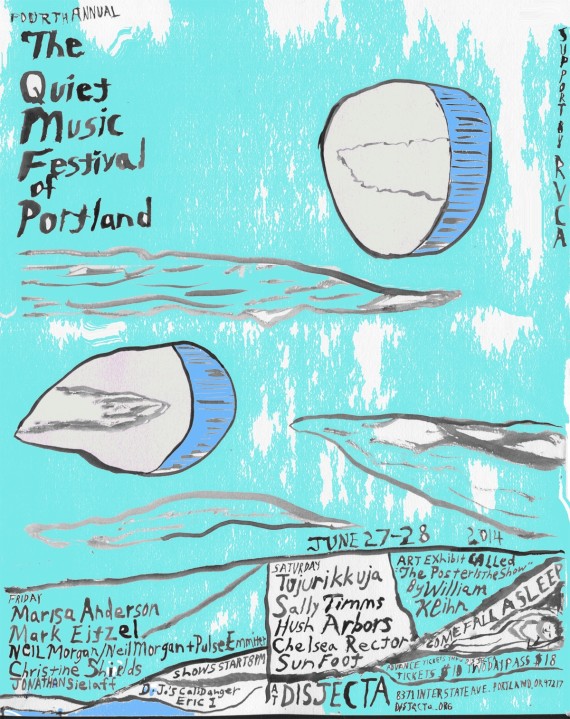 This year's mellow melodies were carefully curated by Chris Johanson, the Los Angeles-based artist, musician and skater who's been coordinating the show for four years now. Johanson himself played in punk bands for years, until bad hearing and tinnitus stepped in, demanding a change of habit. Instead of cutting out shows completely, Johanson created a physical and musical space more in line with his mental space, and shared it with the public.
"I'm into the idea of people doing art for their whole lives," Johanson explained to The Huffington Post, "and there is no reason why people can't go from being in punk bands to being into music that gels more with a quieter or more peaceful homeostasis. I think that's natural. For somebody whose ears are so messed up, this is the only kind of place I can go see bands because I know it's not going to get loud."
This year's lineup includes Portland musician Marisa Anderson, known for her fusing of Delta blues, West African guitar and Appalachian mountain music styles, as well as a collaboration by singer/songwriter Neal Morgan and ambient synth composer Daryl Groetsch's Pulse Emitter. Morgan explains in the QMFP press release, "I'll do side A of my new record by myself, 10 minutes all spoken, a Cappella and then Daryl and I will reach for HEAVENLY SOFT CELESTIAL." Who says tranquility and intensity can't coexist?
Also performing this year is Sally Timms of The Mekons, who is bringing part of her soundtrack to a recent exhibition by "Future Force Geo Speculators," a collective of three women artists working with themes of sci-fi feminism. Timms explained her performance in greater detail in an email to The Huffington Post.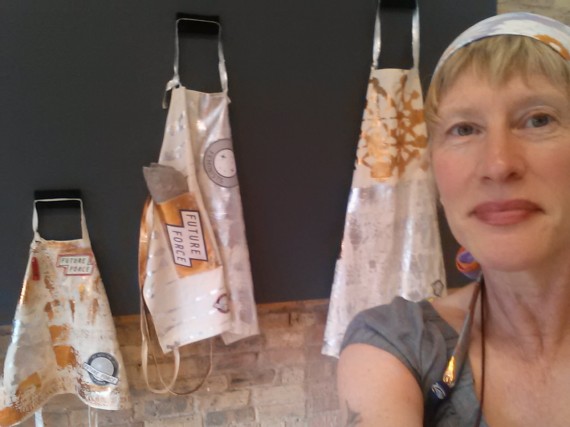 "Selfie Future" by Sally Timms
"I created sounds using slowed-down manufacturing equipment (sewing machines, old printing presses), low-tech communication noises such as Skype and faxes, texts read through computerized voice programs, ambient sounds sometimes using old sci-fi movie sound effects, crashing cymbals, gongs...all these things to try to create a startling, sort of dystopian sound environment, which was hopefully playful and disconcerting.
"For the Quiet Music Festival," she continued, "I thought I could use some of those sounds as part of the backing for songs mainly recorded for my 'In the World of Him' release from 2004. That used similar ideas of mixing low and high technology, digital and analog, folk songs using some traditional instruments but also 'modern' electro sounds."
Timms' dizzying soundscapes will come to life in an atmospheric haze punctuated by '70s and '80s decor collected via dumpster diving and thrift store hunting by Johanson and artist Johanna Jackson, his wife. Hand-dyed textiles and custom-painted walls complete the blissed-out experience, along with enough couches and pillows to take the most cultured nap of your life.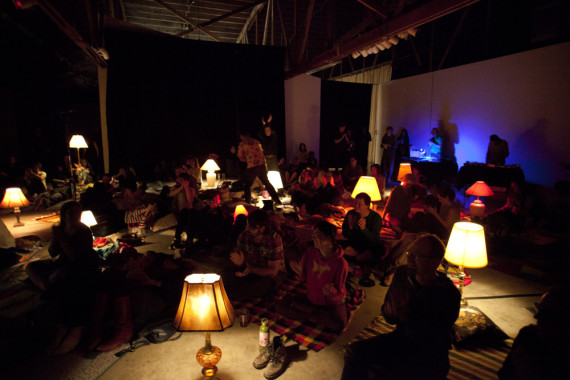 Quiet Music Festival 2013, photo by Chris Owen
"I'd say the festival is a great place to spend a dimly lit, possibly tuned-in and out of consciousness, experience," Johanson summarized. "We invite you to be there to create your own dream space or REM video, it's kind of making fun of music and sleep. I like the idea of the subconscious and conscious mind dancing around to the music." Enjoying cultural experiences in a semi-dream state may be an emerging trend, and we certainly hope it is; New York experimental play "Dream of the Red Chamber" is also hoping you'll doze off to enhance the experience.
But beyond the sleep factor, the Quiet Musical Festival is, above all else, about creating a community, a vision that runs constant throughout most of Johanson's art and life. As he told us before last year's show "Another main reason I put on the festival is to bring people together. That's my favorite thing about the world of art making -- though not with the art world. The art world has a kind of nastiness to it in some ways, but the world of art is about magic making."
The rigorously low key event sounds less like a music festival and more like a musical mirage, offering all the magic of a live performance with none of the extra noise -- plus naps! The best part is, the festival is in its fourth year and shows no sign of losing its spark. "I've never been much of a professional, even if i wanted to," Johanson said. "Luckily I don't want to. I don't want it to get too popular. Conceptually I think it's really nice. I don't think it couldn't be big even if it wanted it to be."
The aural experience also features a mini exhibition entitled "The Poster Is The Show" by artist William Keihn, made during his time in San Francisco. Combining found materials, low-tech printing, vintage concert poster aesthetics and a love of "lazy psychedelia," we have a feeling his works will fit into the show's vibes just fine. See Keign's works below and scroll down for the final details on the Quiet Music Festival.
Quiet Music Festival of Portland features music from Sun Foot, Sam Coomes, Christian Dixon, Joshua Kit Clayton, Jonathan Sielaff, Keith Wood and Hush Arbors, Chelsea Rector, Christine Shields, Mark Eitzel and more. The two-day event opens on Friday, June 27 and runs through Saturday, June 28, 2014 at Portland's Disjecta. Click here for ticket info.
Calling all HuffPost superfans!
Sign up for membership to become a founding member and help shape HuffPost's next chapter
BEFORE YOU GO
PHOTO GALLERY
Chris Johanson