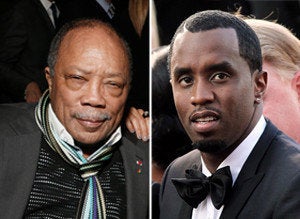 Quincy Jones is certainly one of the most influential producers of all time, having lent his midas touch to everyone from Ray Charles to Michael Jackson. As such, he's an authority on music and is entitled to give his opinion on the careers of others in the industry. And on Tuesday, he had Diddy on his mind.
In an interview with The Wrap at a Spotify launch event in Los Angeles (the streaming service was announcing artist-curated playlists), Jones said that the rapper and Bad Boy head honcho "couldn't recognize a b flat." Instead, Jones noted, "P. Diddy has a doctorate in marketing," citing his clothing labels and success with Ciroc (his vodka company) as the rapper's true talents.
Though Jones' comments might strike some as a welcome rebuke of Diddy's reputation as one of the most influential men in hip-hop, the situation is slightly more complicated. Though Diddy is probably not a fantastic musician, he has proven (time and time again) to have a great ear. After all, this is the man that signed not only Faith Evans, 112, Cassie and Mario Winans, but also Biggie Smalls. (That said, it could be argued that his biggest musical achievement was stumbling upon and fostering Notorious B.I.G., which was decades ago).
Justin Combs, of course, has been in the news lately for receiving a full-ride to play football at UCLA. Many were shocked that the infamously cash-strapped school would offer a hefty scholarship to the son of a mogul, but others defended the decision, citing the fact that money that goes to the football program could not be allocated elsewhere. Some maintained that if Justin is qualified to earn a scholarship, his father's wealth should not prevent him from doing so.
Jones curated a playlist for Spotify, as did Tiesto, Rancid and Distrubed. The service hopes the playlists will help guide users through the millions of songs it has licensed.