Food Informants is a week-in-the-life series profiling fascinating people in the food world. We hope it will give you a first-hand look at the many different corners of the food industry. Know someone who would make a great Food Informant? Tell us why.
Quinn Hatfield has worked with David Bouley, Wolfgang Puck and Jean-Georges Vongerichten before helming his own kitchen in 2003. In 2006, Quinn and his wife Karen opened Hatfield's -- Karen designed the space, Quinn assembled the kitchen equipment and together they created the menus. In July 2012, the Hatfields opened their newest project, The Sycamore Kitchen: a hip, neighborhood eatery for house crafted, seasonally focused fare, and sweet and savory rustic pastries.
When not in the kitchen, Hatfield enjoys outdoor sports including surfing, skateboarding, snowboarding and rock climbing. He is currently training with his Olympic coach and competing in track cycling events, with credits including placing 5th in the men's kilometer time trial at the 2012 USA Cycling Elite Track National Championships and two "top 20" and "top 10" finishes in the Elite National Championships. The Hatfields have two young children, daughter Paige, and son Bennett.
Read more about how Quinn manages his chef duties while training for a major cycling competition.
6:45am: I'm up early getting my daughter ready for her first day of a new summer program in Laurel Canyon where we live. I'm on my usual barista duties making Karen's cappuccino, and feeding the kids breakfast and making bag lunches.
10:00am: Restaurant Depot run -- a huge warehouse store that stocks everything imaginable for restaurants, from equipment and small wares to dry goods and food. We use it for standard items like flour, sugar, paper products and janitorial supplies. After a busy weekend, the Monday order is big! A full truck.
12:00pm: A quick stop at my local farmers' market on Fountain and Vista. This is a personal shopping trip, and this market is great for that since it is small and easy to park. Karen and I are having some friends over who have 2 children the same age as ours. I grab a bunch of carrots from Arreola Farms, some heirloom tomatoes from my friends at Valdivia Farms and a pack of Harry's Berries strawberries for Karen's dessert, and I'm off!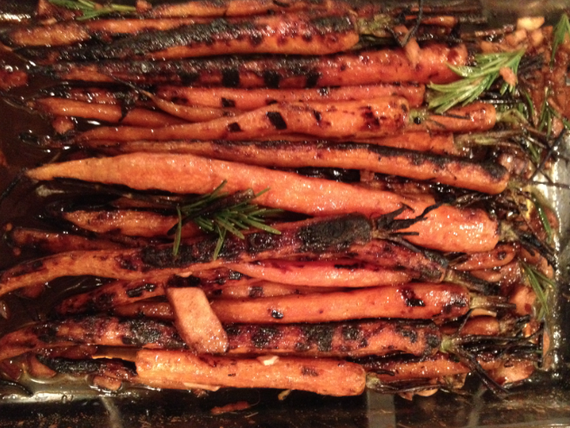 1:00pm: To the dentist for a teeth cleaning.
2:30pm: I stop by Hatfield's to check in on my guys. It's a very manageable night and I feel good about the crew and their set-up. They have set aside a couple beautiful pieces of wild sockeye salmon for me to take home for dinner.
3:30pm: This close to a big competition I drop my weight workouts, which I normally do three days a week, and only do my 45-minute roller workout. I get it done quickly while Karen is prepping for tonight's dinner. When I'm done with my workout, I light the grill and get cleaned up.
5:00pm: The grill is hot, and I start cooking my carrots that Karen has marinated along with the beautiful pieces of salmon. I'm outside by the grill cooking and watching the kids while Karen is inside entertaining the adults and making tarragon sauce for the salmon and tomato salad. The other woman at dinner is eating a Paleo diet, so tonight's menu worked out well. We sit down to eat on the deck as the sun sets in the Hollywood Hills.
8:00pm: I clean up while Karen does the kids' baths. I only get to tuck my kids into bed a couple nights a week -- so it's a couple stories, and my daughter's favorite where I sing old David Bowie and Husker Dü songs as lullabies for her.
6:00am: Very early wake up! Today I am shooting the pictures for an upcoming article in a men's magazine in which we'll talk about my training and diet. Up at 6, drink some coffee and then I begin to prep my post-workout snack for the shoot. Just a little early morning food styling. Once that's done, I eat, try to consume as much coffee as possible and, at the last minute, make Karen a cappuccino.
7:30am: I arrive at the Velodrome and meet the photographer and his crew. We head inside so I can join the warm-up at 8am with the rest of the riders. Most of them are friends of mine. Today is double duty -- I am one week out from Masters Nationals and I have a very specific set of efforts I need to do on the track -- and I have a crew trying get great shots for a major publication. I don't have the option of riding endless efforts to get the shots right since we are tapering volume to get ready for Nationals. So we have to try to get the hard effort shots right the first time. After 2.5 hours of training we go into the posed shots. Over 1000 frames are shot, and at about 1:30pm I am loaded up in the car and headed home.
2:30pm: Back to Hollywood in time to see my kids after school.
5:00pm: Before heading into work I make a pot of my kids' favorite pasta: emulsified butter sauce with loads of parmesan.
6:00pm: A nice, busy night at Hatfield's where everyone came in at once. One big push and all the plates were out.
10:00pm: I leave work starving! Five hours surrounded by food and I managed to not get any. Luckily, I had a steak that I bought over the weekend so I fire up the range and prepare myself a late supper of steak (prime ribeye) and sweet potatoes (creamed out with a ton of butter). All my training (and probably genes) allows me to consume a pretty high amount of saturated fats and maintain very low cholesterol. Karen is jealous.
9:30am: Karen and I meet at The Sycamore Kitchen (TSK). I get to say hello to our new pastry sous chef and catch up with Brian our chef while I eat a pork belly hash and drink more coffee -- this time a really good cappuccino. Karen does a quick inventory of things she needs from the Santa Monica Farmers' Market, then we begin the trip across town.
10:30am: We are strolling to the market. Karen is looking for cherry tomatoes and stone fruit for TSK, and I am thinking of a chicken dish I want to work on with corn and leeks for the prix fixe menu at Hatfield's. We get to see all our friends from the farms, and catch up with chefs friends, including Josiah Citrin, Alain Giraud and Jason Neroni. We load up and head back across town.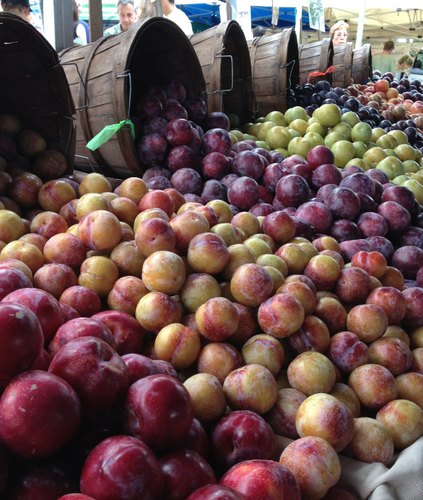 12:00pm: I head over to pick my son up from pre-school. Then we go home and have a little lunch before he goes down for a nap. Then I start the tedious process of gluing a tubular tire to a rim on a set of wheels I need for my trip to Indianapolis next week. A layer of glue on the rim, and a layer of glue on the base tape of the tire, and I leave them to cure overnight.
2:00pm: Karen comes home to take care of our son, and I get to do my workout. Just a quick roller session. These usually follow my weight workouts, but we have dropped weights for now to get ready for my race next week. These particular workouts are more about keeping aerobic fitness sharp and my leg-speed really fast. A 30-minute progressively harder warm-up is followed by a series of intervals where my RPM's exceed 200 for 12-15 seconds.
3:00pm: I head off for the Restaurant Depot run. It's a small one today, but round-trip from the house still eats up a bunch of time. I walk into the kitchen at Hatfield's just in time to do pre-shift station checks with my two sous chefs, Ren and Nate. Basically the cooks clear out of the kitchen for their dinner breaks, and we go through their entire mis en place to make sure there are no surprises during service.
6:00pm: A busy Wednesday night with a private party of 15 people in our front room and a full main dining room of regular diners. I find some time to work on the new dish I have been thinking about. The produce we get during the summer months is so amazing it makes my job creatively a little easier.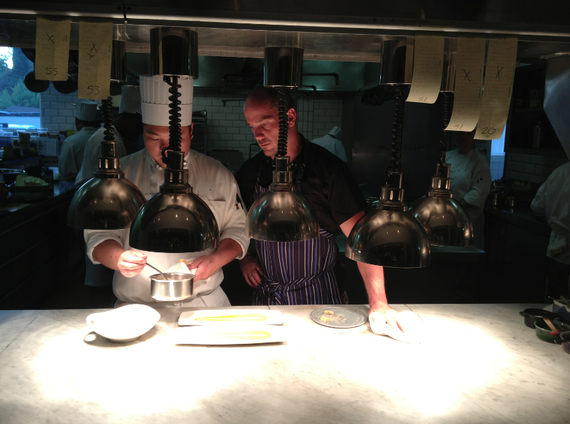 11:00pm: I get home, load my bike, extra wheels, pump, tools and a bunch of other stuff into the car, so I'm ready to go to the track the next morning.
7:00am: I'm up and right at it today! Coffee! Coffee! Coffee! Then my daughter's bag lunch, then I wake the kids and make breakfast: scrambled eggs and the best maple breakfast links from our local butcher Lindy & Grundy. I eat and pack my stuff for my Thursday track session. I leave the house at 8:30 with a travel mug full of coffee and head to velodrome in Encino.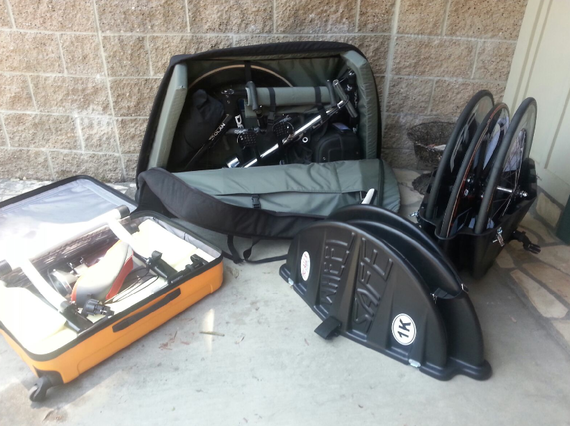 9:00am: I arrive at the Velodrome to find a bigger than normal group getting ready to train. There are the couple of us that are regulars, a couple that are training there because the other velodrome is closed for Cross Fit Games and a couple who are prepping for Masters Nationals next week.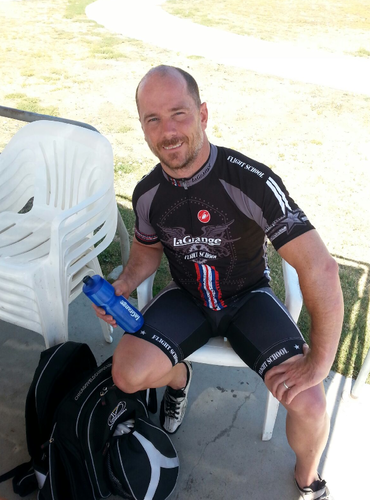 At this point, so close to Nationals, I have a very reduced training load. My "Taper" volume is reduced while intensity goes up, resulting in heightened fitness. So, the crowds at the track are fine, since I don't have that much to do. I do my normal 30-lap warm-up and some 10-second sprints, then it's some fast 1-kilometer efforts paced by the motorcycle. My motorcycle driver, Henry, does an expert job of understanding what the training goals are today and helping me execute them, driving in the neighborhood of 36-38mph around the track while watching the mirror to make sure it's not too fast or too slow. I put everything I have into chasing the motorcycle and keeping my front wheel as close to its back wheel as I can. Today is hard efforts with full recovery, so I get lots of time between to sit in the shade and talk to the gang.
1:30pm: I head home, unload my bike gear and get a couple minutes with my son before he goes down for a nap. I then eat roast chicken and dates with a big glass of milk before heading downstairs to finish gluing my race tire. Another layer of glue on the rim and the tire, then stretching the tire onto the rim and aligning, before inflating it and leaving it to set.
3:00pm: Karen and I meet up at Hatfield's. I check in with my sous chefs and everything looks good. Then Karen and I make the trip downtown to see the new Stumptown roasting facility. We get a quick tour of the soon-to-open space that will house their coffee roaster and have an espresso bar. Then we check out Bread Lounge a couple doors down and grab a couple of great pastries to eat on our trip back across town to Hollywood.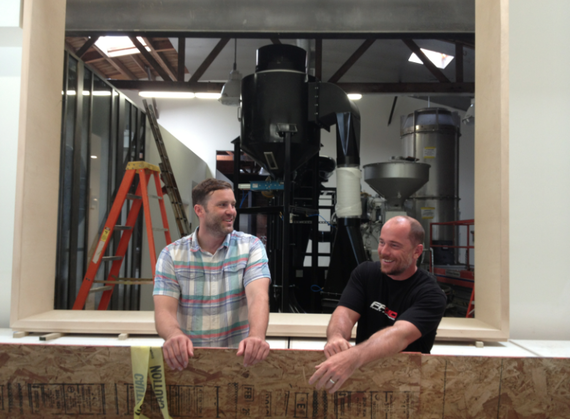 6:00pm: Our cooks are all excited and running around preparing for one of our "challenges." From time to time we challenge the cooks to prepare dishes for us to try, with the winner taking home a great bottle of wine and likely some version of their dish getting on the menu. Tonight was an hors d'oeuvres competition, and Karen and I were really happy with the success of everyone's dishes. We ended up settling on two winners, since one was the best, and one was more Hatfield's style.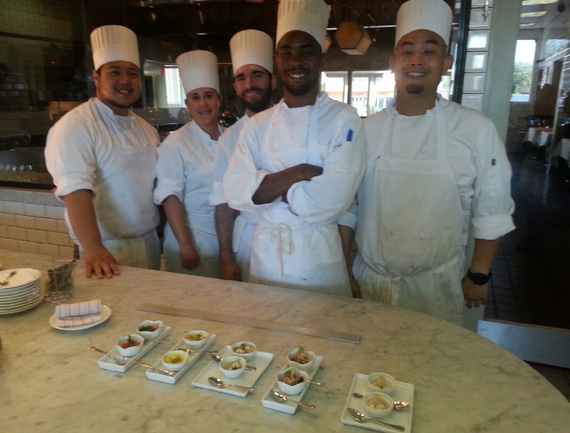 7:00am: Normal early start. I'm a little less stressed today because it is a rare Friday with no workout. At this point in my training cycle, with Nationals just around the corner, it's all about recovery. So Fridays, which were a huge gym day, are total recovery right now.
8:30am: Karen and I both head out the door, each with a kid. The trip to my son's school seems like it's going better than normal, no tears on the trip, and I have him convinced he loves it! But things turn as we enter the yard, and although he tries to stay tough, it's another hard drop-off.
9:30am: Karen is busy but we cross paths quickly at The Sycamore Kitchen. Her in a rush with work on her mind, me just thinking about bacon and a cappuccino. I hang out and have breakfast with one of our regulars, Gary. One of the coolest things about owning/operating restaurants is some of the great friendships we have made with regulars.
10:00am: Pre-weekend run to Restaurant Depot. We go through about 300 pounds of butter every 7-10 days at Hatfield's, and I pick it up in batches of five cases of 30 pounds each. Add in some cooking oil, some paper goods, tonic and soda for the bar and our normal supply of sugar and flour, and my Jeep is filled.
11:30am: While the guys at the restaurant unload my truck, I run to a nearby restaurant for lunch: a half-rotisserie chicken, cabbage slaw and roasted potatoes. Then back to the truck to pick up my son.
12:00pm: On the way to pick my son up from school I get an e-mail from USA Cycling that my category upgrade has gone through. I am now racing category-2, which in civilian terms is probably something like "Semi-Pro." That's makes it so I can race in the Pro Races, which are open to category 1 and 2. This is very exciting for me! Now I can finally enter national level events for Track Sprinting, and I am eligible to ride Sprints and Keirin at Elite Nationals with the best track cyclist in the country. I fire out a couple quick messages to friends to boast of my news!
12:30pm: I pick up my boy at school and we head to a nearby bicycle shop that sells track cycling equipment. One of the benefits of the fixed-gear bicycle craze is that what was once obscure gear is now more readily available. I am hunting for special Japanese toe straps: heavy-grade leather laminated together with a layer of plastic between to limit stretch. My son and I check out the bikes and other cool stuff in the store, and leave with a set of TOSHI straps and some cloth bar-tape for my time-trial handlebars. When my daughter was the age my son is now, I got to take her to do things like this all the time. We had one kid and one restaurant, and things were a lot simpler. Now with two of each it can be hard to find the time.
1:30pm: Back home, my son is exhausted and goes down for his afternoon nap. I fire up the oven. Soon I'm cooking all the stuff I bought at the store the night before: a free-range chicken, and organic sweet potatoes. Cage-free eggs are being boiled. This is a process I go through every couple of days to make sure that I have a steady supply of the food I need to support the training I do. After the eggs come off and my chicken and sweet potatoes have a little time, I head down to the garage for some bicycle maintenance. Modern race bicycles use a "clip-less" pedal system that works something like a ski binding. These pedals work on the road, but us big sprinter types tend to pop out of the release systems accidentally, especially during standing start events like the Kilo, where a rider goes from a standstill to over 40mph in under 20 seconds. The new straps supplement the pedal system. They are fixed in place with zip-ties and then pulled tight during efforts. It is impossible to remove your feet from the pedals.
3:00pm: I have been directed to get as much rest as possible this week so I take advantage of my son sleeping and take a nap myself.
4:30pm: I head into Hatfield's. Our new hors d'oeuvres from the challenge are going on the menu, and I am doing the final testing for the chicken dish I've been working on. I walk through the pre-shift inspection with my sous chefs, inspecting the quality and quantity of our cooks work. It's Friday night, one of our busiest of the week, and we can't have any surprises.
5:45pm: A quick pre-service meeting with the servers to taste the new hors d'oeuvres and run through the ingredients. It's critical to cover this thoroughly since every guest gets this little plate, so we need to be anticipating any allergy and dietary restrictions now.
6:00pm: An excellently paced Friday night. Very busy, but things never got out of control. The balance between doing enough business and keeping it at a pace where we can put out product we feel really good about is the hardest part of running a restaurant. My wife Karen has become a master at this. I could not be successful in the kitchen without her running the pace of the dining room.
7:00am: Saturday is usually my big long road ride day, but for the last month before Nationals I have been getting an extra day at the track. The timing is a little tight. I have a sitter that comes for a few hours, so I have to come home on time at 12:30. I get up, coffee up, make Karen a cappuccino and sneak out of the house at 7:30.
8:00am: I am at the track an hour before the session begins. I am anticipating a huge crowd, since the other velodrome is closed. I warm up on a stationary trainer bike outside the locked gate. This will save me 30 minutes of valuable track time and get me home on time for my sitter.
9:00am: A crowd of 20 people at the track. I have a limited number of very fast efforts behind the motorcycle, with full recovery. I do my efforts on a brilliant sunny day, and by noon I'm in the car and heading home. That's my last track training day before Nationals, and I am feeling pretty good.
1:00pm: Back home, my son goes down for a nap and my daughter and I relax after our morning athletics. She was at soccer practice and we are both tired. We eat lunch together and then to the couches. She is watching a movie, most likely Ice Age, and I am on the iPad watching YouTube videos of match sprints. Match sprints are one of the disciplines in track sprinting. Due to my Kilo training I am physically very good at match sprints, and I would say that I am a smart racer and am naturally good at them from a tactics and technique standpoint. I recently won the Elite State Championship Title in sprints, but I don't have the depth of experience, since I have not really focused on them. I am riding sprints in Indianapolis at Nationals and I want to watch as many videos as possible to try to pick up on anything that might help me.
4:00pm: Karen gets home from a long day at The Sycamore Kitchen and we head to the garage gym for a new Saturday tradition. I am coaching Karen on strength training. For an hour -- hopefully twice a week, but always on Saturday afternoon -- I guide Karen through a workout of classic barbell lifts. This has been a really nice thing for us where we get to spend time together in a totally new environment for us -- not a restaurant! I am really impressed with her upper body lifts. She's got amazing form on bench presses, but I am still the household squat champion with 475 pounds!
5:30pm: We drive into Hatfield's together, and walk in the restaurant backdoor to a bustling kitchen. Tables are already sat and the guys are feeling the stress of our busiest night of the week. Regardless, the cooks were strong, and there was a dining room full of happy people.
11:00pm: I get home. I take a few minutes to unload my bike gear from my car, and load up with everything I need for my Sunday beach trip tomorrow.

Sunday, July 28
7:30am: I dream of sleeping late on Sundays...but the kids have other plans. So, we are all up fairly early doing "the usual."
9:30am: Sunday is "Daddy Day." Karen heads off to a busy brunch service at The Sycamore Kitchen, and I pack the kids and a bunch of toys in the car and head to our favorite beach. This is not the most glamorous stretch of the Pacific coastline, but it's our weekly spot. I have found that when you are by yourself with two kids its best to keep it simple. The kids run in the water and dig, while I sit and relax. Later, we make our way to the rocky end of the beach and dig for sand crabs and stack big round rocks into precarious towers.
1:00pm: We get back to the Hollywood Hills in time for my son's nap.
2:00pm: I head down to the garage to do a preliminary pack and weigh. I disassemble my race bike and pack it into its travel case along with most of my gear. I know the sizes of all my bags, and all the likely fees for size and weight. I weigh the packed bags to make sure I am well within the 50 pound limit. It's looking like I am going to come in under weight on all three bags.
5:00pm: Dinner out with the family. I have found that if I cut out grains and sugar from my diet I get the best results athletically, but I'm a chef and I love to eat, so once a week I drop the restrictions for a meal. We decide on this ramen place we have wanted to try. We park the car and walk three blocks only to find that while they appeared to be open, they were actually filming a scene for a movie. Plan B is pizza. Karen's been making a lot of pizza dough at work and home, so it is fun exploring some of the local favorites to see how the doughs differ.
6:00pm: We head into the epicenter of West Hollywood to one of our favorite frozen yogurt places where all the different flavors of yogurt have kind of naughty names. We may have to stop going there once the kids can read. I eat a fairly organic diet without any sugar in my day-to-day life, but when it's time to have a cheat day I have the biggest waffle cone in my hand filled to the brim with cake batter ice cream and three different toppings.
See more Food Informants below: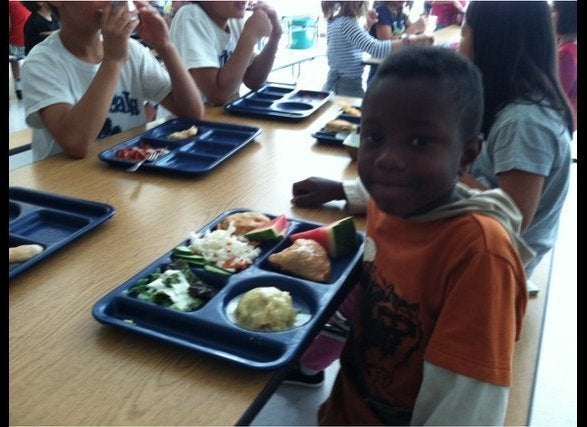 Food Informants
Related