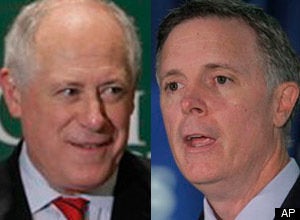 The fierce intra-party feuding between Gov. Pat Quinn and Comptroller Dan Hynes reached a new pitch Friday after Quinn announced his latest set of backers in the 2010 Democratic gubernatorial primary.
The day started with several North Side Democratic politicians, most notably Rod Blagojevich's estranged father-in-law, Ald. Richard Mell (33rd), endorsing Gov. Quinn at a press conference at Ann Sather's in Lakeview.
"He's a straight shooter," Mell said of Quinn. "He might not do the most popular thing, I think he'd rather do the right thing rather than the popular thing, and that's unique today."
State Sen. Ira Silverstein, State Reps. John Fritchey and Lou Lang and a host of aldermen who backed Blagojevich and then soured on him -- long before he was impeached from office -- made the case that Quinn is the right man to lead the state out of its Blagojevich-era shame.
But where Quinn's allies saw change, Quinn's gubernatorial rival, state Comptroller Dan Hynes, saw more of the same.
"Pat Quinn, once a self-styled reformer, continued his gravitation toward ultimate political insider-dom today by accepting the endorsement of Alderman Dick Mell, the father-in-law and political patron of Rod Blagojevich, and a man synonymous with Chicago Machine politics," read a blistering e-mail from the campaign.
"It would never even occur to us to seek the endorsement of the single individual most responsible for inflicting this state with Rod Blagojevich, let alone hold a press conference, but for Pat Quinn, it's all in a day's work," added campaign spokesman Matt McGrath.
Mell and Blagojevich, though family, have had a rough run the last few years. While Mell was crucial in getting his son-in-law into office, the two later had a public falling out that has never been truly repaired.
"Dan Hynes' hypocrisy knows no bounds," spokeswoman Elizabeth Austin wrote in an e-mail. "He is a child of the old-time Chicago Machine and owes his entire career to his ward boss father. Without Machine backing and his father's political muscle, how could he have won statewide office at the age of 28?
"In September, when Comptroller Hynes appeared at the endorsement session of the Cook County Democrats, he spoke movingly of his pride in seeking -- and accepting -- their endorsements over the many years he has spent sitting behind the Comptroller's desk. At that time, he shared his warm recollections of growing up in a ward office, learning about Machine politics at his father's knee. Yet now, when the Democratic Party is embracing reform and putting state government back on track, he's now Dan Hynes, the independent maverick?"
The two leading Democratic gubernatorial candidates have recently been at each other's throats, sniping in the media and pouring millions of campaign dollars into negative TV ads.
This week the Quinn campaign offered a truce: it would stop running a controversial ad if the Hynes campaign would take down one that Quinn's people said unfairly characterized the governor's tax plan.
The Hynes campaign rejected the truce-- and attacked the Quinn campaign for its supposed hypocrisy in offering it.
The Hynes campaign issued the following response from spokesman Matt McGrath:
"The Quinn campaign's response is over-the-top and full of sound and fury, signifying nothing. Pat Quinn says he spent his life fighting for everyday people, but as soon as he became governor he tried to stick middle class families with a 50 percent tax hike.
"Meanwhile, he continues to assemble the team that gave us Rod Blagojevich as the foundation for his very own campaign, and no amount of name-calling and attacks on Dan's family can obscure that fact. While Dan challenged Blagojevich's ruinous spending policies at every turn, Pat Quinn was busy telling us Blagojevich is an 'honest person' who does the 'right thing all the time.' It's little wonder why the Blagojevich gang would rally behind him."
Quinn's campaign also released a new ad featuring the governor's longtime barber, Herb.
Calling all HuffPost superfans!
Sign up for membership to become a founding member and help shape HuffPost's next chapter