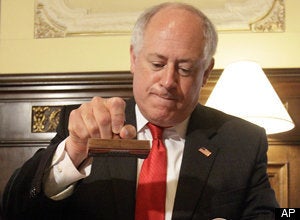 The federal government wasn't the only one that got busy during the lame-duck session.
In Illinois, the state legislature passed a tax increase to help close its massive budget deficit, and voted to abolish the state's death penalty. And after a contentious struggle, impassioned arguments, and tough vote-wrangling, both House and Senate passed a measure allowing civil unions in the state during this winter's legislative session.
Governor Quinn signed the tax increase into law promptly. The death penalty bill still sits on his desk, with supporters anxiously awaiting his decision.
Governor Pat Quinn will sign the Civil Union Law on Monday, January 31. The signing ceremony will be in the afternoon in the Chicago Loop, and open to the public. Details will be announced early next week.

Signing the bill publicly in downtown Chicago, rather than behind his desk in Springfield, means that Quinn is expecting a pretty sizable celebration. And in a city with one of the nation's largest and most vibrant gay communities, we have little doubt that that's what he'll get.
Popular in the Community