SALARY VETO AS STRATEGY This week Illinois lawmakers will miss their first monthly paycheck after Gov. Pat Quinn vetoed their salaries after their failed to deliver a pension reform bill to him by his July 9 deadline. A poll shortly after Quinn's move showed it was a big hit with voters. And now Quinn has the General Assembly in a bind. It can override his veto to get their salaries back -- which plays directly into Quinn's plan of making lawmakers look bad. Or they could sue, which might make them look worse and, as Rich Miller explains in a column today, might have some very bad consequences down the road. What if this becomes a regular part of any governor's dealings with the legislature? "Won't pass my tax increase? I'll cut off your pay." "Won't pass my gambling bill? No pay for you." And so on. And is Quinn's move going to advance his goal of getting pension reform done? Miller takes it apart in this must-read piece.
POW! Chicago Tribune cartoonist Scott Stantis gives his view of Quinn's lawmaker pay veto. We won't argue that Quinn didn't get lawmakers' attention with his action. The real question is what he accomplished by doing it. Click here to see the whole cartoon.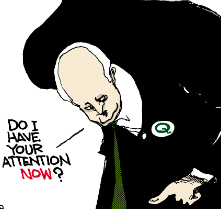 2014: QUINN VS. DALEY -- IMAGES OVER RECORDS? The race for the Democratic gubernatorial nomination quickly has shaped up to be a contest between Pat Quinn, self-styled populist, and Bill Daley, super-connected businessman/insider. Bloomberg.com takes a look at how this race is developing and I add some insight. And it's always worth remembering that no sitting Democratic Illinois governor has faced a serious primary challenger since 1976. That contest ushered in 26 years of Republican governors to follow. Read more here.
TAX TALK Is it time for Illinois to drop its one-rate-for-all state income tax and adopt a progressive system, taxing the wealth at higher rates? Is the progressive tax movement a tax increase movement in disguise? How did Illinois go from a $1.1 billion budget surplus in 1998 to billions in debt in a few short years? Those are just a few of the questions that will be discussed by two prominent experts on Illinois' financial state at our Aug. 15 tax forum in Springfield. Reboot Illinois and the Citizens Club of Springfield will host progressive tax advocate Ralph Martire of the Center for Tax and Budget Accountability and opponent Ted Dabrowski of the Illinois Policy Institute for a discussion of Illinois' income tax future. We hope you'll join us. Find out more here.
METRA OUTRAGE CONTINUES Bill Daley has turned the Metra scandal into a campaign issue in the governor's race. On Sunday, the Chicago Tribune said Daley's desire to eliminate the body that oversees Metra will never happen because "transit boards are employment agencies for politicians." As we learned last week, the Metra employee for whom House Speaker Michael Madigan was trying to obtain a raise was already collecting a $60,000 public pension at the time. This window into the culture of job creation among the politically connected class of Illinois just keeps providing different views every day, none of them particularly inspiring. More explanation here.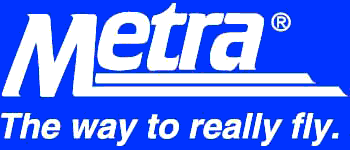 MAKE IT FAIR We trace the roots of scandals like the Metra affair to a system that lets politicians put themselves into office for life -- as long as their party wins the right to draw up the state's legislative maps. We want to stop the gerrymandering that has set the tone of Illinois politics and driven the state into the financial abyss, but this promises to be a Herculean effort. We need your help. Find out more about the Yes for Independent Maps effort and how you can get involved. It's the biggest reform of all in Illinois government and we can't expect any help from lawmakers making it happen. Join us!
TOP 7 We've got links to the state's 7 best news and views offered up today. You'll find links to and summaries of many more in the Daily Tip-Off section of our website.
7. After flirting with running for Attorney General, House Republican Leader Tom Cross finds he will face competition for his House leadership seat. (Chicago Tribune)
6. The Illinois State Board of Education will consider new standards for science education with the goal of better preparing students for science careers. (State Journal-Register)
5. More of the same on the pension front - lots of talk, no action. (Pantagraph)
4. The first payday state legislators will miss is later this week. (Chicago Tribune)
3. More questions are raised about Metra after a campaign donation to Toni Preckwinkle from a Metra executive was discovered by the Better Government Association. (Chicago Sun-Times)
2. Chicago unemployment jumped from 9.6 to 10.3 percent. (Chicago Tribune)
1. Opinion: A progressive tax would be a disaster for Illinois. (Northwest Herald)
REAL LIFE. REAL NEWS. REAL VOICES.
Help us tell more of the stories that matter from voices that too often remain unheard.