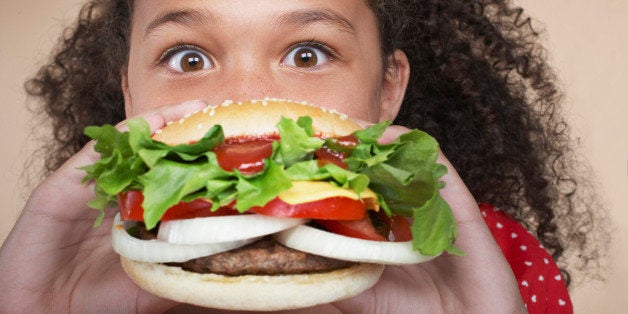 What's there not to love about quinoa? It's easy to make and full of nutrients. Quinoa is a great source of protein, iron, and fiber, which is why we incorporated it into our first meatless burger. The combination of quinoa and black beans gives this recipe its burger-like texture. The added seasonings create layers of flavor that will wow your taste buds. In fact, all 5 of my kids love these burgers and for me that's a huge accomplishment.

Serve these healthy quinoa black bean burgers over greens or on a whole grain bun. Either way, topping them off with sliced avocado and tomato, drizzled with balsamic glaze is a must!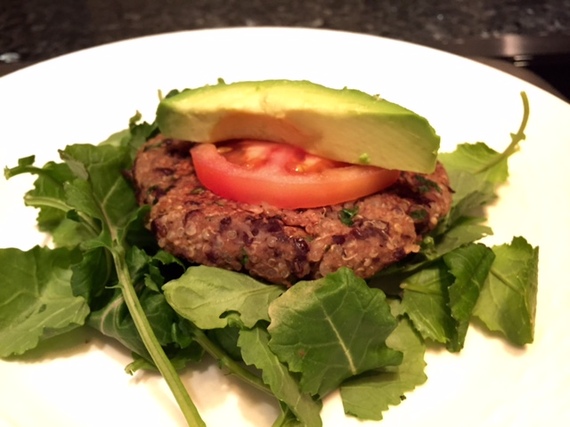 1 ½ c quinoa, cooked and cooled
1 (15 oz.) can black beans, rinsed and drained
2 ½ tablespoons onion, minced
1 ½ tablespoons cilantro, finely chopped
1 teaspoon garlic and herb seasoning
2 tablespoons bread crumbs, garlic seasoned
1 tablespoon teriyaki marinade
1 teaspoon cumin, ground
1 teaspoon Frank's Red Hot
2 ½ tablespoons extra virgin olive oil (½ tablespoon for grill pan)
1 avocado, sliced
1 tomato, sliced
2 ½ c baby kale greens
balsamic glaze, to taste
1. Mash the beans until they form a paste. Leaving a few whole is perfectly fine.
2. Mix together the quinoa, onion, cilantro, garlic and herb seasoning, bread crumbs, teriyaki marinade, cumin, hot sauce, and olive oil. Add this mixture to the black bean paste.
3. Form 5 quinoa black bean patties.
4. Lightly coat a grill pan with olive oil.
5. Cook patties for approximately 1-2 minutes per side on medium-high heat.
*We plated our quinoa black bean burgers over baby kale greens; topped them with sliced avocado and tomato, then drizzled with balsamic glaze. Top these delicious burgers with your favorite dressings and share them with us on our Facebook page and Twitter.
Popular in the Community