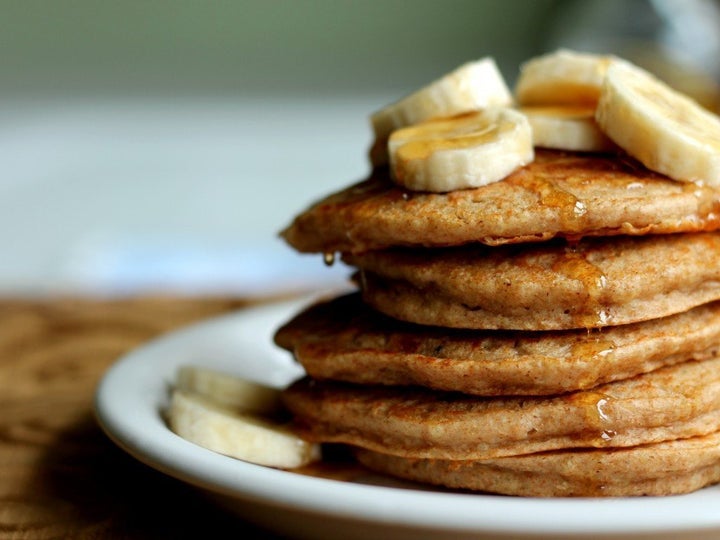 A couple of weeks ago, a Facebook acquaintance posted a status update on how she really wanted to like quinoa, but was so far unimpressed. This was followed by a call for delicious recipes using this protein packed grain. Anytime someone says that they don't like quinoa, I am puzzled by this, as I am a huge fan of the stuff and cook with it often. If someone doesn't dig it, I assume it must be because they aren't preparing it properly. Seriously, it is that good when done right.
In addition to being supremely healthy -- quinoa is known as a superfood because it contains all of the essential amino acids we need -- it also cooks up relatively quickly, in about 15 minutes, making it just as easy as a side dish of white rice. The key to upping quinoa's flavor quotient is to cook it in low-sodium chicken or vegetable broth rather than in water. While I often use quinoa as I would pasta, adding veggies, nuts or a bit of cheese to the finished dish, these recipes are the superfood at its best. Try one, then tell me you don't like the stuff. I dare you.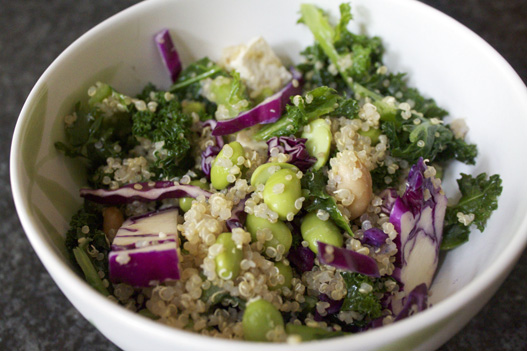 Shelled edamame, lightly steamed
Lemon soy tahini dressing (I used Cindy's Kitchen, which is delightful)
Cook the quinoa in 2 cups of broth or water, until the liquid is absorbed, about 15 minutes. Saute the kale in a large skillet or sauce pan, until just tender, about four to five minutes. Meanwhile, boil the edamame in a small pot of water, until just tender about five to six minutes. Combine all of the ingredients in a large bowl, drizzle with the soy tahini dressing and serve.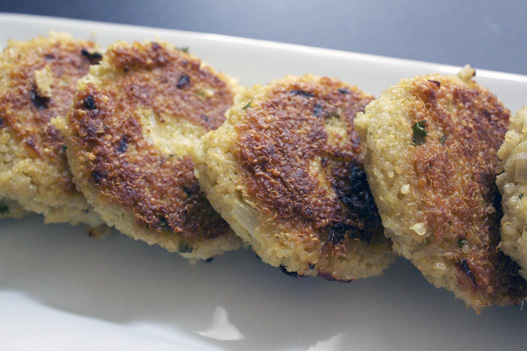 2 1/2 cups uncooked quinoa
5 cups water or low sodium chicken broth
1/2 teaspoon fine-grain sea salt
1/3 cup finely chopped parsley
1 yellow onion, finely chopped
1/3 cup freshly grated Parmigiano
3 cloves garlic, finely chopped
1 cup Panko bread crumbs, original or whole wheat, plus more if needed
1 tablespoon extra-virgin olive oil or more for frying (I always use more)
In a medium pot boil the water or chicken broth. Add the quinoa, reduce the heat to low and cook the quinoa, covered, about 20 minutes or until the water is fully absorbed. Set aside and let cool. Next, combine the quinoa, eggs, and salt in a medium bowl. Stir in the parsley, onion, cheese and garlic. Add the lemon juice and bread crumbs, stir and let sit for a few minutes so the crumbs can absorb some of the moisture. At this point, you should have a mixture you can easily form into 12 thick patties. If the mixture isn't moist enough, add another egg or a bit of water. Too moist, add a bit more bread crumb.
Heat the oil in a large, heavy skillet over medium-low heat, add six patties, if they'll fit with some room between each, cover, and cook for seven to 10 minutes, until the bottoms are deeply browned. Turn up the heat if there is no browning after 10 minutes and continue to cook until the patties are browned. Carefully flip the patties with a spatula and cook the second sides for seven minutes, or until golden. Remove from the skillet and cool on a wire rack while you cook the remaining patties. Alternatively, the quinoa mixture keeps nicely in the refrigerator for a few days; you can cook patties to order, if you prefer.