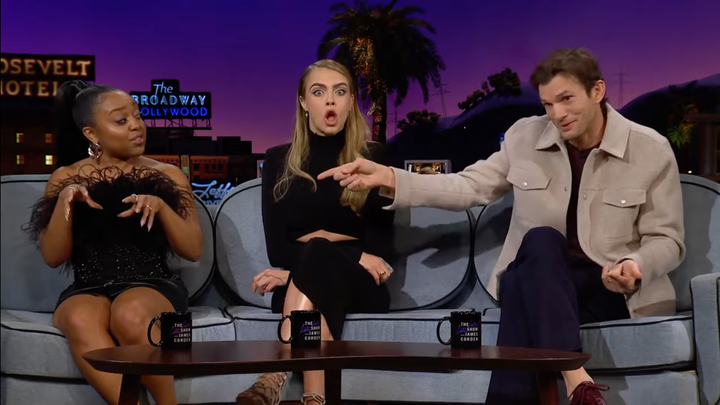 But, at least he didn't share his thoughts about whether a certain sandwich in Philadelphia should be called a hoagie or a sub.
The conflict was sparked when Corden announced that the show previously asked Kutcher to predict the winner of the 2023 Super Bowl ― where the Philadelphia Eagles lost to the Kansas City Chiefs.
"Last week [you] gave us your final score prediction for the game," Cordon said, holding a sealed envelope with Kutcher's prediction inside.
"Out of the last, I would say, eight Super Bowls, I picked six of the last eight … winner[s]," Kutcher said a little smugly.
Corden then asked Brunson, a Philly native and Eagles fan, to reveal his prediction.
"Guess what, Ashton? If this says you predicted the Chiefs to win in here, you and I…" she said, wagging her finger disapprovingly.
It was soon revealed that the "Your Place or Mine" star predicted the Chiefs would win by six points.
Kutcher then got extremely passionate about why his prediction was slightly off (the Chiefs won the game by three points, not six).
"The kicker missed a field goal!" Kutcher yelled. "[Harrison] Bucker missed the field goal in the beginning of the game, and he screwed up my prediction!"
But the creator and star of "Abbott Elementary" didn't care about Kutcher's bruised ego, she was seeing red flags for a completely different reason.
"First of all, you couldn't make this say Eagles?" Brunson said, fuming and pointing to Kutcher's written prediction.
"It was so clearly going to be the Chiefs who won the game," Kutcher said matter-of-factly, causing Brunson to recoil.
"Break it up, guys," Cara Delevingne, who was also on the show and unfortunately seated between Brunson and Kutcher, said as the situation became more tense.
"Oh, Ashton," Brunson continued, exhibiting an exquisite series of bewildered facial expressions. "Philadelphia, you hearing this? What do you mean it was so obvious?"
"They were just going to win the game, it was clear from the season and everything," Kutcher doubled-down.
"You don't think the Eagles had a season that was worthy of winning the Super Bowl?" Brunson asked sternly.
"No, they played really great, they should've won the game," Kutcher said quickly, clearly intimidated.
Philadelphians have long been known for their, uh, ardent feelings about their beloved NFL team.
Jus tbefore kickoff for the Super Bowl on Sunday, social media videos showed amped-up Eagles fans flipping over a car. Another video online shows Eagles fans flooding the streets of Philadelphia after their Super Bowl loss — and some climbing street lamps to yell, "Fuck the Chiefs!"
So, Brunson's reaction is as natural as Philadelphians' love for Wawa. But it didn't seem like Kutcher was prepared for meeting an Eagles fan in the flesh — because later on during their appearance on the show Brunson gets so, uh, fervent that Kutcher gets out of his seat and threatens to leave.
To watch their exchange in full, check out the video above!
Popular in the Community