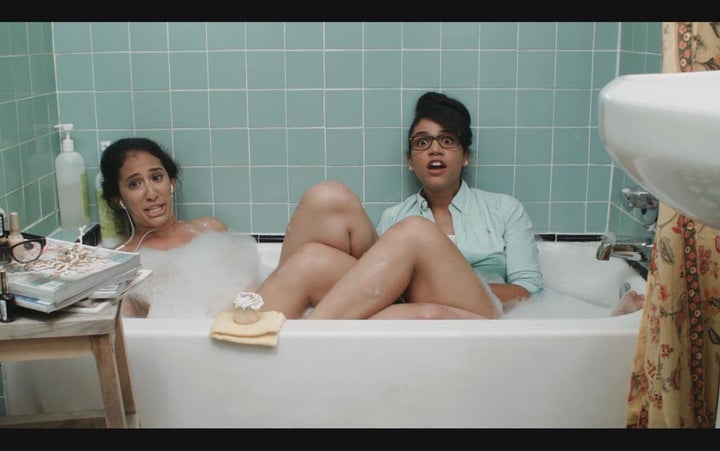 Maybe you haven't heard, but there are a whole lot of female-fronted shows on TV right now -- at least in comparison to the good-ol'-boy days. It's kind of amazing and refreshing, but let's be real: Comedies created by, for, and about women ("New Girl," "The Mindy Project," "Girls") can lean just as heavily on narrative cliches and stock characters as any Tim Allen vehicle.
The six-episode series, which will be screened this weekend at the Los Angeles Film Festival, takes just one classic scene from a female-led romantic comedy TV series to quickly skewer in each two-minute episode. In the first episode, Quirky Female Protagonist is lounging in a bubble bath with a cupcake while her Straight-Laced Bestie offers some tough love. In another, the girls get together for a brunch debrief about their love lives that gets tense.
As the highly literal character names and show title hint, there's another big twist in this parody: Instead of satirizing the form through exaggeration and subversion of its tropes, "Quirky Female Protagonist" simply spells them out. The dialogue almost entirely consists of descriptions of types of dialogue rather than specifics, like a live-action, incomplete MadLib.
The first conversation begins as White interrupts Chan's bubble bath with the line, "Off-camera disruptive statement about long-term reclusive behavior." (Yes, that is the line.) Chan rejoins, "... Question?" As the scene escalates, the two wind up in the tub together, playfully splashing each other with suds and squealing, "Female bonding!"
In an interview with The Huffington Post, Chan and White traced this approach largely to their involvement with the New York Neo-Futurists, a theater troupe that aims to break down the dichotomy between theatrical constructs and real life. "[The Neo-Futurists] used the trope as dialogue in their shows … they called it deconstruction," explained Chan. This approach to picking apart how the stories we watch are put together, and identifying the common rhythms, beats, characters and relationships that power them, knocked around in her mind with all the women-led, rom-com-inspired TV shows she was watching.
"When I was writing the show," Chan remembered, "'New Girl' was fresh on the air, 'The Mindy Project' … and there was a lot of talk about women on TV." She told HuffPost she loves those shows, but was also "being critical of what I was watching and why I was watching it." The result: an affectionate yet almost brutally on-target deconstruction of those shows' common cliches.
White, who met Chan through the New York Neo-Futurists, saw something more in her friend's initial script than another iteration of a Neo-Futurist exercise in deconstruction. "To me ['Quirky Female Protagonist'] was inspired by these previous scripts, but it was serialized, and it had always been a one-off thing. I liked seeing the arc, deconstructing the arc of the season. When I saw what she wrote I just got so excited."
Of course, the arc of the season can be a lot faster when it's stripped down to the studs that underpin it. Chan and White say they have no plans to expand "Quirky Female Protagonist" into a more traditional, full-length sitcom, as the "Broad City" web series did. "'QFP' is designed to be quick one-offs because it is a direct parody," said Chan. The duo is working on other projects, though, including a full-length show concept about a high school dealing with the fall-out of a viral scandal.
If "Quirky Female Protagonist" goes by way too quickly for you (it did for us!), rest easy -- Chan and White have a follow-up series. "Strong Independent Woman," set in Shondaland, is up next. "It's our love letter to Shonda," said White.
Yes, in the end, it all comes back to love. "You parody something because you love it. We love female comedies so, so, so much," Chan told HuffPost. "My goal wasn't for people to be more critical." At the same time, love and critical thinking can go hand in hand. White added, "I would compare it to … when you go shopping and you realize you're buying the same thing over and over again. You look in your closet and you have 17 black shirts, and you look in your closet and realize you're ready for something pink."
You obviously really love black shirts female-led TV rom-coms -- and there's nothing wrong with that.
Check out the first episode of "Quirky Female Protagonist" below:
Before You Go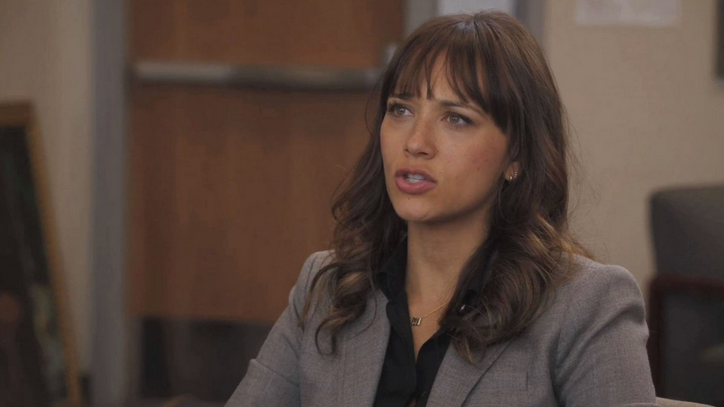 Feminist TV Guide 2016
Popular in the Community