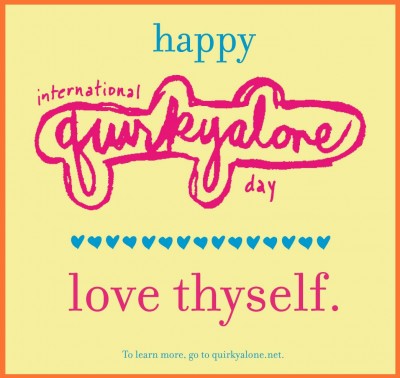 Hark! It's Feb. 14! You might think that means it is Valentine's Day. You would be right. It's also International Quirkyalone Day, a holiday that got its start in 2003 and has spread, with parties in over 40 cities around the world. IQD is not anti-Valentine's Day. It just happens to fall on the same day. IQD is a firm reminder to celebrate yourself whether you are in a relationship or not.
International Quirkyalone Day is the day that we celebrate the indomitable, hilarious, proud spirit of the quirkyalone. A quirkyalone is a person who enjoys being single (but is not opposed to being in a relationship) and prefers being single to dating for the sake of dating. Quirkyalone is not anti-love. It is pro-love. It is not anti-dating. It is anti-compulsory dating. A quirkyalone can be a man or a woman, gay or straight, teenage or elderly. It's a mindset that you can come out of the womb with or discover later in life.
IQD is a celebration of romance, freedom, and individuality. It celebrates true romance (as opposed to the fake versions presented to us in reality dating shows), independence, creativity, friendship, and all kinds of love -- including love for yourself.
It's been 12 years since I first started theorizing about quirkyalones. In the decade that has passed, quirkyalone has gone from scary-quirky to almost mainstream. It is far more acceptable to be selective and enjoy your single status. Now almost 50 percent of adult Americans are single. Half of all Manhattan residences are one-person dwellings. (See more great stats in my friend Eric Klinenberg's new book Going Solo.) When I first tried to sell my book, publisher marketing departments were afraid that no one would buy the book. They thought quirkyalones would be perceived as Ted Kaczynski-like loner types hanging out in the woods. Now single women and men are a force to be reckoned with in pop culture and in the marketplace. The stigmas are fading.
But still, the biggest resistance to celebrating your singlehood often comes from within. We have so many judgments about our selves and what our lives "should" look like -- rather than celebrating who we are now. The theme of Quirkyalone Day has always been "love thyself."
I decided this year that every Quirkyalone Day henceforward should have a theme. Burning Man has a theme every year. So why not Quirkyalone Day?
In future years, we'll hold a vote among the quirkyalone nation online. This year I'm choosing. The theme of IQD 2012 is Celebrate Your Secret Single Behavior.
The term SSB originated on Sex and the City as a habit that one indulges in alone -- and does not want a significant other to discover. People who are married or in committed relationships have their SSB, too, and are often quite glad to have space to themselves to let loose. In my book Quirkyalone I wrote about Secret Single Behavior. SSB are those deliciously weird things we do on our own when no one else is watching. Want to pick your toenails and leave the clippings on the coffee table while watching Seinfeld reruns on a Friday night? Eat peas out of a can for dinner? No problem, embrace your SSB!
I love SSB because they get to talk about our weird, individual behaviors and laugh at how uniquely kooky we all are. I asked for some choice SSB on the Quirkyalone Facebook page, and Rebecca Freedman, a quirkyalone in Colorado, replied: "Thirty-five bucks worth of Chinese takeout + sweats + chick-flicks + sci-fi. NO witnesses." Others said, "talking to my cats," "talking to imaginary cameras while cooking, as though I'm on a cooking show," and "singing in Korean karaoke rooms by myself." Talking to ourselves is apparently a popular quirkyalone SSB activity, especially while pretending we are stars.
What are your SSB? Celebrate them Feb. 14, and enjoy your Quirkyalone Day! If you live in the Bay Area, come to our IQD party in Oakland. Take a long walk along, turn off your cell phone, tune in to the power of one, if only for 15 minutes. Buy yourself a bunch of flowers, invite friends over for dinner. Start up a creative project that has been on your list. Quirkyalone Day is your day to create.
Related
Popular in the Community