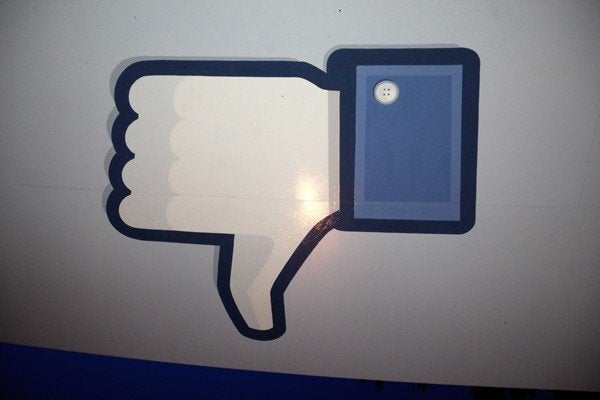 The timing could not have been worse.
Two prominent writers have very publicly announced they're dialing back their usage of Facebook, back-to-back, as the social network itself is embattled in a struggle to convince its youngest users Facebook is still "cool."
First it was Julia Angwin, a Wall Street Journal reporter and author, who wrote a blog post on Feb. 12, "Why I'm unfriending you on Facebook." Angwin voiced concerns about sharing information with her 666 friends but becoming nervous about where that data ends up, so she's going to unfriend them all. "I did not come to this conclusion easily. I have long struggled with the right approach to Facebook," she wrote.
Then, Douglas Rushkoff, a media theorist, author and CNN columnist, wrote for CNN on Feb. 25, "Why I'm quitting Facebook." He cited a version of Sponsored Stories, Related Posts, as putting him "over the edge."
"It actively misrepresents us to our friends, and worse misrepresents those who have befriended us to still others," Rushkoff wrote about Facebook's efforts to use our data for promotional purposes.
Angwin said she isn't leaving Facebook entirely because she believes it's important for an author and journalist to have a presence there; Rushkoff said he does intend to leave. They're not just anyone publicly criticizing Facebook. They're well-known individuals in media and again they made their intentions very clear and public. It's damaging for the social network at a time it's already on a bit of shaky ground.
We believe that some of our users, particularly our younger users, are aware of and actively engaging with other products and services similar to, or as a substitute for, Facebook. For example, we believe that some of our users have reduced their engagement with Facebook in favor of increased engagement with other products and services such as Instagram.
On top of it all, Facebook's Director of Product Blake Ross announced he is leaving the company last week, TechCrunch's Alexia Tsotsis reported. Ross reportedly wrote the following in a goodbye note to fellow employees:
I'm leaving because a Forbes writer asked his son's best friend Todd if Facebook was still cool and the friend said no, and plus none of HIS friends think so either, even Leila who used to love it, and this journalism made me reconsider the long-term viability of the company.
He goes on to say "In all seriousness." He may have been joking but for current Facebook employees, the prospect of Facebook not being "cool" for young people is no laughing matter, as made clear by Facebook's own admission above.
For those of us beyond our teens, look back to that period of your life. Did you want to be doing all the things your parents were doing? No. It wasn't cool.
If Facebook's not cool, what is? Pheed seems to be gaining steam quickly despite being a newcomer, having just launched in October. There's also Snapchat. And then there's Instagram, which Facebook acquired well aware of the threat it posed as a mobile photo sharing platform.
It's a tumultuous time for the dominant social network in the United States. While Business Insider wrote about the 13 Reasons You'll Never Quit Facebook, that message apparently doesn't resonate with everyone. A new Pew report, released earlier this month, noted that 1 in 5 online adults have quit Facebook and the majority of Facebook users have taken a break.
Correction: This post originally said Julia Angwin was quitting Facebook entirely. That is not the case. It has been updated to reflect that.
Popular in the Community