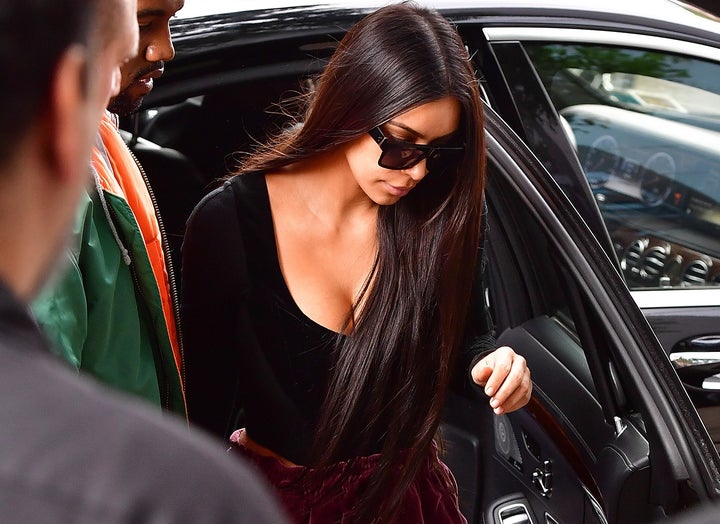 On Oct. 3, at around 2:30 a.m. local time, a pair of thieves dressed as law enforcement entered the Paris residence where Kim Kardashian was staying. Holding her at gunpoint, they duct-taped her hands, legs and mouth, and gagged her before leaving her in a bathroom and raiding the space. The men, about five in total, made off on bicycles with over $10 million in jewelry and personal belongings.
In the wake of those events, confirmed by spokespeople and French police, some publications and internet commenters have started spreading another idea ― Kardashian totally made it all up. 
"New Evidence Suggests ... Kim Kardashian 'STAGED' The Robbery ... Just Like RYAN LOCHTE!! (Here Are The FACTS) #KimRobbery," read one headline from MediaTakeOut, ignoring the fact that Lochte's story unraveled within hours. On Tuesday, Kardashian filed a lawsuit against the site for libel; in the filing, her lawyer states that the publication cites no credible sources.
"Kardashian Exposed! Explosive Police Video INSIDE Kim's Paris Hotel After $10M Heist Punches MAJOR Holes In Official Story," read another headline, published Tuesday by RadarOnline. The story, which was quickly picked up by other gossip sites, references a FaceTime chat Kardashian held that night with her brother Rob Kardashian and his fiancée, Black Chyna, but prior reports clearly state the call happened before the robbery. 
Never a bastion of civility, comment sections continue to fill with confident declarations: Kim Kardashian's story is as real as her behind. Even Supreme Court Justice Stephen Breyer fueled the flames in court last week when he said: "Kardashian's thief, if there is one ..." If.
For some reason that evades logic, we have a hard time believing women when they say bad things have happened to them. Women are flighty and given to impulse; femininity is fragile and thereby unreliable.
She may be an often skimpily dressed TV personality whose career depends on media attention garnered through showmanship at a massive scale, but, last week, the woman had a gun to her head and thought she might never see her children again. Perhaps you don't like Kim Kardashian, or her family, or her morals don't align with yours, or you just think it's weird that she might have had some plastic surgery, likes to apply makeup in a really complicated way and named her kid "Saint." It's a slippery slope: You don't feel bad for her. You hate her. You think she's lying.
Even a reality star deserves a drop of empathy.
Calling all HuffPost superfans!
Sign up for membership to become a founding member and help shape HuffPost's next chapter
BEFORE YOU GO
PHOTO GALLERY
Kim Kardashian Through The Years