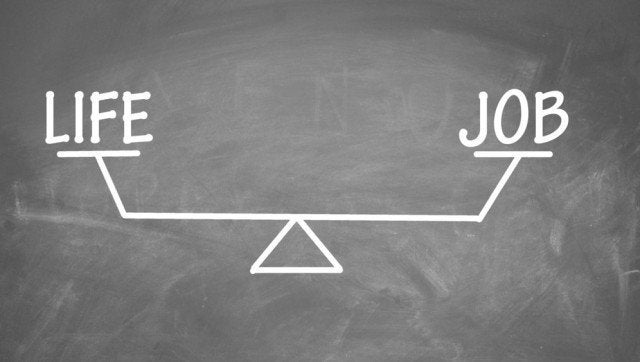 The recap of one working woman's day begins at 4:00 a.m.: "Hear baby screaming, hope I am dreaming, realize I'm not, sleep walk to nursery, give her a pacifier and put her back to sleep" and ends at 1:30 a.m. when, after falling asleep at her desk at home, she caffeinates enough to complete "task number 3" on a "50-item-to-do-list" from work, and "Finally go to bed."
"I...have chosen to leave private practice, and the practice of law (at least for now)," she concludes. "I truly admire all of you that have been able to juggle your career and family and do not envy what a challenge it is trying to do each well."
With those words hers became the latest salvo in the Battle of Doing It All. It first appeared yesterday on the website "Above The Law," where reporter Elie Mystal says he received it from a friend of his who was a recipient. He took out the name of the writer and posted it to a wave of advice and "me too." Like Ann Marie Slaughter before her, the writer is seen by some as a traitor to the cause of women in the workplace, and by others as its champion.
It would be a shame if the conversation stopped there -- with the usual tit for tat of "you brought this on yourself, stop complaining" and "the sexist world is holding this woman down." Because if we go a step further, we find within this woman's day a succinct summary of what is wrong with the workplace -- and a roadmap to some of the solutions.
The workplace as is exists -- particularly the legal world in which this woman works -- is a 1950s model set in a 2012 world. It assumes that workers can do their jobs (billing 1800 to 2000 hours of work each year) with no distractions, because there is someone (traditionally a wife) at home to sort out the rest of their lives.
But today more than half of all two-parent families with children have both partners in the workplace, meaning none of them (nor the 40 percent of all new mothers who are single parents) enjoy the luxury of that phantom homemaker. The only way to make life tenable for men and women is to change the workplace to reflect that not-so-new reality.
"TRAFFIC." The harried lawyer writes this at 8:15 as she drives her infant and her toddler to daycare, and again at 6:30 bringing them home, this time with "a side of screaming kids who are starving." Which raises the question of why she is commuting in the first place. She describes a day with little face-to-face interaction, most of which could be done with technology that did not exist during the 1950s.
Meetings. "Run into my office, dial-in to conference call 5 minutes late and realize that no one would have known whether or not I was on the call, but take notes anyway," she writes at 9:20. At 10 a.m. she writes: "Team meeting; leave with a 50-item to-do list."
There are progressive schools of workplace thought that see meetings as rarely necessary. The creators of the Results Only Work Environment, for instance, preach that the most efficient employees are those where "all meetings are optional" and it is up to the person who leads the meeting to make the case that each attendee needs to be there in order to effectively do their job. Such a policy would have freed up two hours of this lawyer's day.
Dinner. "Finally arrive home, throw chicken nuggets in the microwave, feed the family," she writes. The newest life/work thinking out of Silicon Valley aims to provide employees with help at home. A front-page story in the New York Times last month explored companies who were paying for housekeeping and dinner delivery for harried workers.
Partnership. "Negotiate with husband over who will do bathtime and bedtime routine; lose," she writes at 7:45, then proceeds to spend until 9 p.m. on those routines. This after being the parent who got out of bed at 4 a.m., gave the baby a bottle at 6:15, dressed the kids at 7 and drove them to daycare at 8. The fact that she and her husband "negotiated" that night's evening rituals means that they do share the work. But in today's amped world, most two-career couples have to be more strategic than daily negotiating. One parent "on" at the start of the day and the other at the end is the new normal for many families. You can face waking up at dawn more easily knowing that tomorrow it will be your partner's turn.
There is no workplace reform that will ease every conflict or erase the reality that work is often time-consuming and hard. But there are changes of attitude and policy that can mitigate many of the strains that have become accepted as the norm.
ATL reporter Mystal says he wrote about this memo from his home office while his 6-week-old son slept in a bassinet at his side. " I don't know this woman," he wrote, "and I don't know what her hopes and dreams are or might have been, but it shouldn't be so damn hard -- in the richest country on Earth -- to have a big-time job and be a loving parent."

A MOTHER'S DEPARTURE MEMO

4:00am: Hear baby screaming, hope I am dreaming, realize I'm not, sleep walk to nursery, give her a pacifier and put her back to sleep
4:45am: Finally get back to bed
5:30am: Alarm goes off, hit snooze
6:00am: See the shadow of a small person standing at my bedroom door, realize it is my son who has wet the bed (time to change the sheets)
6:15am: Hear baby screaming, make a bottle, turn on another excruciating episode of Backyardigans, feed baby
7:00am: Find some clean clothes for the kids, get them dressed
7:30am: Realize that I am still in my pajamas and haven't showered, so pull hair back in a ponytail and throw on a suit
8:00am: Pile into the car, drive the kids to daycare
8:15am: TRAFFIC
9:00am: finally arrive at daycare, baby spits up on suit, get kids to their classrooms, realize I have a conference call in 15 minutes
9:20am: Run into my office, dial-in to conference call 5 minutes late and realize that no one would have known whether or not I was on the call, but take notes anyway
9:30am: Get an email that my time is late, Again! Enter my time
10:00am: Team meeting; leave with a 50-item to-do list
11:00am: Attempt to prioritize to-do list and start tasks; start an email delegating a portion of the tasks (then, remember there is no one under me)
2:00pm: Realize I forgot to eat lunch, so go to the 9th floor kitchen to score some leftovers
2:30pm: Get a frantic email from a client needing an answer to a question by COB today
2:45pm: postpone work on task number 2 of 50 from to-do list and attempt to draft a response to client's question
4:30pm: send draft response to Senior Associate and Partner for review
5:00pm: receive conflicting comments from Senior Associate and Partner (one in new version and one in track changes); attempt to reconcile; send redline
5:30pm: wait for approval to send response to client; realize that I am going to be late picking up the kids from daycare ($5 for each minute late)
5:50pm: get approval; quickly send response to client
6:00pm: race to daycare to get the kids (they are the last two there)
6:30pm: TRAFFIC with a side of screaming kids who are starving
7:15pm: Finally arrive home, throw chicken nuggets in the microwave, feed the family
7:45pm: Negotiate with husband over who will do bathtime and bedtime routine; lose
8:00pm: Bath, pajamas, books, bed
9:00pm: Kids are finally asleep, check blackberry and have 25 unread messages
9:15pm: Make a cup of coffee and open laptop; login to Citrix
9:45pm: Citrix finally loads; start task number 2
11:30pm: Wake up and realize I fell asleep at my desk; make more coffee; get through task number 3
1:00am: Jump in the shower (lord knows I won't have time in the morning)
1:30am: Finally go to bed
Related