As I was cleaning out my guest bedroom, I came across two sets of glossy photos. Both are of me, taken at chest height and against a standard blue background. They're a little worse for wear - one has a circular dent in it - and both have accumulated a considerable amount of dust.

In my impulsive, social-media-happy ways, I was tempted to get my phone, snap a picture of the pictures, and post them to Facebook with the caption, "How about this for a #throwbackthursday - hey, remember that time I was a teacher?"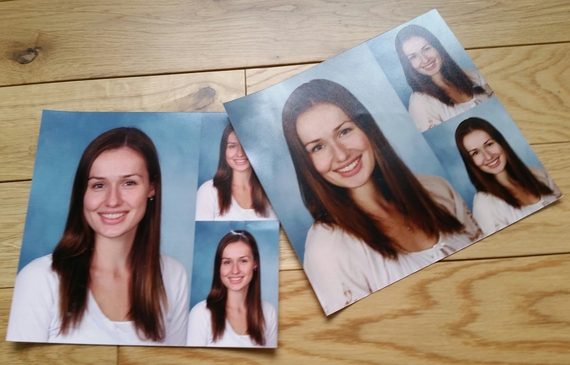 These are the last two school photos from my last two years as a teacher. Even though I'm smiling in both, I don't look particularly happy. In one, I look wiped out, as if smiling on cue because I don't have the energy to do anything else. In the other, I look annoyed, like I'm fed up with being told to say, "Cheese."

Unlike my other impulses to post to social media, I never actually follow through with it. It wasn't because I found the pictures unflattering (although, truth be told, I didn't recognize the women in those pictures one bit). It was because I felt like a broken record. The, "Hey - remember that time I was a teacher?" had been part of my narrative for quite a while now, and I was starting to realize it was time to let it go.

It'll be two years this June since I've left the teaching world. If we count my time as a Sunday School nursery school teacher at my hometown church, I had been in the education field for a little over 10 years when I finally quit. Among other titles, I had been a pre-k teacher, a substitute teacher, and a teacher to young toddlers. Among other places, I had worked at a renowned preschool in Boston and at an integrated primary school in Belfast. Right up until I handed in my letter of resignation, I had assumed that, somehow, someway, I would always be a teacher to young children. Even when I was burning out - even when I was convinced I wouldn't make it through another winter, another school year, another school week - I believed that.

Teaching - particularly early education - had felt tailor-made for me. I loved arts & crafts and making silly faces and talking in silly voices. I felt a passion for helping shape young minds during their most formative years. I gravitated towards little kids and little kids gravitated towards me. I would tell people I was a preschool teacher and be met with, "You look like a preschool teacher. Now that you mention it, I really can't imagine you as anything else."

My path to the education world was a downright stereotype. I went to college in order to get a proper 9-to-5 office job, only to apply for internships that involved young children in some way. I landed a publishing internship, only to spend my time looking through the textbooks we were creating and imagining my own little lesson plans. I went abroad to Belfast and volunteered as a teacher's aide, and it was there that I had decided with a fool's certainty that I was meant to be a teacher.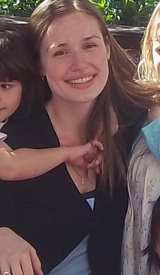 And I was Miss Abby. The teacher with a name so simple, even the older infants could say it. I was the teacher the toddler kiddos pig-piled on because she'd stick out her tongue and yell out, "You squooshed-ah meeee!" when they did so. I was the teacher who rode her bike to school - and who took special care to point out that she always wore her helmet when doing so. I took pride in being the teacher who could comfort the brand new kid in school, even when it seemed like no one else could. I took pride in my curriculum and my projects and my classroom themes. I took pride in my "Miss Abby" status.

But we already know how that story ended. I never truly got the hang of managing the stress, or of managing a classroom that had gone wild and out of control. I never learned to roll with the punches or handle the politics. By June of 2013, I hung up my teacher's hat with my right hand and, with my left, I picked up the hat labeled "former teacher". And I carried that hat around with me everywhere. Hi, my name is Abby. I was once a teacher. Now I'm a former teacher. Nice to meet you.

At first, it was a way to deal with the emotional fallout of leaving a field I once loved. It was a way of dealing with the guilt, the feeling like I had quit on the children when I had quit teaching. It was a way of processing the severe burnout, of recognizing that I had forced myself way past my breaking point and I had done no one any favors in doing so. It was a way of temporarily staving off the confusion - the proverbial, "What next?"

Even when I returned back to school and started a brand new path - turning one of the methods I had used to cope with the stress, yoga, into a career - I still held onto that identity. Now I was a former teacher trying to make it as a yoga instructor. It was like I had placed an asterisk where "Miss" had been. My name now came with footnotes.

I clung to the label of "former teacher" because, right up until I had quit, teaching was my entire identity. From the positive and well-intentioned beginnings, when I devoted my free time to workshops and continuing ed classes and decorating my classroom and making little gifts for my students - to the bitter end, when I spent sleepless nights worrying and stressed out, when every thought seemed to center on when I was going to get out of the hole I had dug for myself. For the good, for the bad, for the everything in between, I was Miss Abby. I had the nametags, the thank you notes, and the bags under my eyes to prove it. What was I without it? And what would I be if I finally let go of it?

Letting go of the "former" title turned out to be just as difficult as letting go of the original title itself. It meant fully recognizing that my tailor-made career had had a very specific shelf life. It meant recognizing that there'll always be things that I will wish that I had done differently: scenarios I will always wish I had approached with more assertiveness, more patience, or more understanding. That there'll always be a part of me that gives into the catch-22 thinking: the, "How could you have possibly quit?"/"You should've quit when you first realized you were done."
It meant walking away from walking away, which had a finality to it that frightened me.

But the fact remained that I really didn't recognize the ladies in those school pictures anymore. And while I got an ache of longing every time I played with my friend's kids or found an interesting circle time activity, I knew that chapter was over. I knew I was part of a specific club - a frighteningly large club of burned out, former teachers - and I knew there would always be a part of me that cared immensely for the education world. But I also knew that there was no sense in letting what I used to be factor in so greatly into what I was becoming.
There is a world of difference between acknowledging what came before and allowing what came before to define what comes after. There's a world of difference between sharing your story so that other former teachers don't feel as alone and letting that narrative factor in to how you write your future chapters. So instead of creating a #TBT about a topic that I had always seem to be looking back on, I wiped the dust off the pictures, put them in a safe place, and went about my day. Former teacher, current yoga instructor, future optimist.
Calling all HuffPost superfans!
Sign up for membership to become a founding member and help shape HuffPost's next chapter