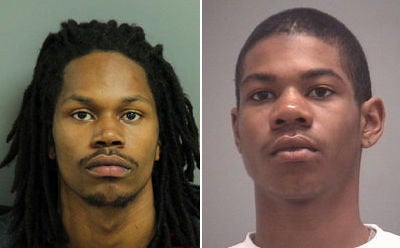 Would-be thieves everywhere, take note: Never underestimate the sophistication of home surveillance, nor the Internet's appetite for raw video of crimes.
Video of the incident was captured on eight surveillance cameras that the married couple had installed to keep an eye on their dog while they traveled for the holidays, according to WRAL. The couple viewed the footage using a smartphone application.
Scroll down to watch the video.
Police said Newsome, 17, and two other alleged thieves broke in through the back door of the couple's home on Dec. 29 and stole about $1,500 in cash and electronics. Recovered surveillance footage revealed the perpetrators snooping around the house. They can also be seen apparently discovering and disabling one camera.
The couple posted the video of the burglary to YouTube, where it had received more than 1.8 million views by time of writing. According to the video's YouTube description, the suspects poured liquid bleach into the DVR box, damaging the electronics. But the hard drive survived.
Elizabeth Robinson posted the footage to Reddit Jan. 2, with the headline "Watch my house getting robbed." The video was met with more than 10,000 "upvotes" and a slew of comments discussing tips for home monitoring.
"The best security system is simply an ADT/Brinks sign (eBay $5) in your front yard as a deterrent, along with a monitoring system that calls you, not ADT, if a motion sensor or entry point is tripped," user SOLA-REX suggested. "A really, really loud siren that all your neighbors can hear doesn't hurt."
Raleigh police spokesman Jim Sughrue told Cary News that the video "played a role" in tracking down suspects, in that detectives were able to capture still photos from the video and distribute them internally, which helped an officer start an investigation that led to Newsome.
Sughrue told The Huffington Post that a second suspect in the burglary has been identified and arrested because of the footage.
"We've got suspects so [the public release of the video] wasn't detrimental," Sughrue said. "But the internal distribution is what led to the arrests."
News Observer reports that the second suspect is Kadarius Dashon Newsome, 20. It is not yet known if the two suspects are related.
Qushawn Newsome was arrested Jan. 3, and Kadarius Newsome was arrested a day later. Both men face charges of second-degree burglary and larceny as adults, according to Sughrue.
Support HuffPost
The Stakes Have Never Been Higher
Related
Popular in the Community