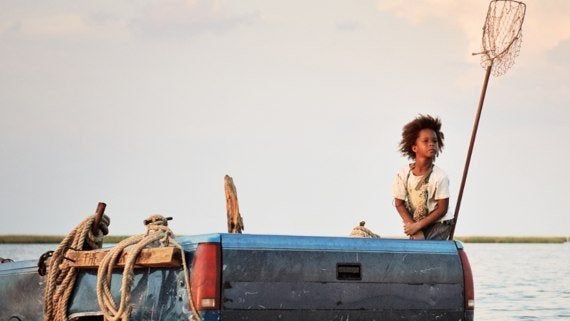 "Mike, I think you need to check the bathroom," the studio publicist told me.
It was June of last year, and we were inside a luxury hotel room in Manhattan's SoHo neighborhood, where Fox Searchlight was holding a press day for "Beasts of the Southern Wild." The movie, made for next to nothing by a group of unknowns and first-timers, had won the jury prize at the Sundance Film Festival, and some people -- not many, but some -- thought it had a shot at scoring a few Oscar nominations.
I had arrived on time for my scheduled interview with the star of the movie -- and arguably its best hope for a nomination -- but there was a problem. The star in question had decided to play a game of hide-and-seek because the star in question, Quvenzhané Wallis, was 8 years old, and that is what 8 year olds do.
As my brain processed the publicist's request, I imagined unsettling headlines. Headlines like: "Huffington Post Journalist Startles Innocent Child During Potty Time."
"I'm not doing that," I replied.
While I fidgeted, Wallis' mother, Qulyndriea, played along with her daughter, as mothers of 8-year-old children do. "She's not in the mini-bar," Qulyndriea teased. "I've checked under the bed, and he's checked in the bathroom. I wonder where she is!"
I felt the need to speak again. "I want to be on the record: I did not check in the bathroom."
It was at this point that Quvenzhané Wallis, who would surprise the world on January 10 when, at age 9, she became the youngest ever Best Actress nominee in Oscar history, stormed out of the closet, screaming. It seemed like as suitable a way as any to end a game of hide-and-seek.
I don't feel comfortable interviewing children one-on-one. Not because they can't be thoughtful or interesting, but because it just doesn't seem fair. As an adult in his 30s, I can't imagine being asked to speak on the record before reaching my 10th birthday. When I agreed to this interview, I was told that it would be a joint conversation with Wallis and Dwight Henry, who plays her father in the film. Somehow, the plan had changed, and I was now due to speak with each actor separately.
In "Beasts of the Southern Wild" -- which scored Oscar nominations in four categories, including Best Picture and Best Director -- Wallis plays Hushpuppy, daughter to a stern but loving father named Wink (Henry). The two live in a flood-prone Delta community, which is in grave danger of sinking into the Gulf of Mexico. Wallis, with no acting experience, beat out more than 4,000 other girls to win the role of Hushpuppy. "I know it's something that you wouldn't expect, but it happened," she told me.
The posh hotel room felt a world away from the setting of "Beasts." It was the end of a long day, and I can only imagine how many interviews Wallis had endured before meeting with me. Her mother, Qulyndriea, explained that the purpose of the impromptu game of hide-and-seek was to keep Quvenzhané's energy level high.
"It made it to red! Ahhhh! Ahhhhh!," Quvenzhané was yelling into my iPhone, trying to push the bars on the voice-recording app into the red zone. When I mentioned to Wallis that she'd been described as a "firecracker," she laughed, "Yes ... because I'm made of fi-ya!" She sang the word "fire." Her mother's hide-and-seek game had worked, temporarily at least.
This is the routine for any prospective Oscar nominee: interview after interview after interview. And it paid off for Wallis. But while even people who haven't seen "Beasts of the Southern Wild" and can't pronounce her first name (it's Kwa-VEN-za-nay) know about her "youngest ever" record, I wonder how many of us have spared a thought for what it's like to go through such an experience at such a young age.
Unfortunately, like a Fun Dip sugar rush, her mood soon faded. After a string of one or two-word answers, I finally asked if she'd been warned that there would be days like this, spent answering nonsense questions from idiots like me.
"No, they never even told me that," Quvenzhané responded.
You don't seem happy about it.
It's been a long day for me, too.
Won over by her sudden show of camaraderie, I told her this interview might be my favorite thing I'd been a part of.
"You get to meet somebody that has the same feeling that you do."
I liked that she thought we felt the same way, though I doubt that's possible. It was obvious that all she wanted in the world was to go home. I was only one subway ride away from home, but the 4,5,6, train would not be taking Quvenzhané back to Louisiana.
I couldn't imagine being that age and having to be "on" for one nosy adult after another. When I was 8 years old, an actor named Sorrell Booke --best known for playing Jefferson Davis "Boss" Hogg on "The Dukes of Hazzard" -- made a public appearance at a rodeo in mid-Missouri. My parents thought I would enjoy meeting Mr. Booke because I enjoyed watching "The Dukes of Hazzard." For whatever reason, I just wasn't having it. The likeliest reason was that I was 8 years old. All my parents wanted was for me to smile. I refused. The result was this: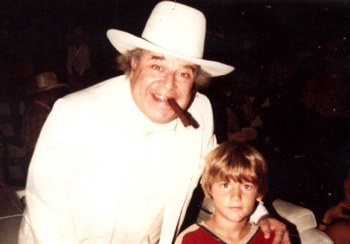 My parents wanted me to be "on" for one person, not many people. Instead, I made that face. I saw a similar expression on Quvenzhané Wallis' face, only she had a much better excuse. I asked Wallis if she was looking forward to going home. "Uh huh," she said. "I want to ride my bike again. I miss my bike and my dog. And my house. And my friends. And everybody next to my neighborhood." Oh, and she missed food. Well, good food, at least.
"As soon as I get home, all I want to eat is seafood," she said.
You don't like the seafood you've eaten while traveling?
"Because it's not even seafood. It's shrimp."
Qulyndriea explained that her daughter likes her food spicy. I pointed out that even shrimp that isn't spicy is still technically seafood. "But it's not good," Wallis insisted. Her mother said they'd eaten some good fried seafood, but Quvenzhané would not budge. "It's not food," she said. "It's rubber."
"Here in New York?," I asked. "Or in Los Angeles?"
"Everywhere," she replied.
"All the food is rubber?"
The conversation turned to awards season. More specifically, how busy she would be if "Beasts of the Southern Wild" became a contender. I mentioned that she'd probably have to go through all of this again if she were nominated for an Oscar. She acknowledged that possibility, then, heeding her mother's warning that we were running out of time, told me that the next question would be my last.
Funny thing: most actors won't admit to wanting an award. If you ask them whether they think they'll be nominated, most actors will wince -- actors are a superstitious lot -- and offer a few innocuous words about how privileged they feel to have worked with this or that director or co-star. But most actors aren't 8 years old. When I asked Quvenzhané Wallis if she wanted to win an acting award, without hesitation she replied, "Yes." And before I could even think about sneaking in a follow-up question, she added, "That was the last question."
Maybe Quvenzhané is already a pro. Or maybe she just wanted to play hide-and-seek again -- just as any 8-year-old would.
Mike Ryan is senior writer for Huffington Post Entertainment. You can contact him directly on Twitter.

This story appears in the special Oscar issue of our weekly iPad magazine, Huffington, in the iTunes App store, available Friday, Feb. 8.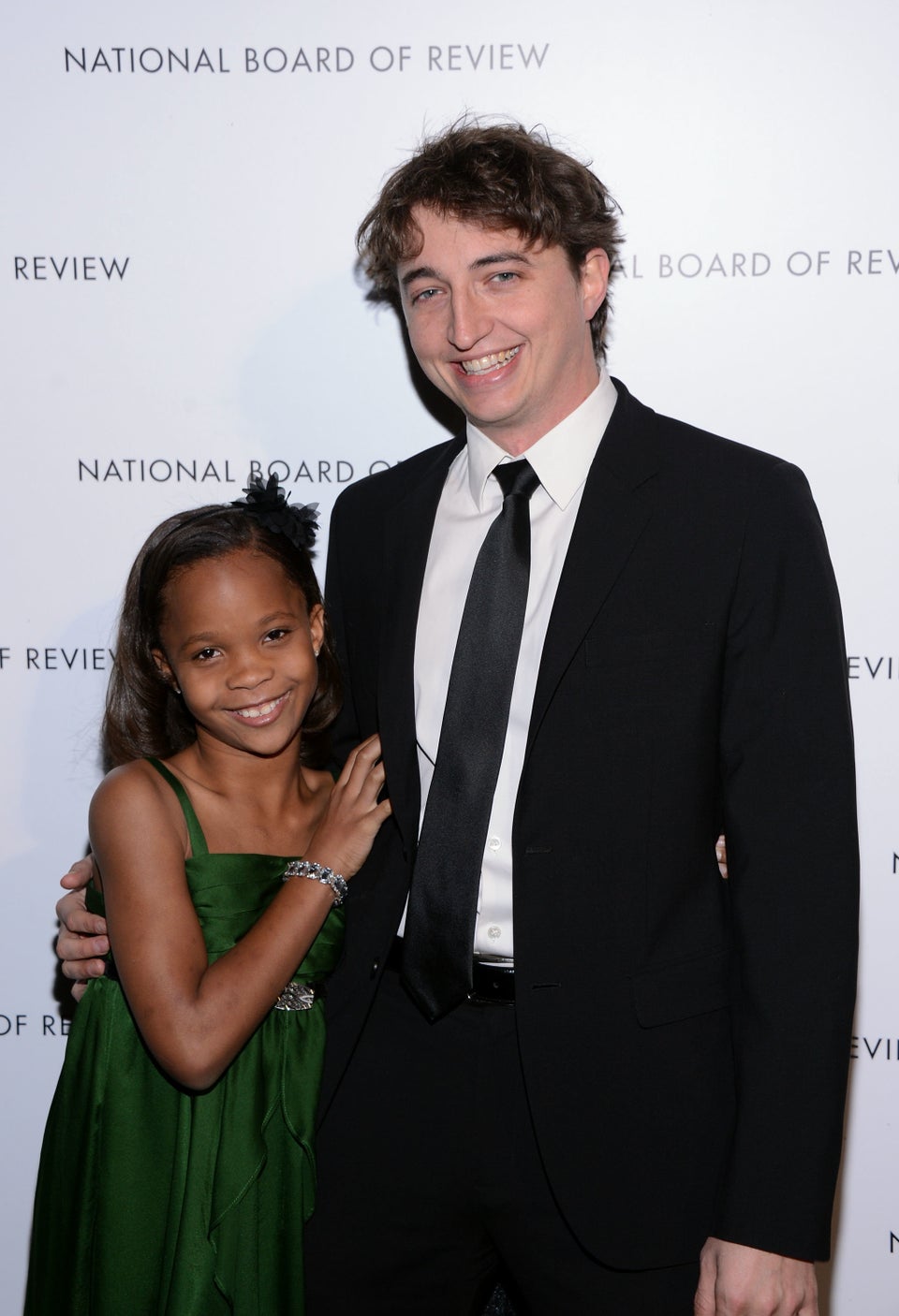 Quvenzhané Wallis
Popular in the Community