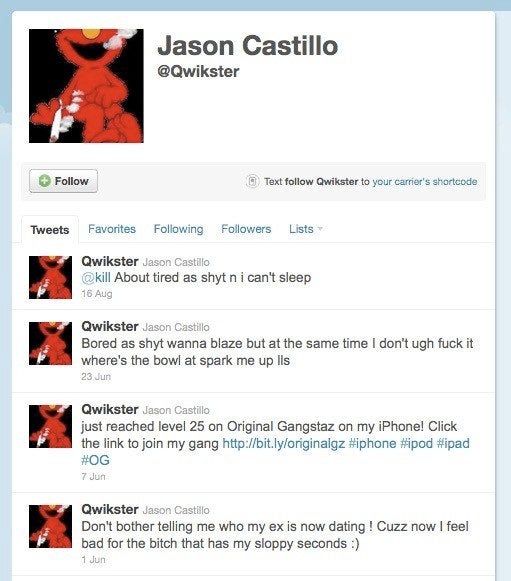 UPDATE: @Qwikster, the personal Twitter account that happens to share the same name as Netflix's new DVD-only business, has accumulated over 2,000 more followers since Monday morning. The individual behind the account has also responded to the situation with his first post in over a month.

"Dayum over 3120 follower just cuz some ppl wanna buy my handle," the tweeter marveled on Monday evening. "3 ppl have asked but idk who to trust."
Aside from an immediate backlash by media critics and customers, Netflix has another problem: An individual has already opened a Twitter account under the name @Qwikster, and the tweets are not exactly family-friendly.
The handle's current profile picture shows the "Sesame Street" character Elmo holding what is apparently a lit joint and exhaling a puff of smoke. Updates on the account are sparse; the last was posted on August 16.
A July tweet read thus: "Bored as shyt wanna blaze but at the same time I don't ugh fuck it where's the bowl at spark me up lls."
@Qwikster, who identifies himself as Jason Castillo on Twitter, has been tweeting from this account since April 29, 2011. According to his first tweet, he opened the account because he forgot his login data from his old account. "I'm mad dat I needed to make another twitter I need to write stuff down next time cuz I aint doing this again," Castillo tweeted.
The handle had over 1,000 followers (and growing) on Monday morning.
TechCrunch calls the Twitter snafu a "lack of foresight" on Netflix's part, but says that "it's a good guess that whoever this [@Qwikster] guy is could probably make a good chunk of change selling the name to back to Netflix (despite the whole "selling names being against the TOS" thing)."
Take a look at the @Qwikster account, as of Monday morning (below). Read on for more details about Netflix's huge announcement from Sunday.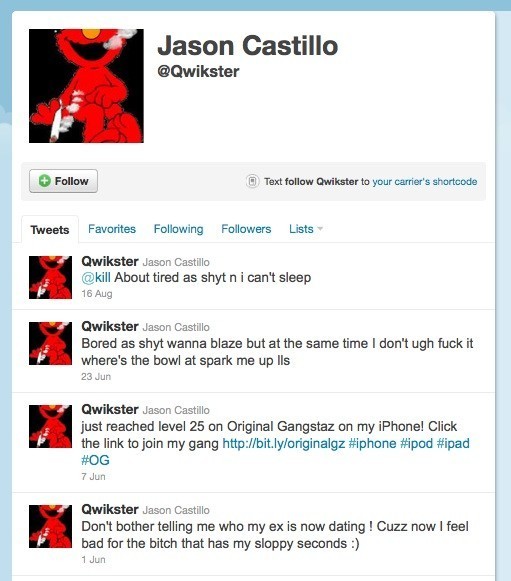 Popular in the Community