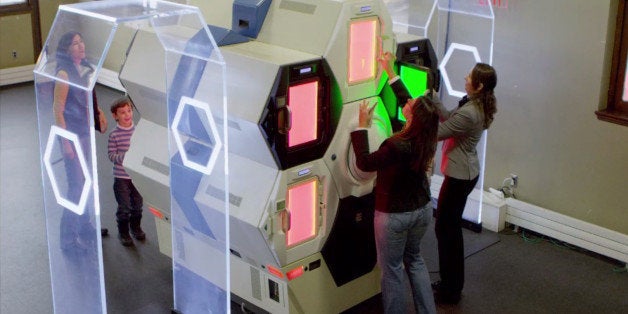 Is the future of antiterrorism do-it-yourself?
The Palo Alto, Calif.-based firm Qylur Security Systems introduced what it says is the first automated self-service bag inspection for airports, stadiums and other public venues on Monday night.
The kiosk, called the Qylatron, is able to simultaneously test for bombs, dangerous chemicals and conventional weapons without a human security agent.
An attendee to a concert or sports game would scan his or her ticket to open one of five hexagonal cupboards and insert a bag. If the machine detects no threat, the compartment turns green, freeing the owner to open it and retrieve his or her belongings. If the machine identifies something suspicious, the door locks and turns red, and security is presumably alerted.
Officials for Qylur say the technology will speed up lines at checkpoints five-fold and enable a 50 percent cost savings on personnel while reducing human error.
The Qylatron uses multiple X-rays to gauge for weapons and a Geiger-counter-like function to detect radioactivity. The system also can include optional chemical sensing, Robert Ploss, one of Qylur's field service personnel, told The Huffington Post. The contraption can match bomb components brought in by different people, company officials said
The company officially unveiled its machine at a cocktail gathering at Lincoln Center in New York. Officials from the 2016 Rio de Janeiro Olympics were on hand, but declined to comment.
Qylur said it has tested its machines at Liberty State Park (the gateway to the Statue of Liberty) and an airport in Rio de Janeiro, also a site for next summer's World Cup. While the company hasn't revealed any clients yet, CEO Lisa Dolev told HuffPost that an announcement would be forthcoming.
Qylur is running on a pay-as-you-go model. The company will supply and maintain the machines for nothing upfront, but will ask venues to pay between 20 cents and $1 for every visitor that passes through entry points.
Security specialist Robert Siciliano, a Huffington Post blogger, said if the Qylatron's detection success rate was greater than 95 percent, "that's very good." Bomb-sniffing dogs are expensive, he pointed out, and humans present pros and cons.
"In some cases humans pick up on emotions and behaviors that a machine might not and in other scenarios humans get tired, lazy or they profile," he told HuffPost.
The Qylatron does not include body-scanning. In a new development on that front, a Finnish company recently announced it would offer technology that detects concealed items on moving customers from a distance by early 2014. That system reportedly would not reveal anatomical details or use radiation.
CORRECTION: A previous version of this story said that a scalped ticket or ticket sold on the secondary market could misidentify the person placing contents in the Qylatron. A Qylur official said that the ticket scan is not used to identify the user, but to ensure that the person who puts the bag in the Qylatron is the same who leaves with it.