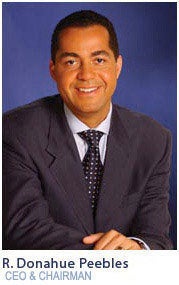 WASHINGTON -– In 2009, millionaire developer R. Donahue Peebles stirred the D.C. political scene with talk of challenging then-Mayor Adrian Fenty, saying he could self-finance his candidacy up to $8 million.
That talk ultimately proved empty, but Peebles -– a D.C. native who now lives most of the year in South Florida and operates his business there -– was successful in raising his public profile.
It's something that the 52-year old Peebles, whose company website touts The Peebles Corp. as "the country's largest African American real estate development company," has been adept at doing. But now Peebles, a top fundraiser for President Barack Obama and a member of his reelection campaign's finance committee, is pushing to enlarge his footprint in the national political media by seeking out political reporters and criticizing the president and his campaign's message.
Almost a year ago, on Aug. 8, 2011, Peebles and his wife Katrina hosted the president for a fundraiser with roughly 140 people at their Washington home. The price of a ticket to the dinner was $15,000 per family, according to a pool report from that evening. Peebles has raised $100,000 to $200,000 for the president's reelection, according to the Obama campaign's list of top "bundlers."
"Let me just thank Don and Katrina, the entire clan for welcoming us all here today," Obama said, mentioning a moment later that he had had an "extraordinary time" when he first met Peebles and his wife in Florida.
But on Monday morning, a public relations executive contacted The Huffington Post to set up a conversation with Peebles about why Obama and Democrats are being outraised by Republican Mitt Romney. It was the day it was announced that Romney and the Republican National Committee took in $106 million in June, compared with $71 million for Obama and the Democratic National Committee.
HuffPost was not the only news organization that Peebles spoke with on Monday or Tuesday. He was also quoted in The New York Times, Politico and the Hill. Peebles told the Times that he found certain attacks by Democrats on Romney's wealth to be "offensive."
And this wasn't the first time Peebles had spoken critically of Obama's attacks on Romney. In late May, he reached out through a PR representative to a BuzzFeed reporter to tell him that he found it "inconsistent" for Obama to criticize private equity and then take money from those who work in that field.
Interestingly, Peebles has appeared on TV several times this year, as recently as late April, to defend Obama. He appears to have reserved his criticisms of the president for print interviews.
Based on Peebles' comments to the Times, Time's Mark Halperin wrote a short item headlined, "R. Donahue Peebles, Call David Plouffe," a reference to one of Obama top political advisers.
But in a 20-minute conversation with HuffPost Monday, Peebles went much further in blasting Obama's campaign messaging than he has before. He said, as he told other press outlets, that his frustration was sparked by receiving an email from the DNC that mocked Romney as "out of touch" for having a boat that fit 12 people, accompanied by a picture of the Republican presumptive nominee on vacation.
"That offended me. Now if I were on the fence, he'd have lost me," said Peebles, who described himself as nonetheless a "big supporter of the president's."
"What I get concerned about is the message from the Obama campaign that we only want someone who has not been successful to run for president. What do we want here? You can't be successful and run the country? We don't want somebody who has been successful to run it? That doesn't make sense," Peebles said. "So I look at that and I see that those things are becoming offensive to some of his strongest supporters, financially.
"It would be unrealistic to think that that kind of thing would not impact the enthusiasm for those who are supportive of the president, financially, and certainly would turn off others who were on the fence to say, 'You know, what the heck with it. I'm done,'" Peebles continued. "And they go on to Romney.
"And so what's happening is they've awakened a sleeping giant. This time around, business leaders, business executives and corporations will be involved in the political process like they've never been before, all because they've been awakened," he said.
Peebles said he does not think criticism of Romney's time in private equity are out of bounds as long as they focus on his performance there, and said he preferred the Obama campaign spend more time focusing on Romney's record as governor of Massachusetts.
But he also took issue with Obama's recently revived talking point about raising taxes on those who make $250,000 or more a year.
"I'm so tired of hearing that the rich are not paying their fair share of taxes. Yeah we are," Peebles said. "The super vast majority of wealthy Americans do not wake up every day and say, 'Let's see how we can pay less than our fair share of taxes.' They say, 'We're going to follow the law and we're going to hire some good accountants to tell us how to do it. And we're going to pay no more or no less than our fair share.'
"So to say that wealthy individuals are not paying their fair is unfair and delusional," he said. "So what should be said is that the wealthy Americans should have their tax rates raised because we need more money. Now by the way, if they got all these tax raises it still wouldn't put a dent in the national debt."
"We cannot attack wealth creation and attack people just because they're wealthy and we can't attack wealth and success, and making that a bad thing. It's like going to school and the bullies picking on the A-students, calling them nerds and so forth. So, what do we want, a whole school of dummies?"
"They weren't illegal. There's not one allegation that he didn't pay his fair share of taxes. I will guarantee you that if you look at a large number of companies that the CEOs and so forth are supportive of this president, I would bet you that many of them have bank accounts in other countries," Peebles said. "Offshore, when it came to organized crime and illegal activity, to have bank accounts offshore, that's one thing, and that in conjunction with criminal conduct is something to criticize. Legal bank accounts offshore, there is not anything to criticize about."
Democratic operatives close to the Obama campaign, when told of Peebles' remarks, responded with some displeasure, but had no on-the-record comment. And those who have followed Peebles' flirtation with politics in D.C. said they have often found him to be a self-promoter at heart.
But even if ego is driving Peebles' foray into punditry, it may be the case that he honestly believes Obama is hurting himself with his campaign strategy.
And Peebles is getting noticed. His comments in the Times were picked up by MSNBC on Tuesday, and midday host Alex Wagner asked DNC Chair Debbie Wasserman Schultz about them.
"I know Don Peebles and I know he's a supporter of the president's," Wasserman Schultz said.
Whether the Obama campaign feels the same way now may be up for debate.

Before You Go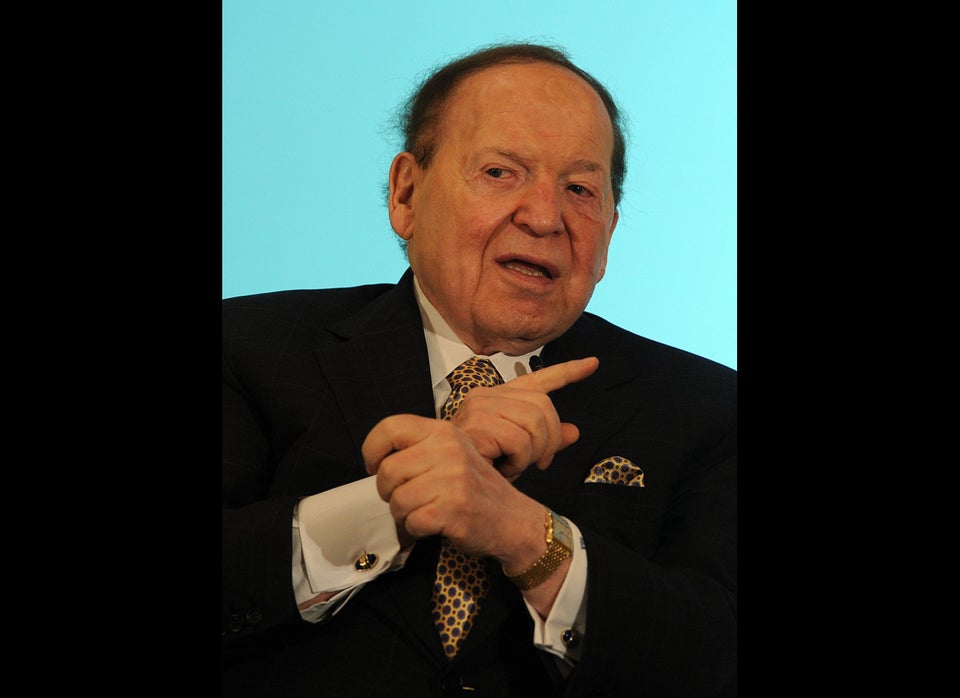 Donors Giving $500,000-Plus To Super PACs
Popular in the Community